Rosemary Gladstar's Medicinal Herbs, A Beginner's Guide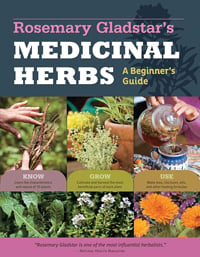 Rosemary Gladstar
Rosemary Gladstar's Medicinal Herbs, A Beginner's Guide
Storey Publishing, North Adams, MA. 2012
Herbal medicine is medicine of the home. It is a natural, effective, gentle and completely accessible system of healing. While allopathic care may be the best avenue for life-threatening situations, readily available herbs are magnificent for fortifying the body and treating many everyday complaints. "If your grandmother would have treated it, then you can to." Rosemary Gladstar's Medicinal Herbs, A Beginner's Guide is a how-to compendium of the very best herbal treatments by the godmother of modern herbalism. Gladstar shares over one hundred of her favorite simple, low-cost therapeutic recipes in this outstanding full-color step-by-step introduction to family herbalism.
Many of the herbs presented are ones we already consume, such as basil and peppermint. The difference between considering an herb as medicine and not simply food is in the quantity, duration and preparation of the herb. For example, rather than just enjoying a ginger tea, consuming specific amounts of ginger on a regular basis allows ginger to rival anti-nausea drugs for chemotherapy, without side effects. Knowing, growing and using the herbs is the key to working with this friendly medicine, and twenty-four safe and effective common herbs are highlighted.
Herbs such as lavender and lemon balm can be cultivated in the home garden, while others including nettle, red clover and dandelion already grow prolifically throughout yards and fields and are often thought of simply as weeds. While half the world enjoys eating dandelion regularly, the other half arms itself with pesticides determined to destroy it. ("Who's winning? Dandelion, for sure.") Along with superb information for nurturing and working with each herb, the guide provides clear and easy-to-follow instructions for setting up your own kitchen pharmacy and making your own herbal remedies.
For more information, go to https://scienceandartofherbalism.com/product/rosemary-gladstars-medicinal-herbs-a-beginners-guide-33-healing-herbs-to-know-grow-and-use/
Reach Rosemary Gladstar at https://scienceandartofherbalism.com/about-rosemary-gladstar/
Find local holistic Holistic Health Products in the Spirit of Change online directory.