Secrets of Aboriginal Healing: A Physicist's Journey with a Remote Australian Tribe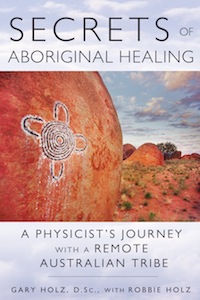 Gary Holz, D. SC., with Robbie Holz
Secrets of Aboriginal Healing: A Physicist's Journey with a Remote Australian Tribe
2013, Bear & Company, Rochester, Vermont
Is it possible to board a transcontinental flight with a serious progressive degenerative illness, travel to a distant technologically less advanced land populated with people of unknown language and behavior and return home with a high level of wellness? Physicist Gary Holz normally required empirical evidence before accepting anything, yet as his multiple sclerosis symptoms worsened and doctors told him he had only two years to live, he uncharacteristically followed a single synchronistic suggestion and, nearly paralyzed from the neck down, maneuvered his wheelchair on a flight bound for a remote Australian Aboriginal village. Though family and friends thought he'd lost touch with reality, little did Holz realize that he'd need to actually lose touch with his existing perceived reality to find healing. Secrets of Aboriginal Healing is Holz's miraculous encounter and transformation working with the medicine wisdom of the first Australian people.
Quantum physics and cellular biology are just discovering what the Aboriginal healing system has tapped into for thousands of years; consciousness exists at a cellular level, our cells have feelings and memories, and our bodies may hold something from the past as true even when our conscious mind knows that it is not. Working with a shaman, Holz wrote a new operating manual for his body, mind and spirit. The shamanistic work included using the law of attraction to release unwanted patterns. Simple language changes empowered Holz, as he replaced "I'm sorry" with "I apologize," since for him saying the former reinforced that he was ultimately sorry for existing; and "I'll try" with "I'll do my best." Working always for the good and healing of the community, the so-called primitive Aboriginal people often communicate telepathically, sending messages without electronic devices and expensive cell phone plans. (Seems they've been using the cloud long before Western corporations started commodifying it!) Through their deeply meditative dreamtime state, connecting to spirit guides and the "Big Guy," each person in the tribe understands that all intelligence within the entire universe is accessible to them and is contained in each and every being.
Gail Lord is a freelance writer living in Massachusetts. Please send book review copies to 51 North Street, Grafton, MA 01519 or email socbookreviewer@gmail.com.