Serendipity Leads to Revolutionary Ergonomic Design
We live in a square Western culture, but ergonomics are based on round and moving centrifugally.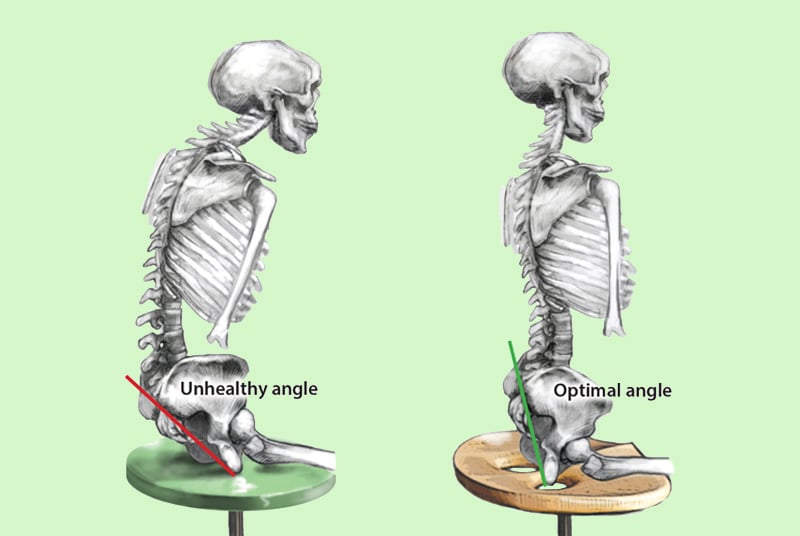 As a furniture designer living and working in a small fishing village in downeast Maine back in 2009, I was working on a solution for surviving a faltering economy when serendipity struck. I wanted to create a comfortable stool where I was not constantly aware of pressure on my sitting bones (ischial tuberosities), so I began dabbling with removing material from a wooden seat in my shop. Before long, I had removed so much that two prominent holes appeared. The holes looked like eyes that made the seat look like the head of an owl. Realizing that the holes did increase comfort, I began working with a chiropractor and made modifications on the holes to fit everyone's sitz bones, and the revolutionary ergonomic Owl Stool was born.
That spring Owl Stools began to sell at the local farmer's market in Stonington. In order to honor affordability, workshops were offered so people could make an Owl in one day and take it home. With the basic parts pre-machined for them, people loved the experience of working with their hands and learning simple hand tool skills. Our virtual reality culture has distanced people from knowing how to make things with their own hands, but here they were reconnected with the simple joys of sanding, sawing, gluing and oiling their own Owl Stool to take home at the end of the day with pride.
As people started to receive profound back and sciatica relief from sitting centered on the Owl's postural support holes, I continued to work with specialists to improve the seat even more. In 2012 a Maine Technology Institute grant was awarded so an ergonomic study could be performed on the Owl seat. Pressure map results showed that "the Owl seat designs were very effective at reducing the peak pressure concentrations at the ischial tuberosities. The ability for sitting in an attentive posture is increased."
According to Anatomy Trains author and seasoned deep fascial bodyworker Thomas Myers, "The seats in most of the world's offices, cars, or schools are not built on sound principles of body mechanics. The seated worker who wants to keep healthy tone and movement in the pelvis and spine, needs a healthy 'neutral' for the pelvis in sitting. 'Sitting is the new smoking' as the wags have it – but many of us cannot avoid a lot of sitting time in our lives."
During the course of discussions with thousands of people about their posture, I realized that in our sitting culture we are never taught how to sit properly. It all starts with sitting through 12 years of school in unhealthy chairs and being told not to slouch by teachers. It's profoundly wrong! Without the proper tools, kids can't learn and will inevitably slouch. However habitual slouchers can learn how to sit in a healthy posture.
My sister, Jennifer, designed an ergonomic poster using skeletons to help people visualize good and bad seated posture. It also shows how, on a traditional seat when we feel pressure on our sitz bones, we tip the pelvis back to relieve pressure. This causes slouch, strain and eventually pain in the lumbar spine. With comfortable room for your sitz bones available in the depressions of the Owl Stool, there is no temptation to slouch and the spine stays naturally aligned.
About two years ago, I began receiving requests for an adjustable standing desk and the synergy between standing and sitting became obvious. Studies show that by standing, work efficiencies are increased by up to 30%. Traditional office furniture encourages stiff, fixed postures and little movement. However, a balance between sitting and standing, which can be aided with a height-adjustable desk, is a proven way to combat the effects of a sedentary work place.
According to UCLA Ergonomics, 2012, "Neither static standing nor sitting is recommended. Each position has its advantages and disadvantages. Research indicates that constrained sitting or standing are risk factors and that alternating work postures may be preferable. Alternation between two postures allows for increased rest intervals of specific body parts, and reduced potential for health risk factors overall."
Movement plays a key role in becoming healthier and happier. We live in a square Western culture, but ergonomics are based on round and moving centrifugally. In order to have healthy bodies we need to move and keep moving. Imagine a life-long dance with your environment and living with furniture that compliments that theme.
Geoffrey Warner is the designer of the Owl Stool and a furniture maker in Stonington, Maine. Meet Geoffrey and try out an Owl at booth #1103 at the Natural Living Expo or visit www.owlfurniture.com.
See also:
This Two-Minute Tweak To Your Posture Could Change Your Life
Sitting Kills, Even If You Exercise