Silver Leaf Wisdom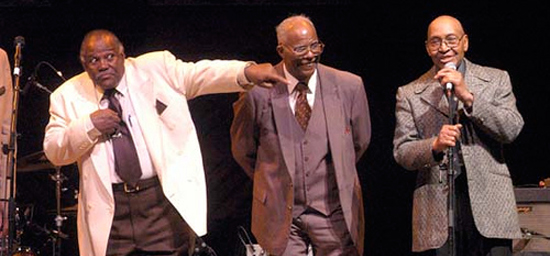 "No seat should be empty in any church or house of worship of any denomination," says Deacon Randy Green, director of the Silver Leaf Gospel Singers for nearly 60 years. "The church gives a spiritual underpinning to people's lives and builds community."
Coming together means beginning.
Working together means progress.
Keeping together means success.
— The Motto of the Silver Leaf Gospel Singers
Deacon Randy Green turns 83 on November 13, 2004, but to watch him on stage with the Silver Leaf Gospel Singers, full of vitality and charm, he is truly an ageless human being. Boston magazine called Randy a "preacherman" who touches hearts and enriches lives through his music ministry, and a "general," the able leader of a singing group that marks its 60th anniversary next year. This is no small feat for anyone, especially a man who grew up in the harsh conditions of racial discrimination in the South, and only had the opportunity to receive a 4th grade education.
Randy well understands the principles that form the Silver Leaf motto and has lived them fully. Silver Leaf's "coming together" took place when Deacon Randy Green and Reverend James Lockwood organized the group in 1945.
"A bunch of young fellows met at Concord Baptist Church, then located on Tremont and Vernon Streets in Roxbury. We went to the Sunday morning services. One of the fellows, James Earl Lockwood, had an idea. He took me aside and said, 'Let's start a quartet.' I had never participated in a singing group. We thought it would be fruitful and favorable in the church so we started practicing in Willie and Ruth Finch's home in 1945."
At first, they couldn't find musicians to play with them. Neither guitar nor piano players were to be found. Any pianos that were around were out of tune because no piano tuners were available. Finally, the quartet was able to put some songs together. Their names appeared on the program at church. "When we first sang, we sounded so bad," laughs Randy.
Randy and his colleagues did not let their initial challenges discourage them. They kept "working together" and over time have achieved great success. This past February, the Silver Leaf Gospel Singers received a Lifetime Achievement Award from the New England Conservatory. Their award reads, "By keeping the tradition of old-time a cappella jubilee singing alive, the contribution of the Silver Leaf Gospel Singers to the overall music fabric of Boston and New England has been indelibly enriched. Their ministry in music has been shared in numerous churches, schools, nursing homes as well as at the Newport Jazz Festival, House of Blues, the New England Conservatory and Symphony Hall."
The Good Old Days
"Keeping together" for sixty years is an extraordinary accomplishment in our current world of uncertainty where we never know what tomorrow will bring. Sustaining Silver Leaf over nearly six decades has been an organic talent for Randy. "I've never needed a set of rules or bylaws to carry my group over all these years," reflects Randy. "I didn't have schooling and higher education. But God knew with this music I would be able to reach people, and run my group like a commanding general who knows how to handle his troops. We've never been broken up. We've never had disagreements or had anyone leave the group."
The original quartet grew into an octet. For ten years from 1949-1959, the Silver Leaf Singers had a radio program in Cambridge on WTAO. The eight members who sing with Silver Leaf today are all in their 60's, 70's and 80's. Their bass, Deacon Warren Allston, is their oldest member. He joined the group in 1947. Sadly, over the years, Silver Leaf has lost 11 of their original members. "We just lost one of younger members last November. He was around 70 years old." Randy is the only original member of the group and its manager from the very beginning. "Reverend James Lockwood passed away quite a long time ago. He was called to preach and became the pastor of the New Evergreen Baptist Church in Houston, Texas where he served 34 years until his death in 1989."
"Experiencing the Silver Leaf Singers is truly amazing and inspirational," says author and interviewer Linda Marks. From left to right back row: Johnny Crump (deceased), Deacon Randy Green, Deacon Lucious Sparks, Billy Campbell. Front row left to right: Bobby Jackson, Deacon Smitty Jones, Deacon Warren Alston.
Both Randy's music and leadership are guided by inspiration. Even the name of the Silver Leaf Singers reflects inspiration. "When I was in the 9th Cavalry," reflects Randy, "I wore silver spurs. I thought about the word silver. Good silver always shines. It may tarnish. But if you use a little polish, it will always come back to its shine, its natural color. If the group does well, it shines. We have to dress up when we sing, because our name is Silver Leaf."
A Personal History
As a young black boy growing up in Alabama in the early 20th century, the living conditions Randy experienced were primitive and harsh. White children were provided with both well-organized schooling and the transportation to get to school. Black children had to make due with neither of these. Black children needed to work together and rely on ingenuity even to get to school, and then find their way in the world as they grew older.
"We had to walk 5 miles to school," remembered Randy. "The white kids rode a yellow school bus. We weren't allowed to ride." The path to school included a walk across a creek. "We had to put a log over the creek to get across — a footlog. If it rained too hard, the water level would get too high, and we couldn't get across the creek. We'd have to wait until the next day to get home!"
"Our school had one pot bellied stove. We were given just a half or maybe a turn of coal for the whole winter. We had to go into the woods to get wood to heat the stove for the school to be warm. The government gave out welfare, but we never received it. The bulk of what was distributed was given to white people. We, the blacks, weren't able to get any of the food. Canned pork and turkey from welfare went to whites. We were asked to kill our own chickens or pigs if we had them." In Randy's family, six children had to grow up in a two-room house. "We were deprived of everything, and we lived through it."
In spite of his difficult living conditions, Randy had the inner strength to rise above them and move forward. In his community, people recognized the importance of having a spiritual underpinning in daily life. Church offered a place to come together and receive spiritual replenishment in tough times. Randy's commitment to his spiritual beliefs has both guided him and inspired his actions for all of his life.
As an 18-year-old boy, Randy wanted to find a pathway to a meaningful future. To do so, he joined the Civilian Conservation Core. "The Civilian Conservation Core was organized by President Roosevelt. We were farmers. Boys could go to CC Camp and stay for two years. We were paid $30/month. The time was the Depression, and the army was only paying its troops $21/month. The CC gave us room, board, and clothes. I recognized this was an excellent opportunity. CC Camp saved $7/month so when we were discharged, we had money."
The Civilian Conservation Camp was disbanded when the war broke out due to the draft. Randy left the Camp in Bredenburg, AL at that time and came back to Tuskegee. Again, he felt the barriers of racial discrimination. "I got a job with the 99th Airforce, the Tuskegee Airmen. I was head waiter in charge of the white officers' dining room. The army was very segregated at that time."
Over the course of his adult life, Randy has seen racial conditions change dramatically. "Martin Luther King said he had a dream that one day he would see little white boys and girls holding hands with little black boys and girls. That is a dream that has come to fruition. Now children come together, play and have a good time. They realize people are just people.
"I see the same thing in a dog care facility near where I live. All different dogs are getting together and not fighting. Even the breeds you expect to be fighting are getting along. They are playing with each other like kids in kindergarten. We need more examples of this!"
Spiritual and Community Roots
When asked what guidance he would want to offer to others based on his life experience, not surprisingly, Randy focuses on the importance of embracing the spiritual dimension of life. "The spiritual force is essential for having a meaningful life. It's what's lacking in our society and world, and between all of us. Try to connect yourself in some respect with the spiritual force, because in the end, if we don't have this connection, we can get lost."
In spite of all the prejudice and discrimination Randy experienced growing up, the strength of his own spirituality has lifted him to a higher place where he can speak about what happened to him, and in doing so, help make the world a better place. "I am grateful to be able to deal with things of this magnitude and not be evil or bitter inside, to still be able to minister to people. One of the greatest challenges in this society, in this time of living, is being able to share with each other and relate to each other about ways we can make our society and ways of living better for all people."
He acknowledges the huge spiritual vacuum in our culture and the detrimental effect it has on people of all ages. "Today, no one has respect for anyone," notes Randy. "Mothers and fathers curse at their children. When my children were coming up, no one used that language. So many teenagers are getting killed but we don't hear why. Kids go riding bikes in their neighborhood, then someone shoots them. This didn't happen when my kids were growing up."
While today, most people in the United States live in less harsh material conditions than Randy experienced as a boy, spiritual conditions for too many people are barren. Randy feels when he was younger, people were more focused on living a spiritual life. In contrast, Randy acknowledges, "Today people are living more of a profane life. In my world, you go to church, you hear the minister, you try to be a good Christian. There is a lot of pressure for people to live in the profane world today. Some of the adults are just as bad as the kids. And the kids pick it up from the adults.
"Even people who go to church only go once a week. The spiritual side is so small compared to what our society is caught up doing. People don't ask what is right and what is wrong. It's so easy for people to accept the wrong way of doing things when they can do what they want to do, crime included, and get away with it." While Christianity is Randy's faith, he recognizes the value of all faiths, and respects that different spiritual paths are right for different people.
In Randy's younger years, the church was at the center of people's lives because it nurtured relationships and a sense of community necessary for survival. "No seat should be empty in any church or house of worship of any denomination," says Randy. "The church gives a spiritual underpinning to people's lives and builds community. The breakdown of community today is very painful. When there's no relationship or fellowship with people in the community, everyone is on their own. No one looks out or cares for others. So, when I'm in my house and I lock the door, I'm not out in the community looking at the violence and unrest.
"People often don't think about church or spiritual matters until someone dies. Every time someone dies in the community or gets killed, people go to the church and ask for the minister, priest or other clergyperson to perform a eulogy. Many of these people have never gone to a house of worship. People just don't keep together anymore. People are to themselves and don't think about anyone but themselves. We hurt ourselves and each other when we put ourselves in this position."
Participating Fully in Life
To go to a Silver Leaf concert is to experience the coming together of community. Everyone — singers and audience alike — have come to have a good time. "The music is imbued with spirit, and it touches people," says Randy. "This is something people are looking for. We have to work together and be together. We have to be on the same side, not separated. We sing together with who's there, getting them involved. When people get involved, not only does the function go better, but people say they got something out of it."
The message is, "Don't just sit there. Participate and you'll get something out of life," notes Randy. In this sense, a Silver Leaf concert is a kind of community meditation. Randy encourages everyone to be present, to "focus on what is taking place then and there, to let go of what's on your mind. Each person needs to get spiritually full," Randy believes. "They might not get spiritually full on what you say, but you can open a door. You can show them a pathway so they can see, experience and understand another possibility."
"One of the main things I like about singing, which is a kind of fellowship with many different people, is how people respond to our music ministry. God has called upon me to lead my group and sing a kind of music that touches the hearts of people," acknowledges Randy. "I've never been to theology school, but the songs touch people."
"To have a meaningful life means trying to be able to help someone else, to understand their problems, conditions or complaints. If you have something to offer that can help another person overcome their downfalls, contribute it. If we can help each other overcome our downfalls, then we each contribute something meaningful to society."
The Silver Leaf motto is one our whole society should embrace. If individually and collectively, we could come together to begin, and both work together and keep together, we would have much richer and more fulfilling lives.
The Silver Leaf Gospel Singers will be appearing November 30 in Metropolitan Baptist Church on Norfolk Street in Mattapan. Call 617-445-6488 for information. They are also scheduled at the Cultural Exchange in Portland, ME on December 4. Call 207-761-0591.
Linda Marks, MSM, has practiced heart-centered, spiritually inclusive body psychotherapy with individuals, couples and groups for twenty years. She recognizes the power of community as healer, and has felt an increasingly stronger call to group work over the years. She is the author of Healing the War Between the Genders: The Power of the Soul-Centered Relationship (HeartPower Press, 2004). You can reach Linda at LSMHEART@aol.com or (617)965-7846.