Simple Pleasures of Natural Living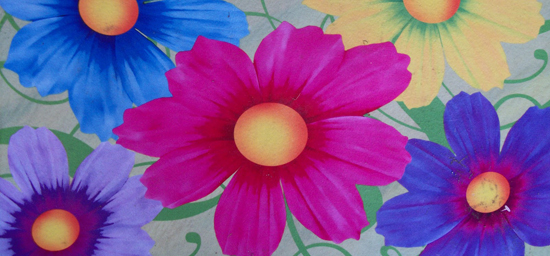 Patch Adam's Top Ten List of Ideas and Things to Do
Pick up all the trash in an area in your hometown; be its guardian.
Choose at least one child you're not related to and give them the time and care they need.
The most revolutionary act you can commit in today's society is to be publicly happy.
Always speak up for justice, no matter how much it costs.
Can you match the cost of everything you buy with a donation to an environmental sustainability project?
Turn off your TV and become interesting. Perform yourself.
Find ways to need a whole lot less money; share beyond belief.
Take your vacations in your own hometown and spend the money saved working on projects there that help build the community.
Have potlucks frequently with neighbors, co-workers, strangers. Work toward living in extended families.
"In every job that must be done there is an element of fun; you find the fun and snap, the job's a game." — Mary Poppins
Earth's Offerings
By Carol Harley
"Timing is everything," I always say. That late summer day when K and I set out to pick blackberries, our timing was perfect. A mere half mile from home, we stepped into wild land at the abandoned road cut. As though waiting for us, the perfect plump ripeness of thousands shone amidst green beds, gems darkly glistening in the hot sunshine.
Rain had come in previous weeks — just enough. Now we reaped the rewards of climate and soil, plucking large juicy-but-firm berries from thorny canes. As I recall, I even enjoyed the challenge of pulling berries off their stems without tearing my skin in the process. Reaching for large clusters, I gently uncovered bashful ones hidden by leafy canopies.
While I savor springtime now, I think about the pleasure of that summer's excursion. All was quiet but for the buzzing of a fly or two, the drone of an occasional plane above, and the muted plunk of berries landing in quart containers. Fresh and ripe, these berries tasted so yummy! Our fingertips bloomed red-purple with sweet juices.
The energy of the sun in the berries transformed to energy in our bodies with every bite.
I'm reminded of the blessing song about wheat that eventually becomes bread on our table:
"And when I sit for every meal with grateful heart I always feel that I am eating rain and sun."
Was all of life so simple, ever? I find myself longing for this essential relationship. I begin to think of energy in its purest forms. Food in our bodies is the sun's energy, whether we're eating blackberries or burgers. Then there's also the energy we depend upon to power our homes, our cars, and our workplaces. Like the berries, can we get our energy from rain and sun, rather than by the painful and invasive process of drilling and extraction?
The blackberry picking excursion remains fresh in my memory. After a blackberry feast that evening, we froze most of the berries. We then enjoyed blackberries for months — in pancakes, as compote, syrup, and on breakfast cereal. The magical afternoon in the berry patch was long ago, but it reminds me of what is possible when we open ourselves to receiving the simple gifts of Earth.
Carol Harley lives in Central Massachusetts and works to inform people about GreenerWatts New England, a sustainable energy electricity option available to customers of Massachusetts Electric, Nantucket Electric, and Narragansett Electric companies. Sign up with GreenerWatts for an average of just $15 per month on your regular electricity bill and you will be actively supporting sustainable energy with absolutely no change or interruption in your regular electricity service. Put your money where your heart is for a cleaner planet and future for all. Call 800-689-7957, email info@GreenerWattsNewEngland.com, or visit http://www.GreenerWattsNewEngland.com
Five Simple Steps Toward Happiness
By George Catlin
What can we do on a daily basis that will bring us forward to real satisfaction in life?
Meditate. Meditation is the age-old process of bringing the mind to peace, to a state wherein the higher aspects of consciousness can begin to be experienced.
We live in a state of constant chaos. At every moment we are moving outwardly and our minds are racing inwardly. Why do we live this way? One answer is simply that we don't know any other way to be. We are trained in action and rewarded for it. We know almost nothing of peace.
To learn something about inner peace we have to calm down. We have to somehow slow the pace of our lives and bring our minds and bodies to rest — even for a brief period. Then we will begin to sense new possibilities in life and see that action is not the only state of being. Indeed action is a choice because we can be still.
How to slow down? The physical part is the easiest, yet it is difficult for many. Just sit down in a relaxed but alert position, ideally with the spine straight. It is up to you to find a balance between ease and effort, slouch and strain.
Once sitting comfortably, the next step is to breathe. In and out, in and out. Of course we are all doing this all the time but usually not in a relaxed way. See if you can really relax into the breath, letting it start low in the abdomen. Breathe into your belly. Let the stomach relax. Forget all our society's messages about thin, tight bellies and relax. Let the abdomen go limp and breathe into it.
This is the doorway to peace. The breath is really the key to most meditation. If you can do this for ten minutes twice a day, you will begin to unwind and have a sense of the possibility of peace. You will surely leap up and resume your busy life, but for 20 minutes a day a window will be open into a very different world.
Walk slowly. This is a wonderful practice. See if you can get yourself to move from location to location with a degree of ease, detachment and peace.
This, you will see, is a hard practice to master. The rush to "get there" is so deep in most of us that we really can barely manage to slow down even a little. But try to simply take one slow step and then another. Feel the muscles working. See the things around you. Give yourself the experience of being in motion. It is incredible to move through space. Try to walk slowly and experience the journey.
Give time to others. This is another fairly difficult practice for most of us. To simply give time to appreciating another person is difficult indeed.
We cannot demand attention from others — it has to be freely given. So the best thing we can do for others is often simply to give them what we know they want: our undivided attention.
You will find this is difficult because as you give your attention to others, your own need for attention will become conscious. This is not unusual or surprising. As children almost no one received enough loving attention from their parents. We all learned one way or the other that we weren't going to have that need met, so we buried it. It has lived on below awareness all these years, usually showing itself only behind masks of independence. This is a great tragedy. It has made us hard and hurried. Much of our hurry is a rush to avoid this basic need for someone's loving attention.
Give someone your attention. Feel the feelings that arise and find ways to live with those feelings. Again, this is a demanding practice but it leads to happiness.
Pay off all your debts. This may seem simple, but it requires real inner strength.
Debts come in lots of forms. Money is the most obvious and really the least problematic. If I owe you a hundred or a million dollars, we both know that and presumably have an agreement about a repayment schedule. That will be resolved eventually because we both are aware of the debt. The kind of debt that is more problematic is a debt of good will, a debt of love.
Despite the imperfections of our past, most of us have received a great deal from others. This may have come in the form of tangible things or it may have come in the form of intangible things. All the gifts were hopefully freely given, but maybe not. Maybe there are people out there who feel that we have "taken" things from them and now want repayment. Look for these people and see what you can do for them. It may be very little more than saying "thank you." It may be much more. But either way you will know what is hoped for and have a chance to provide it.
Reading great spiritual texts. Finally I recommend reading great spiritual texts as a means of bringing one's life to a new peace and a new freedom. Remember, freedom is one of the goals, one of the aspects of happiness. To be free we have to understand all that binds us, and this is the real subject of most spiritual texts.
If you find yourself in a good spiritual bookstore, just take a look at the titles. They may not tell you much, but as you read them watch what happens inside. I predict you will begin to feel something — maybe peace, but probably anxiety. These books are powerful and their goal is to make you happier than all the tropical vacations in the South Seas anyone ever had. If you start reading spiritual books, you will expose yourself to an entirely new way of understanding yourself. It will also slow you down. That will make you happy.
Adapted and excerpted from The Way to Happiness by George Catlin, Ph.D., DeVorss Publications, 2004. $8.95. ISBN 087516804-3
Bookworm
By Nancy Post
I grew up in a small town with Main Street running through the center of town. Downtown had a movie theatre that served popcorn with real butter, and even a five and dime store with the luncheon counter with round, short swivel stools. Merchants wrapped your Christmas presents. At Halloween, if someone had to work on that night, they left the candy in a bowl on the porch with instructions on how many pieces to take. Each section of town had its own grocery store, corner garage and drug store. On Sunday the church bells would ring calling people to worship.
My favorite time in this small town was summer. I could wander down by the riverbanks while listening to the tugboats in the distance, or hear the trains announce their arrival to the station. Planes would fly overhead to land at the airport, just over the river. One could pick black-caps or play hide and seek till night fell.
My favorite memory was the bookworm program. To encourage reading during the summer, the schools, along with the local libraries, did the bookworm program where you had to read ten books in the summer. The reward was an ice-cream at the Dairy Queen. The library, at my end of town, was a former schoolhouse. To make sure one did read the books, the librarians would occasionally ask us for a report, either oral or written. A good share of the time we would be on the honor system. I would go over to the library and decide what to check out — Nancy Drew, The Bobsey Twins, or a biography. After letting my mother know I was home, I would sit under this gnarly old crab apple tree with the gentle scent of the blossoms and the sounds of the nearby river.
I have grown up now, and the library has closed. Now when I sit on my front stoop, reading and then close my eyes, I can still smell the apple blossoms and hear the trains and the boats.
The Importance of Time
Anonymous
A young man learns what's most important in life from the guy next door.
It had been some time since Jack had seen the old man. College, girls, career, and life itself got in the way. In fact, Jack moved clear across the country in pursuit of his dreams.
There, in the rush of his busy life, Jack had little time to think about the past and often no time to spend with his wife and son. He was working on his future, and nothing could stop him.
Over the phone, his mother told him, "Mr. Belser died last night. The funeral is Wednesday."
Memories flashed through his mind like an old newsreel as he sat quietly remembering his childhood days.
"Jack, did you hear me?"
"Oh, sorry, Mom. Yes, I heard you. It's been so long since I thought of him. I'm sorry, but I honestly thought he died years ago," Jack said.
"Well, he didn't forget you. Every time I saw him he'd ask how you were doing. He'd reminisce about the many days you spent over 'his side of the fence' as he put it," Mom told him.
"I loved that old house he lived in," Jack said.
"You know, Jack, after your father died, Mr. Belser stepped in to make sure you had a man's influence in your life," she said.
"He's the one who taught me carpentry," he said. "I wouldn't be in this business if it weren't for him. He spent a lot of time teaching me things he thought were important…Mom, I'll be there for the funeral," Jack said.
As busy as he was, he kept his word. Jack caught the next flight to his hometown. Mr. Belser's funeral was small and uneventful. He had no children of his own, and most of his relatives had passed away.
The night before he had to return home, Jack and his mom stopped by to see the old house next door one more time. Standing in the doorway, Jack paused for a moment. It was like crossing over into another dimension, a leap through space and time. The house was exactly as he remembered. Every step held memories. Every picture, every piece of furniture….Jack stopped suddenly.
"What's wrong, Jack?" his Mom asked.
"The box is gone," he said.
"What box?" Mom asked.
"There was a small gold box that he kept locked on top of his desk. I must have asked him a thousand times what was inside. All he'd ever tell me was 'the thing I value most,'" Jack said.
It was gone. Everything about the house was exactly how Jack remembered it, except for the box. He figured someone from the Belser family had taken it.
"Now I'll never know what was so valuable to him," Jack said. "I better get some sleep. I have an early flight home, Mom."
It had been about two weeks since Mr. Belser died. Returning home from work one day Jack discovered a note in his mailbox. "Signature required on a package. No one at home. Please stop by the main post office within the next three days," the note read.
Early the next day Jack retrieved the package. The small box was old and looked like it had been mailed a hundred years ago. The handwriting was difficult to read, but the return address caught his attention. "Mr. Harold Belser" it read.
Jack took the box out to his car and ripped open the package. There inside was the gold box and an envelope. Jack's hands shook as he read the note inside.
"Upon my death, please forward this box and its contents to Jack Bennett. It's the thing I valued most in my life." A small key was taped to the letter. His heart racing, tears filling his eyes, Jack carefully unlocked the box. There inside he found a beautiful gold pocket watch. Running his fingers slowly over the finely etched casing, he unlatched the cover.
Inside he found these words engraved: "Jack, Thanks for your time! —Harold Belser."
"The thing he valued most…was…my time."
Jack held the watch for a few minutes, then called his office and cleared his appointments for the next two days. "Why?" Janet, his assistant asked.
"I need some time to spend with my son," he said.
"Oh, by the way, Janet…thanks for your time!"
Inner Strength
Anonymous
If you can start the day without caffeine or pep pills,
If you can be cheerful, ignoring aches and pains,
If you can resist complaining and boring people with your troubles,
If you can eat the same food everyday and be grateful for it,
If you can understand when loved ones are too busy to give you time,
If you can overlook when people take things out on you when, through no fault of yours, something goes wrong,
If you can take criticism and blame without resentment,
If you can face the world without lies and deceit,
If you can conquer tension without medical help,
If you can relax without liquor,
If you can sleep without the aid of drugs,
If you can do all these things….
Then you are probably the family dog!