So What Do Healthy Vegan Kids Eat All Day?
How to make healthy food taste delicious so even your kids will be asking for seconds.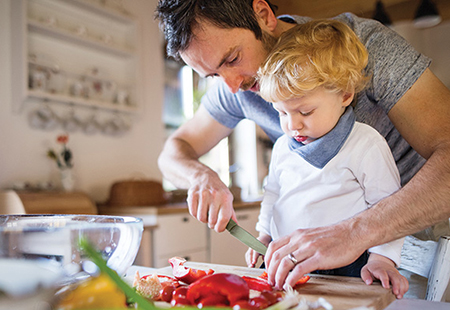 In 1994, I went to a music college that had a large percentage of Asian students, so the cafeteria cooks made most of the food vegetarian. I ate like a king and found that I wasn't missing meat — the food was so good! My classmate Alex was a vegetarian and took a rational approach, asking me, "If you're enjoying the food, eating healthier, and not contributing to the suffering and killing of animals raised for meat, why not be vegetarian?"
Once I was living on my own, I started reading more about vegetarianism. Two books that were significant in my journey were Diet for a New America by John Robbins, and Fit for Life by Marilyn and Harvey Diamond. These books went in-depth about health and nutrition, the mistreatment of farmed animals, and the environmental impact of eating meat and dairy. I was a vegetarian for all of those reasons, but these two books detailed how much the meat and dairy industry are linked too. If you're vegetarian for concerns about health, animals, and the environment, then it's not a morally consistent choice to continue eating dairy.
Both books also offered a challenge — go vegan for thirty days, and see how much better you feel — just try it. I took the challenge, and I discovered that I'd never felt better in my life! People ask me if I ever feel tempted to cheat and eat something that's not vegan. I did feel that way occasionally for the first few years, but I remembered the difference of how I felt before I was vegan, and I didn't want to go back to feeling less healthy.
These books also introduced me to information about how our bodies process food. While we can be omnivorous and process meat and dairy, our bodies run much better without consuming them. In my case, once I went vegan I became allergic to dairy; if I consumed dairy by accident, my throat started to swell and I had difficulty breathing. That's my body's way of very clearly saying "No way!" (or "No whey," if you like). Nothing like struggling to breathe to take the temptation away; I'd rather be alive.
When I went vegan in the 90s, there weren't a lot of vegan convenience foods available, so I was on my own. I love food and I didn't have the money to eat out all the time, so I learned how to cook great food at home.
I have two boys who are now 17 and 20 and have grown up vegan. Sometimes other kids would tease them –— "Hey VEGAN" — and they would laugh as if that was supposed to be some kind of insult, knowing they were usually the fastest and healthiest in the group. I have always tried to feed my kids healthy, unprocessed whole foods as much as possible, but I don't spend a fortune doing it, and with busy kids who are always on the go, convenience is a must! I use my freezer to keep healthy foods ready to go: whole grains and beans can be made ahead of time (if you have an electric pressure cooker, like an Instant Pot, you can set it and forget it), soups, sauces, and dressings can be easily frozen in glass Mason jars, fruit that is normally time-consuming to prepare like cherries can be bought frozen throughout the year and be ready to go for a quick morning smoothie. My recipes use ingredients found at typical grocery stores, and the handful of specialty ingredients I use can be found online and kept in the pantry.
So what do healthy vegan kids eat all day — nuts and seeds? Well…yes, in different ways. Mine might start out the day with Black Forest Smoothie for breakfast — frozen cherries, banana, nuts and seeds, and cacao powder blend together to taste like a chocolate cherry dessert. Maybe for dessert they'll grab a handful of Orange Chocolate Energy Bites from the freezer, a deliciously sweet mix of dates, orange zest, nuts and seeds.
Black Forest Smoothie
This was selected as one of the Top 10 Best Vegan Smoothies in the World by VegNews Magazine. The taste of chocolate and frozen cherries together is a winning combination! Frozen cherries are quicker than pitting fresh cherries and fresh cherries can spoil quickly.
Ingredients
⅓ cup raw almonds
¼ cup rolled oats
2 cups water
½ frozen banana
1 ½ cups frozen cherries
4 Medjool dates
2 Tbsp cacao powder
1 Tbsp chia seeds
1 tsp vanilla
½ tsp almond extract
¼ tsp espresso powder
Instructions
Blend the almonds and water together for 1 minute, then add remaining ingredients and blend for several minutes until completely smooth.
---
Orange Chocolate Energy Bites
I often make a batch or two of these energy bites and store them in a freezer bag to have on hand; they taste even better frozen!
Ingredients
2 cups Medjool dates (approximately 16), pitted
1 ½ cups raw cashews
¾ cup raisins
¼ cup cacao powder
1 tsp orange extract
½ cup hemp seeds
Zest of 1 orange
¼ tsp espresso powder
Instructions
Using a food processor, blend all ingredients until everything is combined and a thick paste forms, which may take several minutes. Roll the paste into balls and refrigerate 30 minutes before serving.
---
I didn't stop eating meat and dairy because I thought it tasted bad; on the contrary. Before I became vegetarian, I would eat kielbasa by the yard if I could. There was a time when I would walk by hot dog stands in Boston and be tempted, and I had to find the willpower to keep walking. Just like drug addiction, I had to get to the point where the part of me that felt like it wasn't worth it got stronger and dominated the impulse to have meat. That happens over time. You feel so much healthier and stronger that it's just not worth it to eat those foods. But this is not an all-or nothing way of eating. You may not be ready to go all-in and may want to start with smaller steps, like one plant-based meal a day or a few days every week. I didn't start eating like this overnight. It also really helps to be surrounded by family and friends who are supportive of you, even if they don't eat the same way as you.
Sesame Noodle Salad
This Asian-inspired noodle salad makes a delicious and hearty lunch. Split up a batch into smaller containers and you'll have to-go lunches for days! Often you will find prepared sesame noodle salad uses buckwheat soba noodles, which is more authentic, but I prefer the texture of spaghetti to cold soba noodles, so ultimately it's a matter of whatever you like best.
Ingredients
For the salad
⅓ lb uncooked spaghetti noodles or linguini
1 medium carrot, peeled and cut into 1" matchsticks
2 Persian cucumbers, unpeeled and diced
1 red bell pepper, diced
½ cup shredded purple cabbage
For the sauce
1 Tbsp toasted sesame oil
2 Tbsp apple cider vinegar
2 Tbsp tamari
2 Tbsp agave nectar
1 tsp garlic powder
1 tsp ginger powder
½ tsp sriracha
Toppings
¼ cup chopped peanuts
¼ cup chopped cilantro
2 green onions or scallions, minced
2 Tbsp sesame seeds
Instructions
Cook the noodles according to the directions on the package, then add to a large mixing bowl with the carrots, cucumbers and bell pepper. Mix together until well combined. Combine the sauce ingredients in a bowl and whisk together, then pour over the salad. Use tongs to add the salad to individual bowls, then add the toppings and serve.
---
I have to make dinner for my two boys; looking through the sparse pantry I find a random can of black beans. I find some cauliflower rice in the freezer, remembering the suspicious looks I got from the kids when I put it in the grocery store cart last week. In the fridge I have a bunch of kale; kale is one of the healthiest greens you can eat but not exactly my kids favorite. I have to somehow assemble this into something my kids will actually eat, bonus points for making something they won't complain about.
Also, I only have 15 minutes to make it before I have to get them out the door for karate. Game on!
My secret weapon in cases like this is always the sauce: a delicious sauce is the magical fairy dust that transforms healthy but boring foods into meals where my kids ask for seconds. They're usually too busy plowing through their dinner to stop and notice what the sauce is helping to deliver to their stomachs. Years ago I started seeking out and writing recipes for "utility" sauces I could make in short order to cover a bowl meal full of whole-grains, beans or tofu, and veggies — dinners that could give my kids the healthy fuel to power them through the evening. Here's a favorite utility sauce that I've served up countless times.
Lemon Tahini Sauce
Tahini is ground sesame seed paste, which has a unique flavor, and the consistency is similar to peanut butter. It lasts a long time in the jar or can, so stock up when you find it at the supermarket or natural/ethnic markets. This sauce is typically what you would find with falafel in Mediterranean or Middle East restaurants; it makes a bowl of grains, beans, and veggies taste ten times better!
Ingredients
1 cup tahini
1 clove garlic
1 tsp grated ginger (about ½" thumb of ginger)
2 Tbsp tamari
Juice of 1 lemon
½ cup water
Instructions
Place all ingredients in a blender and puree until smooth. Add more water for a thinner consistency.
---
As a vegan for 25 years now, I've heard the question asked many times: is it possible to be healthy and get all the nutrients you need as a vegan? It's really a backwards question; if you eat whole food, unprocessed meals of fruit, veggies, whole grains, nuts, seeds, beans, etc., how can you not be healthy? As for the oft-cited protein concern, there's no lack of protein with all the nuts, beans, legumes, seeds and tofu in this diet. I like to think of it as giving my kids a superpower: they get lots of energy when I feed them foods that their bodies can use best, making them healthy and strong. Their bodies aren't bogged down trying to process all the toxic ingredients, which have been intentionally added to junk foods to make them more addictive.
But you shouldn't ever have to feel like you're sacrificing taste by eating healthy foods because there are so many delicious ways to prepare them! If you are looking for ways to get your kids to eat healthier, introduce new recipes instead of trying to make healthier versions of what they usually eat. Most of the time, the "healthier" versions of pancakes, mac & cheese, and chocolate chip cookies are still full of processed junk, and they turn out to be a pale imitation of what kids are used to eating. Try redefining breakfast with healthy smoothies that taste like dessert, dinner with healthy, whole grain bowl meals and a delicious sauce, and dessert with whole food sweet energy bites. That's not to say you won't ever eat at restaurants again, or enjoy a good chocolate chip cookie, but you can gradually shift your eating to cooking family meals with healthier things you enjoy on a day-to-day basis.
Fortunately, there is more interest today among kids in eating vegan than ever before, with many more vegan options available at schools, restaurants and supermarkets. There is also a wealth of vegan nutrition resources online to help parents feel more comfortable with kids who want to start eating more vegan food. Dr Michael Greger's non-profit www.NutritionFacts.org offers a wealth of information on evidence-based nutrition and health.
Colin McCullough is the author of the newly released The Healthy Vegan Cookbook (2019, Vegan Publishers), which includes over 200 recipes for healthy, whole-food meals kid-tested by his two boys. Colin also teaches free healthy cooking classes at libraries across Massachusetts. A calendar of his upcoming classes can be found at www.ColinCooksVegan.com.
See also:
Howling With My Mom Put Me On A Path To Living With Compassion
The Generation of Hope