Spiralizing: The Fun And Easy Way To Make Pasta!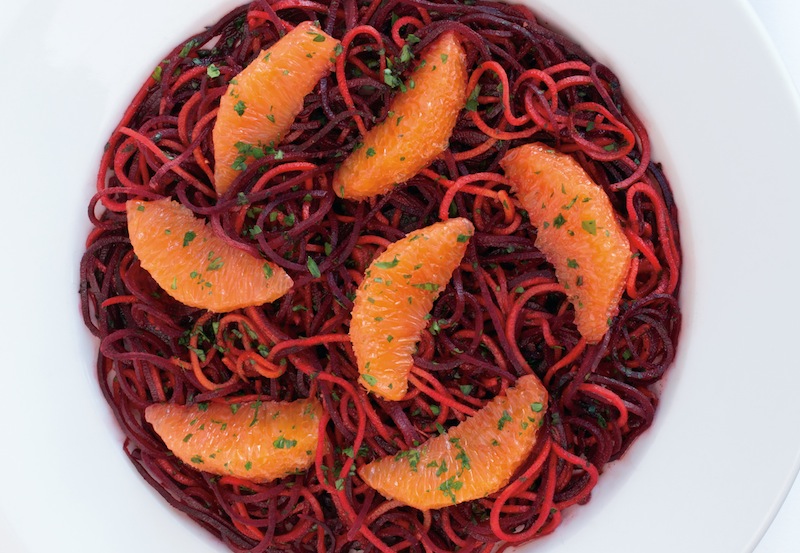 Beverly Lynn Bennett will be a presenter at the 2016 New England VegFest on May 1st at 12pm at the DCU Center in Worcester, MA.
Like other foodies, I love a good kitchen gadget! A few years ago, I added spiralizers (also known as spiral slicers) to my collection of kitchen equipment, and I'm so glad that I did! If you've never heard of a spiralizer, you're probably wondering what exactly it can do for you. By using a spiralizer, you can quickly and easily turn your favorite fruits and vegetables into pasta-like noodles (a.k.a. spiralizing) of various shapes and sizes, such as angel hair, thin spaghetti, thick spaghetti, flat linguine, or fettuccine. Depending on the blades included with the spiralizer, you might also be able to cut ribbons, circular slices, half-moons, and thin or thick shreds. Read on to learn more about this coolest craze to hit the culinary world!
Advantages of Spiralizing
Spiralizers can be used to create nutritious and colorful garnishes and components for use in salads, soups, sandwiches, side dishes, and entrées. Plus, it's an easy way to include more fruits and veggies in your meal preparations, as well as enhance the visual appeal of your favorite dishes. Other than potatoes, all spiralized vegetables and fruits can be eaten raw, and doing so will help retain more of their vital nutrients. Also, your recipe will yield a greater number of servings. However, if you prefer, you can also cook your spiralized pasta, either by microwaving, steaming, simmering in boiling liquid (such as water or broth), pan-frying in oil, deep-frying, baking, or roasting it in the oven.
Spiralized pasta has fewer calories and carbohydrates, and more fiber, than grain-based pastas. Therefore, you can eat a larger-sized portion of vegetable or fruit pasta–usually a serving size that's between one and half and two cups–in comparison to the recommended one-half and one cup serving of cooked whole grains or grain-based pasta. Pasta made from spiralized vegetables and fruits are perfect for people who follow a gluten-free, low-carb, paleo, or raw food diet, as well as those who are watching their weight or trying to lose a few pounds.
Different Styles of Spiralizers
Spiralizers are available in various shapes, sizes, colors, and price ranges, and depending on the type and brand, they each have slightly different features and capabilities. Based on how the device operates, in conjunction with the position of the cutting blade, spiralizers can be classified into three basic styles:
Handheld hourglass spiral slicer (such as a Veggetti) – has an hourglass shape, with two funnel-shaped openings that contain the cutting blades and a handle for gripping in the middle. It's operated much like a pencil sharpener.
Vertical spiral slicer (such as GEFU Spiralfix or Saladacco) – has several parts: a cutting table that contains the cutting blades and their adjustment lever, a spiked holder plate, and a crank handle. It's operated by turning the crank handle clockwise while pushing downward with the palm of your hand, which in turn pushes the food against the cutting blade, and the spiralized item is dropped below.
Horizontal tri-blade spiralizer (such as Paderno) – has three main parts: the three interchangeable cutting blades, the crank handle, and the base. To use the device, a vegetable or fruit is centered on the circular corer on the blade plate of the machine, then anchored in place by pressing the spikes in the crank handle into the opposite end. By turning the crank handle clockwise with one hand while simultaneously pushing forward on the lever handle with the other hand, the item is guided toward the cutting blade and cut into the desired shape.
To inspire you to try your hand at spiralizing, I present this Beet, Carrot, and Orange Salad recipe from my book, Spiralize! Transform Vegetables and Fruits from Ordinary to Extraordinary (BPC 2015), which features more than 35 vegan and gluten-free recipes. Also, if you're in the area, I'll be making Tzatziki-Style Cucumbers and Raw Pad Thai (from the same book), as part of my presentation at the 2016 New England VegFest on May 1st at the DCU Center in Worcester, MA.
Beet, Carrot, and Orange Salad
Yield: 4 servings
This sweet, crisp, and refreshing salad is made with a delightful blend of beet and carrot spaghetti and orange segments tossed in a zesty, ginger-infused vinaigrette.
1 large red or gold beet, peeled
2 carrots, scrubbed or peeled
2 oranges, peeled, seeded, and segmented
¼ cup chopped fresh parsley, lightly packed
2 tablespoons cider vinegar
1½ tablespoons peeled and grated fresh ginger
1 tablespoon olive oil
¾ teaspoon ground cinnamon (optional)
½ teaspoon sea salt
¼ teaspoon freshly ground black pepper
Use a tri-blade spiralizer, vertical spiral slicer, or handheld hourglass spiral slicer to cut the beet and carrots into thin spaghetti strands. Leave the strands intact, or for easier eating, cut with a knife into 2½-inch lengths.
Transfer the beet and carrots to a large bowl. Add the oranges and parsley and stir until well combined.
Put the vinegar, ginger, oil, optional cinnamon, salt, and pepper in a small bowl and whisk until well combined. Pour over the beet mixture and toss gently to combine.
Variation: For a heartier salad, add 4 cups of baby spinach or coarsely chopped kale, lightly packed, and toss well to combine.
Beverly Lynn Bennett is an experienced vegan chef and baker, food writer, and the author of Vegan Bites: Recipes for Singles, Chia: Using the Ancient Superfood, Kale: The Nutritional Powerhouse, The Pure Power of Maca, The Complete Idiot's Guide to Vegan Cooking, The Complete Idiot's Guide to Gluten-Free Vegan Cooking, and others. She has hosted The Vegan Chef website at veganchef.com since 1999, and lives in the very vegan-friendly city of Eugene, Oregon.
See also:
Healthy Eating: Basic Techniques For Cooking Success
Never Too Late To Change The World: Why I Became Vegetarian At Age 86