Spring 2009 Music Reviews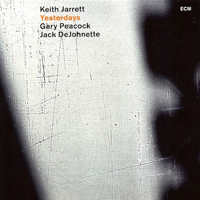 Jarrett/Peacock/DeJohnette Trio
Yesterdays
ECM 2060
This is fantastic stuff. Play the first track, Horace Silver's "Strollin'," and you're immediately catapulted into the bebop past, where movies are as black and white as the album cover. Mostly recorded on April 30, 2001, during the Jarrett/Peacock/DeJohnette Trio's historic gig in Metropolitan Festival Hall in Tokyo, pianist Keith Jarrett, double bassist Gary Peacock, and drummer Jack DeJohnette are in swinging form. Listen to them cut loose for nine minutes on Charlie Parker's "Scrapple from the Apple." The occasional verbal exclamations are hardly gratuitous; these boys are flying. Presumably they were just high on life.
The trio's 2001 tour, conducted in their 18th year, was such a musical triumph that it has yielded four albums so far. Yesterdays may consist of "standards" — you could hardly call songs by Harold Arlen ("Sleepin' Bee"), Dizzy Gillespie ("Shaw'nuff), Rodgers & Hart ("You Took Advantage of Me"), and Harbach/Kern ("Smoke Gets in your Eyes") avant-garde — but there is nothing standard about these performances. Nothing. They are alive to the moment, and sparkling with energy. This recording is so significant that it's the first title in 15 years that ECM is simultaneously releasing on CD and 180 gm vinyl!
Ruth Ziesak and Reinhold Friedrich
Jauchzet Gott in Allen Landen Cantatas for Soprano & Trumpet
Phoenix Edition SACD 102
Of all the 200 plus cantatas by Johann Sebastian Bach, perhaps none is more challenging for performers than Jauchzet Gott in Allen Landen (Praise God in All Lands), BWV 51, for solo soprano, trumpet, violins, viola, and basso continuo ensemble. In the course of 18 or so minutes, depending on how fast soprano and trumpeter can negotiate Bach's demanding baroque vocal line, the singer jumps all over the place while singing God's praises. Joyful, contemplative, and jubilant by turn, Bach's music moves so fast that it leaves little place to hide. Only the clarity of authentic instruments can fully convey Bach's supreme mastery of contrapuntal texture and instrumental color. Soprano Ruth Ziesak has been singing for several decades, yet retains her fetchingly youthful vocal beauty. Flattered by an excellent, high-resolution recording that conveys vocal and instrumental lines with startling clarity, she, trumpeter Reinhold Friedrich, and the Berliner Barock Compagney turn in a revelatory performance. The other vocal works on the disc, two sacred concertos by Johann Rosenmüller, and Jan Dismas Zelenka's three-movement Laudate Pueri, are equally rewarding. The soprano/trumpet interplay in Zelenka's final "Amen" is jaw dropping. But the Bach, with its marvelous closing "Alleluja," is one of the great masterpieces of the baroque era.
Grollo–Capitanata
Reiki Heart: The Next Level
Oreade ORM 65302
If you're taken by beautiful, heart-centered music with an even flow, this album is for you. The second in a series of healing music CDs that includes the original Reiki Heart, it features Italian composer Grollo on three different kinds of acoustic and electric guitars, synthesizer, and computer programming, and painter/composer/multimedia artist Capitanata on Korg keyboards, synthesizer, organ, acoustic and electric piano, and flutes. Introduced by the sounds of aggressively rushing water and birds chirping, the music soon predominates, creating an all-enveloping, ambient atmosphere of relaxation and healing. The artists' sound layering is especially skillful, placing elongated synthesized chords expanding in the background while guitars, keyboards, closely-miked flutes, and other instruments emerge with clarity in the foreground.
The music flows unbroken for just over 63 minutes, which gives you enough time to complete a massage or healing session and leave the lucky recipient bathing in bliss. Many CDs attempt to lure people in with fancy covers and titles that include "massage," "Reiki," and New Age buzzwords. Few — albums by Deuter and Aeoliah come to mind — can so completely transport you to a plane of heart-centered contentment as does Reiki Heart: The Next Level.
Arvo Pärtv
In Principio
ECM New Series: B0012599-02
Of today's spiritually based classical composers, perhaps the best known is Estonian-born Arvo Pärt whose strange, haunting blend of Russian Orthodox Christian mysticism and modern harmonies creates a universal resonance. Even those with strong aversions to the Church's long history of reactionary intervention in social and political matters are often transported by the transcendental nature of Pärt's music. You don't need to understand the Latin words sung by the Estonian Philharmonic Chamber Choir.
Multi-prize winning producer Manfred Eicher, who began ECM New Series with his 1984 recording of Pärt's Tabula rasa, gives us works either composed or revised between 2000 and 2007. The title work, In principio for mixed choir and orchestra, is a major five-movement masterpiece. Dedicated to Tonu Kaljuste, a longtime Pärt champion who conducts the Estonian National Symphony Orchestra and choir, it uses text from the Gospel of John 1:1-14 to forge a major statement of faith complete with thunderous percussion. "Cecilia, vergine romana" for mixed choir and orchestra, tells the tale of Saint Cecilia, the patron saint of musicians, who continued to sing the praises of God even as she died a martyr's death c. 230 A.D. "Da pacem Domine," commissioned by Jordi Savall, commemorates victims of the Madrid terrorist bombings of March 11, 2004.
Gill Manly
With a Song in my Heart
Linn AKD 328 (SACD)
Oh my god. The last thing I wanted was to sustain a transatlantic relationship. But I've fallen in love with a new (to me) veteran jazz singer from the U.K. named Gill Manly. As I listen to her start her seductively slow version of Rodgers and Hart's classic song, "With a Song in my Heart," with the intro, "To my joy and delight, it's a new kind of love at first sight," her singing is so intensely personal and focused that I can't help feeling that she's singing just to me.
Given that Manly has emerged from retirement to devote her first album in 12 years to her spiritual teacher, His Holiness the Dalai Lama, her intimacy also carries the warmth of a universal embrace. The voice, which expands from soft, half-whispered sweetness to swinging openness, is adorable. Insinuating volumes with every phrase, Gill Manly recorded this album as a personal reflection on the work of Ella Fitzgerald. With the support of subtle piano, double bass, drums, muted trumpet, and Mark Murphy's guest vocals, she gives us such classics as gay composers Cole Porter's "Love for Sale" and Billy Strayhorn's "Lush Life." Among the high-resolution SACD's other tracks, all of which can be played in either stereo or multi-channel format, are Anderson/Weill's "September Song" and works by Ellington and Gillespie. Available in hard copy or downloadable from linnrecords.com, this album is destined to bring Manly countless invites to the grand U.S.A.
Christine Tulis
Portal
SoundTempleMusic STMCD101
Filled with the beauty of the Celtic harp, musician and healer Christine Tulis has partnered with Kem Stralka to create a lovely disc of serene, somewhat wistful music. Less ethereal than some New Age recordings, and ideal for contemplation, it has a vibration all its own. The self-produced CD, which was honored with the Moondance Gaia Award for Spiritual Music at the Moondance International Film Festival, features beautifully-recorded music that Tulis has performed at Harvard and Naropa Universities, UNESCO events in France's Chartres Cathedral, and the Evenings with Extraordinary People series featuring Caroline Myss. The compositions, which meld the harp with the natural sounds of piano, cello, keyboard, flute, Tibetan bells, and Tulis' occasional vocals, create an even flow ideal for background, bodywork, and the like. As the founder and director of Sound Temple Music and Healing Arts in Boulder, CO, Tulis creates sacred music events, plays for labyrinth walks and rituals, and offers healing sessions. Indeed, listening to this generous CD (over 71 minutes) is a healing session all its own.
Jason Victor Serinus (www.jasonserinus.com) is a holistic author, bodyworker, whistling virtuoso and music critic who resides in Oakland, CA. Please send music review copies to Jason at 2749 E. 17th St., Oakland, CA 94601 or email jserinus@planeteria.net.