Spring 2009 Starspeak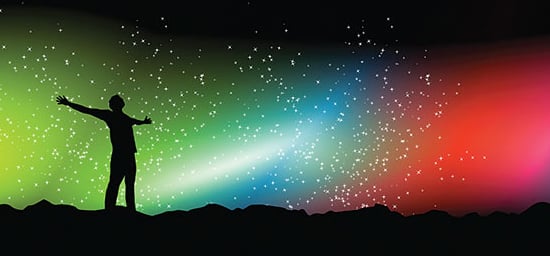 "Astrology is a science in itself and contains an illuminating body of knowledge. It taught me many things and I am greatly indebted to it." — Albert Einstein, a Piscean, born March 14, 1878. From Cosmic Religion With Other Opinions and Aphorisms, 1931
Spring 2009
As I sit here writing about the springtime stars, temperatures are hovering in the single digits. Looking ahead and thinking about green grass and songbirds helps take the edge off the deep freeze nipping at our doors, at least until I go outside into the wintry blast. Every season has its place in nature's order. It is the cold, dark winter that makes warm, sunlit spring days all the more welcome.
Here in New England, spring is a time of hope as well as new life. This year expectations are going to be greater than usual due to Jupiter's conjunction with Neptune. This providential pairing strengthens faith and devotion and inclines many people to expand their limits, as they attempt to achieve more meaningful, and in many cases, more divinely inspired lives. But the conjunction may also cloud logic. Weak-willed individuals could turn to the escapist or delusional behaviors that can accompany all Neptunian aspects. Try to keep your feet on terra firma. As for the environment, Jupiter conjunct Neptune very well might signal wild weather, with record setting cold, wind, rain and flooding likely.
Also this spring, unpredictable Uranus edges into a square with Pluto. A harbinger of massive social movements, this evolutionary aspect has not been seen since the Great Depression. All across the globe, but especially in developed countries, citizens are embracing new ways of living. Regardless of the causes and whether we care to admit it or not, our consumption-driven economic system is transitioning into post-capitalistic mode. The old ways of doing business simply will not provide enough food, healthcare and right livelihood to support the growing world population. Technology, ruled by Uranus, holds the keys to living in peace and prosperity. We all need to get behind the research and development of renewable energy. New modes of travel, another necessary development, are surely imminent.
For much of May Saturn retrogrades out of the opposition to Uranus. This alignment began last autumn and was first exact on Election Day this past November. It will resume over the summer, but for a brief while the planets take a breather, freeing us from some of the anxiety producing chaos and uncertainty that has wracked the financial markets.
In over thirty-five years of astrological study I would be hard pressed to come up with a more challenging or more exciting astrological scenario than the one we face now. We were born for these times! As has often been noted, every challenge is also an opportunity. I remain confident that the current patterns provide us with ample resources to meet each and every trial with grace, enthusiasm, strength and wisdom. Accentuate the positive. Onward and upward!
March 2009
As the curtains open on March, the Pisces Sun is reaching a sobering opposition with Saturn while simultaneously moving towards erratic Uranus. The Sun thus acts as a trigger for the Saturn/Uranus opposition. Saturn asks that we respect reality with all its laws, boundaries and limitations. In addition to manmade rules and regulations, the ringed planet also governs karma and the working order of the universe! Ever since last fall, when Saturn reached an opposition to Uranus, events have transpired that have seriously disturbed what appeared to be the ordered systems of our banks, largest corporations and markets. The resulting shockwaves have seriously eroded faith in these institutions. In some measure these developments have also been caused by Pluto's arrival in Saturn's own sign of big business and government, Capricorn.
Debate and discussions about fixing broken institutions and healing a wide range of relationships will be frequent this March. In the evening, after capping off a wonderful first day of the month, a frisky Mercury/Mars conjunction in Aquarius provides the courage to forge ahead. Think about strategies. Bounce ideas off friends. Some plans could bog down on Monday the 2nd when the Taurus Moon tests Mars, Mercury and Neptune. An eccentric friend, along with a few good belly laughs, helps put things in perspective.
Despite several hurdles, notably on Wednesday the 4th, the week brings growing momentum. Loving Venus, now in impulsive Aries, turns retrograde from March 6th through April 17th and more than one relationship may be affected. Some will deepen while others may falter. Coincidentally to this retrograde, old friends and lovers may resurface. Either nail down the details or walk away from a commitment as mental Mercury, Mars and Neptune form a stellium in Aquarius through the 8th. That Sunday also sees the Sun in an exact, reality check opposition with Saturn. A time of reckoning is at hand as we shift to Daylight Savings Time.
Many emotionally charged issues culminate with the Virgo Full Moon, exact at 10:38pm on Tuesday the 10th. The Sun/Moon opposition overlaps and reinforces the similarly energized opposition aspect between Saturn and Uranus. Those who would step in to fill a power vacuum or offer solutions need to do so with a degree of grace and dignity. Fortunate helping aspects between Mercury and Pluto as well as Venus and Jupiter allow just such kind, thoughtful approaches to work healing magic.
The Sun passes into a potentially liberating encounter with Uranus during the night of the 12th. Evening gatherings are filled with spontaneous goodwill gestures. Some free spirits simply need to assert their individuality. The tendency to disagree just for argument's sake can also occur. Steer clear of immature or destructive types.
As we approach mid-month and the infamous Ides of March, smoother trends take hold. Eyebrows may be raised by sassy talk on the 17th. Wednesday the 18th ushers in a new set of aggravating delays and plot twists. The last quarter Moon in Sagittarius raises stress levels during the early afternoon. That night Mercury is opposite Saturn, a "food for thought" aspect if ever there was one.
Remember, no aspect to Saturn can now occur without activating the opposition to Uranus. It may seem, at least for the next few days, that no matter how much one tries to work logically or within "the system," cooperation is scant to none. Understand that everyone, including bosses and higher ups, is in the same boat struggling to stay afloat on this storm tossed sea. A strong sextile from Mars to Pluto early on the 19th could open the door to a viable compromise solution. Do your utmost to constructively approach and engage all interested parties. This is a great aspect for making tough choices and problem solving.
The Vernal Equinox, the Sun's arrival in Aries and the start of the new astrological year happens on Friday the 20th. The workday is productive under a Capricorn Moon but the evening proves to be notably low key as the waning lady of the night sky goes void-of-course. Be spontaneous this weekend. Explore, experiment, and be ready to reconnect with old and new friends.
On Monday the 23rd the Sun's square with Pluto causes some people to feel quite agitated. Critical words cover up feelings of insecurity. Because the Moon is void-of-course most of the day, long-term consequences are minimized. Once the Moon enters Pisces during the late afternoon hours, reconciliation is possible. Continue to address various loose ends until the New Moon in Aries on the 26th. This is the true energetic start of the astrological New Year. With the Sun/Moon conjunction close by lovely Venus and chatty Mercury, backing for individual initiatives is close at hand. The time has come to vigorously pursue your goals. The cosmos supports those who dare to be authentic and true! For social butterflies Saturday night dinners and parties scintillate.
April 2009
Although the low-key morning, featuring a void-of-course Gemini Moon, sees many jokes fall flat, more personable trends come into play during the evening hours. A grab bag of aspects then makes the road uneven during the first week of the month. The First Quarter Cancer Moon generates friction the morning of Thursday the 2nd. Be considerate of more emotional friends and acquaintances. Retrograde Venus finds herself square to Pluto on Friday the 3rd. The early morning could see worries or disagreements erupting over spending but the underlying issue may be one of who controls the purse strings. Things improve dramatically that night. Lovers and partygoers will thoroughly enjoy loving vibes generated by a lunar trine to Venus. Communications and traveling also go smoothly, thanks to Mercury's sextile to Jupiter.
Saturday the 4th begins well but the going is rough that night when Mars tangles with Saturn. Slow down and think carefully before uttering words that may be interpreted as disrespectful. Spirits rebound around midnight. A Full Moon in Libra soars across the sky Wednesday night. The Moon is exactly full on Thursday the 9th at 10:56am. Try to balance your personal needs with those of partners around this time, treating them as friends and allies. Tensions will quickly be reduced. Having a mutual goal is invaluable so over the next couple of days set aside some quality time together for travel, to arrange a trip, take a class or devise a plan.
The week of the 13th begins rather quietly, but as Mars overtakes Uranus on Wednesday the 15th the chances of an accident increase. Please pay close attention to other vehicles while driving during the mid-week period. Watch your temper. Following a somewhat hectic morning, Venus returns to forward motion Friday afternoon, the 17th. A long lost but much missed friend could reappear. The calm and solidly rational Friday night trine between Mercury and Saturn may also generate wistful remembrances.
Meet up with close pals on Sunday the 19th as the Sun enters fertile Taurus. The Aquarius Moon, along with Jupiter and Neptune, guarantee a good time. That evening the Sun enters sensuous Taurus. Springtime romancing may bring on a strong sensation of déjà vu throughout the week. There's magic in the air. Venus and Mars hover at the last degree of Pisces, the end of the Zodiac. Encounters with ones loved in the past or from other lifetimes can feel especially poignant. By the Taurus New Moon of Friday the 24th Venus and Mars arrive in passionate Aries. With eyes to the future, this is a day of fresh starts.
Words can easily be misunderstood during the weekend of the 25th and 26th. Mercury is at odds with Neptune Saturday night. Confusion leads to poor choices so be extra cautious when eating, drinking and most critically, driving. Passions are also inflamed due to Mars' square with Pluto on Sunday. Take to the high road of loving forgiveness, made plain when the Gemini Moon aligns with Venus and Mars Sunday evening. The last few days of April are mostly satisfying, leading up to a rather flirtatious May's Eve.
May 2009
"Love, whose month is ever May," according to William Shakespeare, faces trials and tribulations once the new month begins. The afternoon of the 1st features the edgy First Quarter Moon in Leo, and the disharmony between the fiery Moon and stubborn Taurus Sun can stir up any latent contentions in a partnership. On Saturday the 2nd daring Venus in Aries squares Pluto. A loving impulse can feel heavy-handed. Motives may be questioned. It becomes easier to tiptoe through tensions Saturday afternoon. Couples who sail through these challenging astrological aspects deserve kudos.
Keeping long-term security in mind, adapt to changing circumstances on Monday the 4th. The Taurus Sun's trine to Saturn promotes loyalty, common sense and fair play. Mercury goes retrograde just after midnight on the 7th. The Moon is nearly full so logic may be seriously askew as emotional tides rise. Reserve judgment where possible.
The Full Moon in Scorpio culminates at 12:01am on Saturday the 9th. Wishful thinking is captivating for some people while others lean to pragmatism. In any case, it is a weekend night and moonlight can be so healing, romantic, or inspiring. Don't make excuses. Take a stroll and the night's magical beauty. Mother's Day festivities are blessed by a fun-loving trine between the sociable Sagittarius Moon and loving Venus. What will it be? Breakfast in bed for Mom the Goddess? A jaunt to her favorite store or haunt?
Work is fruitful from the 11th through the 15th, but on Friday don't boast or make promises you can't keep. The Sun's square with Jupiter and Neptune inclines some people towards overdoing, overstating or fibbing. Saturn's return to forward motion during the night of the 16th can have a humbling effect. Retrograde Mercury is also in a challenging square with Neptune and Jupiter. These aspects are exact on the 20th, and warrant paying careful attention to facts and information. Don't forget where you have come from or where you want to go. The Sun also enters Gemini on the 20th, a reminder that summer will soon be upon us.
The Gemini New Moon on Sunday the 24th provides an early jumpstart for the travel season. Coincidentally, this is Memorial Day weekend, the traditional beginning of summer activities. Monday the 25th is busy, buoyant and fun as the Gemini Moon keeps things hopping along. Vibrant trends between Mars and the Jupiter/Neptune conjunction elevate spirits and activity levels through Wednesday the 27th. This is a great time to finalize plans for that dream vacation.
In quick succession the merry month of May ends with Neptune turning retrograde on the 29th, Mercury turning direct on the 30th and Mars entering Taurus on the 31st. The chameleon like abilities of Gemini to adapt and fit into changing circumstances will come in handy. The night of Friday the 29th is the best of the three for socializing, thanks to a kindly nod from loving Venus. Saturday night hosts the challenging First Quarter Moon, as well as the Winged Messenger's turnabout. If you prefer the action a bit overwrought and confused by multiple plot lines, say like a 1930's Katherine Hepburn/Cary Grant romantic comedy, this night is quite memorable. Sunday the 31st is noticeably calmer. Be on notice; new friends are in the wings, waiting to be met.
Eric Linter offers a complete range of astrological services, including his "On Top of the Stars Monthly Guide" for making inspired career and personal decisions. Consultations are available in person, by phone or on audiocassette. Contact Eric at 508-541-4115 or email at ericlinter@aol.com. Visit www.spiritofchange.org and read Eric's daily astrology reading.