Spring 2011 Music Reviews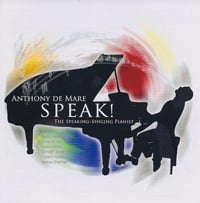 Anthony de Mare
Speak!
Innova 241
On first listen, someone unfamiliar with the art of Anthony de Mare might ask, "Is this guy nuts?" Beginning a CD compilation of music for speaking/singing pianist with the line, "There is a story to tell," seems reasonable enough. But those odd beats on the piano, wild cries, whoops, slaps, heavy breaths, hollers and hiccups, and New York-accented Indian vocalizations? Could composer Jerome Kitzke have possibly envisioned such an unbridled response to the personal text with which he framed his 1999 setting of Allen Ginsberg's great Sunflower Sutra?
As it turns out, he did. When Kitzke first heard de Mare perform the New York premiere of Frederic Rzewski's setting of Oscar Wilde's De Profundis at the 1995 Bang on a Can marathon Lincoln Center, he was blown away. "From a pure performance standpoint," he says, "I thought he had done a piece of incredibly magical one-person theater at the piano. This is not a new notion; lots of performers sing and play and create little bits of theatre at the piano. But Tony creates a complete piece of theater. He is not just an artist and performer; he thinks like a theatrical person, which makes him just perfect for pieces like De Profundis and Sunflower Sutra that convey the full range of human emotions."
Thus begin the liner notes for de Mare's remarkable recording for speaking/singing pianist. The man pioneered the genre, and remains its supreme master. With music by Laurie Anderson, Derek Bermel, Meredith Monk, Rodney Sharman, and the aforementioned Kitzke and Rzewski — the last three composers writing specifically for de Mare — Speak! is an amazing disc.
Vijay Iyer
Solo
ACT Music + Vision 9497-2
The term "jazz" begins to lose meaning when applied to creations as brilliant and exciting as Solo. I didn't know much about pianist Vijay Iyer when I started listening, but I was so captivated by the layers and depth of his playing, and his unique interweaving of rhythm, melody, and harmony that I initiated a web search. Thus I discovered that Historicity, Iyer's recent recording with his trio, was nominated for the 2010 Grammy for Best Jazz Instrumental Album. Equally exciting, Solo has been named among the Top 10 Jazz Albums of 2010 in the JazzTimes critics' poll, the Village Voice critics' poll, Popmatters, the Los Angeles Times, the Chicago Tribune, and the Detroit Metro Times. Iyer was also named 2010 Musician of the Year in the Jazz Journalists Association Annual Jazz Awards.
Iyer's music transcends genres, taking us on an oft-mesmerizing journey. In "Autoscopy," chords churn in ways that seem more connected to new music than jazz. The jazz element may be more recognizable in the relentless riffs of "Patterns," but elements constantly change and shift in the 11 excursions on Solo. Engineered and co-produced by five-time Grammy-nominated engineer Cookie Marenco, the beauty and clarity of the tape-to-DSD recording is an audiophile's delight. Iyer's playing is even more than that. Don't miss this album.
Ensemble 96
Kind
2L 76
How can you resist a choral program of traditional Norwegian cradle songs and contemporary lullabies whose theme is Kind? The title's promise is fulfilled, not only by the warmth and gentleness of some of the older repertoire, but also by the vocal excellence of Ensemble 96. A much lauded Norwegian Chamber Choir whose previous album for 2L received a Grammy nomination for Best Choral Performance, Ensemble 96 infuses its singing with inner light and soul-warming fullness.
The music is special. The much-venerated contemporary Danish composer Per Nørgård (b. 1932) certainly pushes the envelope with the harmonies, texts, and themes of his three lullabies. His "Grief affects everybody" and a nonsense syllable lyric set as "Funeral March with an Accident" are not inherently reassuring, but they are performed with such heartfelt embrace as to foster acceptance of the sadness and separation that are an inevitable corollary of life. Nurturance and consolation come in the form of six folk songs arranged by Frank Havrøy. Two are as sweet as can be, while others have a kick that reminds us that life is not always a simple fairyland. Another source of warmth is 2L's exceptional recording. Each package includes both a high-resolution hybrid SACD (playable on standard CD players) and a hi-res (24/192) Blu-ray disc. Even in two-channel CD playback, the sound is some of the best I've encountered.
Gyuto Monks of Tibet
Pure Sounds
New Earth Records NE 3106
Famed for their deep overtone chanting and meticulously constructed sand mandalas, the Gyuto Monks of Tibet maintain an ancient spiritual practice of achieving peace and enlightenment through mindful repetition. Capable of chanting in three octaves at once, their lowest, gravely sounds interweave with others higher up to create deep and healing resonances in body, mind, and spirit. Now living in India, they are the descendants of the original monks of Gyuto Tantric University, who began practicing in Lhasa, Tibet in 1475. In 1959, the Chinese occupiers of Tibet desecrated the monks' temple and killed most of them. Sixty survivors resettled in New Ramoche Temple in Dharamsala, India. Along with the Dalai Lama, they continue their practices. Their numbers have now expanded to 500, with young monks providing some assurance that the lineage will continue. The recording has been nominated for a Grammy for Best Traditional World Music Album. Its six repetitive, drone-like chants, which are recitations of the Buddha's teaching, have a calming and mesmerizing effect. Dissonance becomes consonance, as the final chant, "Dalai Lama Long Life," seems to merge energetically, like a spiral vortex, with the timeless cycle of birth, death, and rebirth.
Felix Mendelssohn
Violin Concerto in E minor / Octet in E flat
James Ehnes
Onyx 4060
If a romantic violin concerto more perfect than Mendelssohn's Violin Concerto in E minor, Op. 64 exists, I don't know of it. The precocious composer's final orchestral composition, completed when he was 35, brims over with enrapturing melodies, thrilling virtuosic passagework, and irresistible romantic sweep. Once heard, it's a bit like your favorite dessert; all you want is more. But this is one treat that feeds the spirit rather than widening the waistline.
Violinist James Ehnes turns in an extraordinarily compelling performance. In the middle of his beautiful soaring sound lies a heartfelt center. Encouraged by conductor Vladimir Ashkenazy and England's fabled Philharmonia Orchestra, Ehnes infuses his innate lyricism with a romantic passion seldom encountered in this work. While the surprisingly dark introduction brings out the tragic side of Mendelssohn's writing, the first transition to light-filled lyricism is magical. It's as if Ehnes and Ashkenazy were lifting the veil of darkness, allowing the sweet light of spring to shine through. The dramatic contrasts in the first movement's unaccompanied cadenza are equally arresting, the passagework remarkably fluent. The heartfelt second movement is marvelous, especially when Ehnes contrasts sweet longing with the pain of loss. And as breathtakingly fast as the final movement may be, this eloquent partnership of Ehnes and Ashkenazy manages to bring out a host of subtle accents. The performance is a joy! Ditto for Mendelssohn's exhilarating octet, written when he was 16. Many of the performers, members of the Seattle Chamber Music Society, which Ehnes will soon lead, are winners of international competitions. A fabulous disc.
Jason Victor Serinus is a holistic author, bodyworker, whistling virtuoso and music critic (http://www.jasonserinus.com) who resides in Oakland, CA. Please send music review copies to Jason at 2749 E. 17th Street, Oakland, CA 94601 or email jserinus@planeteria.net.