Spring Vegetables: Fast, Fresh Food For Body & Soul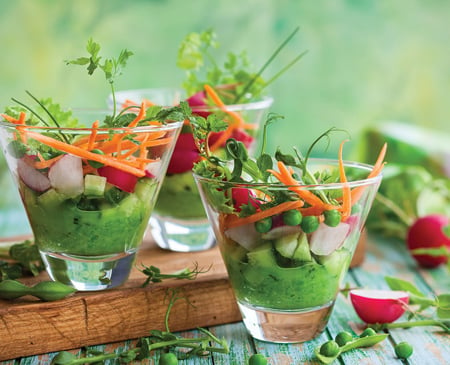 Spring has finally sprung, and with it a desire to lighten up. Going with the seasonal flow means leaning toward fresh bitter greens, herbs, plant proteins and spring vegetables. Nature's detox is at our fingertips and literally springing up from the ground around us now.
There is simply nothing in the world of food that is going to give you more nutritional benefit than eating plenty of vegetables, the most nutrient-dense foods in the food supply chain. Nutrient density is a simple yet powerful concept of food quality that emphasizes your nutritional bang for the food-energy buck. It's nutrients (vitamins, minerals, antioxidants and phyto-nutrients) per calorie. Vegetables, spices and herbs (including coffee!) lead the pack when measured by nutrient density.
The yearning for lightening up your diet in spring is also a yearning to detoxify. The human body is a wonder of detoxification processes. Transforming the goo that's collected inside the body through a winter of moving less and eating richer foods into releasable by-products takes nutrients. So, while fasting is excellent at getting your physiology of biotransformation rolling, you need to eat to complete the process.
Remember, detox is a natural process happening all the time in your body. You can make choices to support your body's natural biotransformation by reducing the burden you need to clear, and bolstering nutrition to facilitate the process. Make choices like drinking plenty of water and eating a delicious, seasonal, nutrient-dense diet. The cleanest thing you can do is eating more fresh herbs and vegetables. Most Americans remain woefully low in vegetable intake. With so many delicious vegetables presenting themselves in spring, let that create an upward spiral of motivation for you to enjoy them this season.
Need one more reason to take your next step towards eating a whole food plant-based diet? The United Nations recently released their report on sustainable food systems in The Lancet as a major part of addressing and adapting to global climate change.1 Every one of us can help by mindfully eating a plant-based diet and minimizing waste. With a little practice and planning on using leftovers skillfully, you can do your part with style and savings.
As a lover of food that nourishes, I love to feel the crisp crunch of herbs under my knife and smell the tang of the lime as I juice it. While I personally keep my own gadgets simple and aim for a direct as possible connection to my food, I'm always curious about the latest kitchen gadgetry. There are tricks, tools and techniques that can make healthy food prep quicker and stay fresher longer than ever. While often the best kitchen tool is a good sharp knife and 20 minutes of uninterrupted time, every home chef should enjoy some fun new experimental options now and then. Here are the top tools that even a late adopter might try for inviting more vegetables and herbs into your spring kitchen.
MULTI-COOKER. Instant Pots (one brand of multi-cooker) swept the nation and social media this year. After the success of the Instant Pot, a full array of multi-cookers is now available. The multi-cooker is a pressure-cooker come of age: it can cook beans, potatoes or grains, not to mention soups, sauces and stews in a fraction of the time of traditional cooking. It can also act as a slow cooker, as a rice cooker, even a yogurt maker. People love their multi-cookers for good reason. They can expand your culinary repertoire quickly, as well as speeding cooking times. A good multi-cooker will cost you around $100. Use a multi-cooker to cook your own beans and whole grains for the recipes below.
SPROUT JARS. In the dark of early spring, sprouting seeds and beans brings nutrient-packed fresh flavor to an otherwise dreary and soggy time of the year. It's hard to improve on the tried and true quart glass jar with either a mesh lid, or you can find recycled plastic tops for sprouting that allow you to rinse your seeds. To sprout seeds, grains or beans, soak them overnight, then rinse once or twice daily for about five days (larger beans and grains can take a day longer) and shazam! No sun needed, just water and attention.
SPIRALIZERS. You can easily make pasta-shaped goodies, like spaghetti carrots and beets or fettuccini squash, with a spiralizer. Vegetable pastas can be topped with a protein-rich nut sauce and oil. You can't get healthier than that. Spiralizers are relatively inexpensive; a good one is less than $40. Most food processors come with a blade that spiralizes. Spiralizers can be clunky with sharp blades are involved, so like any new skill, give it a little time as you experiment and pay mindful attention. Check out the recipe for White Bean Garlic Sauce or Green Romesco to top your favorite sautéed vegetables.
PRODUCE FRESHNESS EXTENDERS. These include gadgets like salad spinners, new reusable wraps and gas-absorbers. Venture out to forage, gathering dandelions and other greens from your yard (so long as it's without chemical sprays), which can be a boon to spring nutrition. Add these wild greens to the cultivated greens in your salad spinner, make a quick homemade dressing and you have light and easy meals for spring. Or save some greens for later with any of the new reusable wraps featuring cotton, beeswax and other materials that work just as well and move us away from single-use plastics. Give them a try. Produce extenders absorb ethylene gas, but they are often, ironically, made of plastic. You can, however, purchase the recyclable replacement packets and use them without the plastic cover. Just pop a packet in your produce drawer and recycle as suggested. Your produce will stay fresher longer in your refrigerator drawer.
Spring Vegetable Lime Succotash
A quick and easy marinade of fresh beans, corn and other veggies, lime and cilantro is a natural with fresh corn tortillas. Use this as a side dish for brunch or the center of a springtime lunch.
Serves 4 as a side, 2 as a meal
Ingredients
1 cup fresh baby lima beans, steamed
Juice of 2 fresh limes
1/4 cup olive oil
1/2 cup coarsely chopped cilantro
1 scallion, thinly sliced
1 1/2 cups fresh corn kernels
2 nectarines, peeled, separated and sections sliced in half
2 avocados cut into 1/2 inch cubes
1 large red bell pepper, finely sliced
1 pint cherry tomatoes, quartered
Salt to taste
Fresh corn tortillas (or the best you can find!)
In a small bowl, whisk the lime juice, olive oil and chopped cilantro. In a large bowl, toss everything (except salt), then toss with lime dressing. Add a bit of salt and serve with fresh tortillas.
---
Sweet Pea Soup
There are certain ingredients that when combined are so much more than the sum of their parts. Sweet peas, mint and yogurt are one such combination, and I make this cooling spring soup every spring.
Makes 4 servings
Ingredients
1 Tbsp organic butter
Small onion, peeled and sliced thin
2 medium shallots, peeled and sliced thin
2 cups fresh or frozen baby peas
2 cups vegetable or chicken broth
1/2 c plain full-fat yogurt
2 Tbsp fresh mint, chopped, separated
2 Tbsp fresh parsley, chopped
In a medium pan, saute onions and shallots in butter until soft. Add peas and sauce for two minutes. Place all ingredients (just 1 Tbsp of the mint) in a blender, and blend until smooth. Pour into 4 bowls and top with remaining mint.
---
Brown Rice Bowl With Sesame And Sprouts
Rice and other grain bowls are perfect for balanced eating with Asian flavor. Any grain, topped with any sautéed vegetable, then an egg and sesame seeds does the trick. This is a good reason to cook a pot of grains and make a jar of sprouts for use all week. Happy spring bowl making!
Makes 4 bowls
Ingredients
8 tsp white rice vinegar, divided
2 Tbsp miso
5 tsp water
4 tsp sesame oil
2 tsp soy sauce
3 cups trimmed lacinata kale, sliced
1 cup dandelion greens, sliced
1 cup broccoli sprouts
1/4 c green onions, sliced
2 tsp butter
1 clove garlic, chopped
2 cups cooked brown rice (use pre-packaged or cook your own)
4 large eggs
4 Tbsp peanut butter
1/4 cup water if needed
1 tsp sesame seeds
In a small bowl, whisk half the vinegar with the miso and 5 tsp water. In another bowl, toss kale, dandelion and sprouts in remaining vinegar, oil and soy.
In a large skillet, melt butter then add garlic, miso sauce, and veggie mixture. Toss. Push vegetables to one side and warm rice in pan. Use a bit of water to keep rice from sticking. Push rice to one side, and cook eggs (easy over or sunny side up) in pan, one at a time. Alternatively, you can cook the eggs in a separate pan.
In 4 serving bowls, place rice, then veggies, a Tbsp of peanut butter, and top with an egg. Sprinkle with sesame seeds.
---
Green Romesco Sauce
I love this quick flavorful sauce for over eggs or vegetables; try it with asparagus, with whole-grain pasta, or as traditionally served, with fish. I use garlic mustard, which grows as a weed in most New England yards in spring. Change the nuts and herbs you use to mix and match with what you are topping.
Ingredients
1 large roasted red pepper (from a jar or roast your own over a gas flame or in a broiler)
1/2 cup almonds, toasted, no skins
1/4 cup fresh garlic mustard (from your yard) or 1 clove garlic, peeled and chopped
1/4 cup fresh basil
1/4 cup tomato puree
2 Tbsp sherry vinegar
1 tsp smoked paprika
1/2 tsp cayenne pepper
2 tsp olive oil
Place almonds, red pepper and herbs in a blender, pulse several times to chop. Add remaining ingredients and continue to pulse until you reach a consistency of small-chunkiness. Serve at room temperature over fish, vegetables or with crusty bread.
---
White Bean Garlic Sauce
This stand-in for white sauce coats sautéed spiraled veggies or pasta well. For variation, change up the herbs and add your favorite spice blend.
Ingredients
3 Tbsp olive oil
1 cup chopped onion
1 cup chopped carrot
4 garlic cloves, minced
1 cup drained, canned, unsalted cannelloni beans
3/4 cup water
1 tsp salt
1/2 tsp black pepper
4 cups sautéed spiraled vegetables or whole-grain cooked pasta (penne works well)
2 Tbsp fresh parsley and oregano, chopped
In a medium pan, saute onion carrot and garlic in olive oil. Place this mixture, beans, water and salt in blender; blend until smooth. Return to pan and warm, toss in pasta. Top with herbs and serve.
---
Grilled Peaches With Ricotta Yogurt And Raspberry Sauce
Here is a quick and easy celebration for when peaches come in. Tangy, sweet and flavorful, this is one recipe where a grill-pan for your stovetop or a small gas grill can come in handy. If you can't grill at the drop of a hat, you can pan-sear the peaches.
Ingredients
2 tsp lemon juice
1 small jar no sugar added raspberry jam
1 cup fresh raspberries
4 peaches
1 Tbsp olive oil
1 cup part skim ricotta
1 cup plain Greek yogurt
1 tsp vanilla
Pinch of salt
In a small bowl, whisk lemon juice, raspberry jam and raspberries. In another medium bowl, whisk ricotta, yogurt and vanilla. Slice peaches, remove pit, rub with olive oil and grill for 2-3 minutes. In each of four bowls, place half a grilled peach, top with yogurt mixture and raspberry sauce.
Notes
1. https://eatforum.org/lancet-commission/everyone/
Annie B. Kay MS RDN E-RYT500 C-IAYT is an integrative dietitian and yoga therapist who teaches internationally and has a Western MA-based telehealth private practice. www.anniebkay.com.