Starspeak: The Cosmic Forecast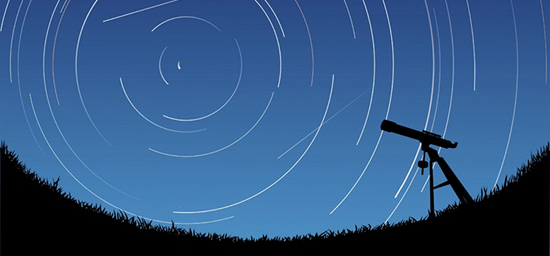 "Autumn passes and one remembers one's reverence."
— Yoko Ono
Fall 2009
After the steamy days of summer, life quickens as the daylight hours grow shorter and temperatures begin to drop. Against the scenic backdrop of powder blue skies, flaming maples and burnished oaks, fall tends to be a busy season in New England. While many of us will be fully engaged in the stepped up "back to school, back to work" rhythms of life, certain astrological goings-on merit special mention. Here's a look at some of the season's highlights.
In mid-September Saturn forms the third in a series of destabilizing oppositions to Uranus. This aspect is the stuff of uncertain times, revolutions both peaceful and violent and, as history also bears out, economic downturns. If I had to pick one phrase to summarize the standoff between stalwart Saturn and unpredictable, iconoclastic Uranus, it would be "Question authority!" With the opposition continuing well into next year, any talk of our nation's economic troubles being behind us is premature, based on wishful thinking.
Mental Mercury will also spend much of September retrograde, backpedaling from Labor Day the 7th until the 29th. This same retrograde keeps the winged messenger in close proximity to Saturn through early October. Worries may be magnified but mental toughness and powers of concentration are strengthened, too. Many plans and contracts will require review and detailed revisions during this approximately three-week period.
September is a busy month in the heavens. On the 11th, out in the distant reaches of our solar system, Pluto regains forward motion at the first degree of the gritty sign of big business and government, Capricorn. Astrologers know Pluto as the planet of death and rebirth. It is also the planet of power struggles. This transit has put many of our largest institutions into calamitous states, in dire need of restructuring. Failure to break up or adapt to changed circumstances may yet prove fatal to a number of these "too big to fail" organizations.
Towards the end of October ringed Saturn returns to Libra for the first time since 1983, ushering in a new cycle of challenges specific to partnerships and the principles of fairness. The lord of karma, disciplined Saturn will in mid-November engage Pluto in a tense square aspect. Under this alignment, we can expect entrenched special interests to resort to desperate measures while attempting to hold on to power. In personal conduct, observe the golden rule: do unto others, as you would have them do unto you.
The celestial wheels of change are spinning. The stars have awakened a sleeping giant that dwells within the collective hearts and minds of people around the globe. Whether we dream of health care reform, renewable energy, peace in the Middle East or democracy in Iran, wise men and women pause to carefully consider the implications of prospective changes. By November's end the continuing conjunction of Jupiter and Neptune rekindles hopes and points the way to a kinder, happier world.
September 2009
The waxing Moon imbues the first few days of September with extra zest and perhaps a few "pipe dreams" worth pursuing. Mental Mercury's square to feisty Mars the afternoon of the 3rd does present challenges. Thinking may fail to take into account some very real logistical needs. Take pains to make sure planning is both thorough and timely. The Full Moon in Pisces, exact on Friday the 4th at 12:03pm, provides visionary inspiration and the impetus to make exciting things happen.
Forward momentum may seem diverted by Saturday as the Moon makes a series of challenging aspects and Mercury prepares to retrograde. Hold on to your dreams! Despite the winged messenger's Labor Day retrograde, the Aries Moon fires imaginations through progressive sextiles to Jupiter and Neptune. Alliances attract new members as Venus opposes Jupiter towards the end of the week. That same Friday, the 11th, Pluto turns direct, triggering a fresh round of debates about who deserves special treatment when precious resources are divvied up. Friday night's last quarter Moon makes a political consensus unlikely, although an escapist diversion, a refreshing dinner, movie or concert, can be thoroughly enjoyed.
Tackle projects around the house under Sunday's Cancer Moon. A word of caution, though…moms may be feeling militant when the Moon makes a midday conjunction with Mars. Don't burn the toast! The week of the 14th is notable for the previously mentioned Saturn/Uranus opposition on the morning of Tuesday the 15th as well as the Sun's journey through the powerful alignment later in the week. The stage is set for intense confrontations between reactionary and progressive forces. Because the Virgo Sun stands close by Saturn, it is wise to honor previous commitments and be respectful of the ways of the past. This doesn't mean to say that we must remain stuck in the past. Wholeheartedly embrace those changes that promise to improve the status quo.
On Friday the 18th the Virgo New Moon inaugurates a fresh activity cycle. During the next two weeks it is time to put ambitious plans into motion, especially projects that relate to advancing career and health goals. Don't use the retrograde of Mercury as an excuse for doing nothing. Over the weekend a little extra care and thought is a suitable way to make use of the retrograde. Information gleaned from the Web or the use of computer technology may enable a quantum leap forward. A fine trine between Venus and Pluto supports greater intimacy Sunday night.
Fall officially arrives with the Sun's entry into Libra the afternoon of Tuesday the 22nd. The hours of daylight and night are equally balanced as the new season begins on a discordant note. On the 23rd the Sun is square to Pluto while Mercury stands opposite Uranus. Relationships feel strained as individuals try to stay poised, even while faced with uncertainties. Intuitive impressions may be faulty. Objectivity can be surreptitiously swayed by subconscious motives.
Lighthearted trends provide a breather on Thursday, but Friday brings a new set of challenges. Responsibilities weigh heavily during the morning, but an hour or so before noon, the Moon goes void-of-course. Everything seems to slow down. Wrap up the workweek by focusing on current projects. Real relief from tensions won't come until after the first quarter Capricorn Moon, exact just after midnight on Saturday the 26th. Gentler trends make the rest of the weekend a good time for catching one's breath.The lucky roll of the cosmic dice continues through September's end. These are constructive as well as upbeat days. Mercury resumes forward motion the morning of the 29th. The future is looking bright!
October 2009
Yes, the leaves on the trees are falling and a Moon dance might be the perfect way to welcome October. Just after midnight on Thursday the 1st we find Mercury in a toe tapping sextile to fiery Mars. The waxing Moon in Pisces, the sign ruling the feet, nods her knowing approval. This encouraging sextile angle lingers for a few more days as Mercury regains speed after being retrograde last month. The great push forward is greatly aided by an energetic push from the waxing Moon. Sunday the 4th is when many things culminate so be ready for a lively weekend.
The Full Harvest Moon in Aries, exact Sunday at 2:10am, fuels Saturday night's fevered pitch. Sunday finds Mercury in sextile to Mars and opposite Uranus. Mars forms an exact trine with Uranus Sunday night. Conversation is boisterous, at times deliciously funny. Minds make unexpected associations and may reach surprising conclusions. Social inclinations are strong so plan to spend at least part of the weekend with friends or a group of like-minded souls.
Monday the 5th starts off slowly. Things pick up after lunch. The following days are quietly productive. By Friday the 9th folks are ready for a change of scenery. Venus stands opposite restless Uranus and the Libra Sun nears a trine to travel-loving Jupiter. Traffic is likely to be unusually heavy Friday evening so plan accordingly. Drive carefully. Many people will be mulling over important decisions this weekend. Mercury enters the sometimes co-dependent sign of Libra late Friday night and then squares Pluto on Saturday afternoon. Sunday's last quarter Moon adds to the dilemma on many minds: how to take care of one's self while also being responsive to the needs of partners and associates?
A series of astrological events from Tuesday the 13th through Thursday the 15th may provide answers. First, Jupiter resumes forward motion just after midnight on Tuesday. Hovering in Aquarius, the sign of friendship, the largest of planets exhorts us to be kind and generous to our fellow beings. Just after sunrise Tuesday morning Venus overtakes pragmatic Saturn, giving good reason to establish and maintain healthy emotional and financial boundaries. Venus's sextile to Mars the same afternoon suggests that negotiations can be conducted in a warm, affectionate manner. Venus enters her own sign of Libra Wednesday evening and squares Pluto the following afternoon. Once again there is a clear need to have healthy boundaries in place. Act in ways that support your own best interests!
Fun times are in store Friday evening. Mars has just arrived in playful Leo and the Libra Sun trines mystical Neptune that night. The atmosphere is just right for a romantic interlude. A party, movie or concert can also be hugely pleasurable. Take it easy during the remainder of the weekend as the lunar cycle ebbs. Sunday's New Moon triggers the launch of a new building phase but momentum builds slowly.
On Tuesday the 20th mental Mercury's optimistic trine to Jupiter helps get the ball rolling. Positive thinking is more than its own reward, it is the key to future success. The working week ends as the Sun enters Scorpio, where the Sun forms a sextile to Pluto. This aspect could see solutions found to many problems, or spark a profitable reclamation project of some sort. Closet cleanouts, furniture refinishing, savvy investing are all good possibilities.
The last week of the month has its ups and downs. The first half of the week plays out at a comfortable pace. On Thursday the 29th, the Sun's early morning square to Mars presents formidable challenges to those lacking tact or patience. Saturn enters Libra the same afternoon. Where motives are suspect or rules have been broken, a price will be exacted. A revelation on the 30th may be embarrassing, inconvenient, or damaging to some careers.
On a more positive note, Halloween looks good for pint-sized trick o' treaters as well as adult partygoers. The waxing Moon provides plenty of light. After sundown a lunar sextile to Jupiter assures a good haul of hopefully healthy candy, inspired costuming and hearty festivities. As with all Jupiter aspects, avoid the temptation of overdoing. And don't forget to turn your clocks back an hour before going to bed.
November 2009
A nearly daylong void-of-course Moon offers us the perfect opportunity to recover from last night's partying and time change. The nearly full Moon funnels plenty of energy and light so fatigue is not likely to be an issue. However, the void-of-course lunar period is unfavorable for purchasing big-ticket items. Mercury's Sunday evening square with Mars increases the risk of poor decision-making. Hold on to your cash for now.
Monday the 2nd's Full Moon in Taurus is exact at 2:14pm. The Sun and Moon occupy the money signs and houses of the Full Moon horoscope. For many people, cash flow continues to be a primary interest. A sensational trine between Venus and Neptune supports the notion that things will get better, perhaps due to a fairer distribution of wealth. The trine may also excite creative, idealistic and romantic souls. Neptune turns direct on Wednesday the 4th providing another boost to dreamers and humanitarians.
With Mercury conjunct the Sun and the two in a testing angle with Jupiter until Tuesday the 10th, it is smart to greet boasts and promises with some skepticism. Expectations all too easily exceed realizations under these influences.
The weekend of the 14th and 15th is a good one for a retreat or getaway. The waning Moon is almost new. On Saturday a liberating solar trine to visionary Uranus supports community building and group activities. Inner growth work requires great wisdom and compassion on Sunday while Saturn forms an exact square to Pluto that morning. The range of responses to this powerful alignment is huge. A profound sense of responsibility and self-sacrifice manifests in some people. Others are inclined to break under pressure and may act cruelly. Though the Sun's evening square with Neptune can confuse matters, it may also soften some hearts, leaving folks more vulnerable or empathic.
Monday the 16th brings the New Moon in Scorpio. Everyday concerns come to the forefront as Mercury sextiles pragmatic Saturn. It's time to get down to work! Partners may disagree about priorities on Tuesday. A trying angle between Venus and Mars during the wee hours of the 19th causes relations between the sexes to suffer. More felicitous influences take hold by Friday the 20th and continue right through the weekend. Late Saturday night the Sun enters outgoing Sagittarius, the astrological indication that the holiday season is upon us!
Excitement is palpable during the afternoon of Monday the 23rd. The Aquarius Moon activates the intoxicating Jupiter/Neptune conjunction as Venus forms an indulgent square to Jupiter. These stars induce folks to think and dream big! Others feel inclined to splurge or celebrate. From Monday through Tuesday mid-afternoon, the planets also support career efforts. Both are good days for travel, although the first quarter Moon late Tuesday afternoon brings attendant stresses. Wednesday's trine aspect between Venus and Uranus is super for gatherings of friends and family. Serendipity is in play! Cupid sends arrows to flying. Travelers may spontaneously make new friends while en route.
After several vibrant, happy early morning hours Thanksgiving Day features a lengthy void-of-course Moon, which is fine for those seeking to relax and enjoy their meal. Moods at the dinner table may be more reflective than expected. With the weekend approaching, spirits grow more adventurous. The Moon, traveling through the pro-active sign Aries, acts as an instigator. Daytrips, visits to museums and shopping forays prove enjoyable on Saturday. Sunday feels more grounded and relaxed. Take some time to catch your breath and "digest" the week's events.
Monday the 30th turns out to be a challenging day. Mercury's square to Uranus may disrupt schedules due to unforeseen circumstances and contribute to elevated stress levels. The Moon is once again almost full and tested by Mars, Jupiter and Neptune. If you feel pressured, take a deep breath! After nightfall a wise friend provides valuable counsel.
Eric Linter offers a complete range of astrological services, including his "On Top of the Stars Monthly Guide" for making inspired career and personal decisions. Consultations are available in person, by phone or on audiocassette. Contact Eric at 508-541-4115 or email at stars@ericlinter.com. Eric is speaking at the Natural Living Expo, Sunday, September 27 from 12-1:30 on Astrology and Past Lives. Don't miss it! Visit www.spiritofchange.org and read Eric's daily astrology reading.