Stretching Out of Depression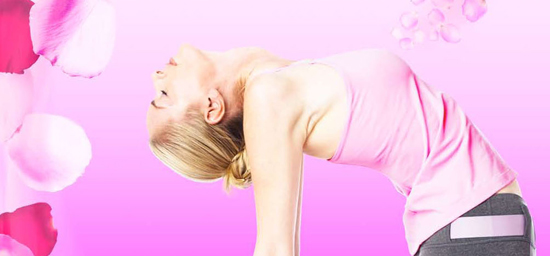 We all feel a little blue from time to time. But when those blues turn into a seemingly never-ending tunnel of black, it may be a signal that you are suffering from depression and a nudge from the universe to look for help.
The good news is that there are sources of help and relief for depression beyond designer drugs like Zoloft® or Prozac®. Many sufferers are now turning to the four thousand-year-old healing art of yoga to create a permanent shift away from the pain and suffering of depression, and towards a new life of hope, insight and good health.
If you are suffering from depression you are not alone. Depression is at the root of the fourth leading cause of death in the United States: suicide. The World Health Organization predicts that by the year 2020, suicide will be the second leading cause of death worldwide. It is estimated that over 121 million people suffer from depression, which is also the leading cause of disability among people from 15 to 44.
Depression is a serious illness with crippling symptoms like anxiety attacks, insomnia, stomach pain, headaches and can also manifest as a paralyzing lethargy that makes it hard to get out of bed, let alone live a full life. Since the introduction of Prozac® by Eli Lily in 1987. millions of people have turned to prescription drugs to ward off depression. By helping to balance the brain chemistry with serotonin-reuptake inhibitors (SSRI), these drugs do bring relief to millions, but not without some serious side affects such as sexual dysfunction, nausea, insomnia and a host of other problems.
Yoga has recently emerged as a path of natural recovery and healing from this crippling condition. While talk therapy can be very useful in understanding ourselves and our demons, most psychologists believe that the body holds onto many of the experiences of the mind and emotions, even when the conscious mind has begun to heal. By opening the body with yoga asanas (postures) and pranayama (breath), we may be able to increase the energy flow and life force that is critical for healing. We may also release holdings and anxiety of which we are unaware. On a purely physical level, yoga stimulates the glands, organs and brain with freshly oxygenated blood that bring the chemicals of the body back into balance naturally without the use of drugs. This does not mean that you want to toss away your medication the minute you hit the yoga mat, but it does mean that you may be able to free yourself from medications over time with your doctor's help and a consistent yoga practice.
There are many schools of thought on the causes of depression that range from physiological chemical imbalances to psychological distress scenarios, but few disagree on the devastating and sometimes fatal effects of these symptoms. Depression is believed to weaken the immune system as well as creating a sense of helplessness and hopelessness. Many believe that the heart of depression is a sense of loss or self-hatred. Other causes can include isolation and traumas like abuse or divorce. The classic mid-life crisis of attaining material success without a real sense of meaning can bring many into the torment of severe depression and even suicide.
I personally suffered from severe depression several years ago following the break up of a 10-year relationship. Despite incredible career success as the co-founder of a very successful shoe company, I felt the deep pains of depression, believing that life was totally without meaning. My immune system began to shut down and I became seriously physically ill, as well as totally depressed. After following the usual path of medication and talk therapy with little lasting results, I fortunately was lead to a Bikram hot yoga class in Palo Alto, California.
I was immediately attracted to the intensity of the class because of the warm room and rigorous postures. The class also included the use of a mirror which forced me to look at my self. In the beginning, I found that I did not want to look at myself for a second, let alone for 90 minutes, but with the constant loving encouragement of my teacher, each day I peeled away another layer of self-hatred. Yogis talk about "coming home to self" or "finding that connection to the part of you that is full of the love and compassion." I now look forward to the 90 minute practice as an opportunity to fall in love with myself and let go of the judgments, anxiety and self criticism that lead to depression.
There are many postures which have been very helpful to people with depression. In particular the postures that open the chest and heart area seem to be very effective, like the back bends in camel or half moon pose. These heart-opening poses can release pent up emotions trapped in the body. A yoga student may even come out of these postures laughing or crying from the release. The poses that invert the head below the heart like the hands-to-feet pose are also very good as they refresh the blood supply to the brain, stimulating the senses and cells without the need for a head stand that is a more advanced pose. In addition to these asanas, the deep breathing exercises in yoga — pranayama — can feel like a breeze rushing through a stale room, elevating your emotions. When people become depressed, very often their breath becomes shallow.
Just as there are different forms of depression, specific postures or breathing exercises will be more suited each individual. However, students of all different sizes, shapes and ages have found a sense of well being from a regular yoga practice that cannot be found in prescription medicines. Learning to listen to your body will help you to find the postures that are just right for you and help lead you on a path out of the dark tunnel of depression and into new light and health.
Pamela Ann Parker, MBA, CPA is a certified Bikram yoga instructor and co-founder of Bikram Yoga Framingham. She can be reached at 508-820-9642 or PamelaAnnParker@aol.com.