Summer 2009 Music Reviews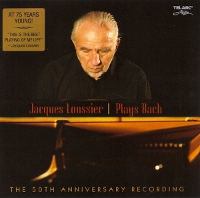 Jacques Loussier Plays Bach
The 50th Anniversary Recording
Telarc CD-83693
Want lots of sunshine without risking overexposure? Feeling a need to walk in the clear air, smell the flowers, or refresh your spirit? If you're like me, spending 53 minutes listening to Jacques Loussier Plays Bach: The 50th Anniversary Recording will remind you of all the joy and goodness in the world. The eleven tracks on this anniversary compilation, recorded between 1984 and 1997, have never before been released in the U.S. Exactly why boggles the mind, because they're marvelous. Pianist Loussier and the other members of his classical cum jazz trio — bassist Vincent Charbonnier (since felled by a stroke and replaced by Benoit Dunoyer de Segonzac) and drummer André Arpino — have a ball tripping through Johann Sebastian's more joyful melodies. There is time for reflection, as in the "Adagio of the Toccata" and "Fugue in C Major." But mostly it's time to play, as in the C major's final jiving fugue.
Listen to the glisten of Loussier's piano at the start of the "Minuet in G Major". It twinkles like the sun. When Bach is in a joyful mood, he taps into the source as only the great masters can. In the Jacques Loussier Trio's hands, some of Bach's greatest inspirations become opportunities to loosen up and have a ball.
Ambrose Field & John Potter
Being Dufay
ECM New Series ECM 2071
This is a remarkable CD. At first glance, its pairing of Ambrose Field's live and studio electronics with the voice of former Hilliard Ensemble tenor John Potter singing the music of Guillaume Dufay (1397-1474) may seem like an update of Officium, the best-selling ECM early music recording from 1994 that partnered Jan Garbarek's distinctive saxophone with the voices of the Hilliard Ensemble. But despite the constant of Potter's tenor, and the fact that the music of Dufay appears on both recordings, Being Dufay is something else entirely.
What it is, ultimately, is beyond words. Field and Potter's hour-long soundscape, which merges seven tracks into a transcendent whole, journeys way beyond the typical space music ambience oft broadcast on Music from the Hearts of Space. These men create what few musicians can: a virtual time warp that transports you and your listening environment to a parallel, all-enveloping universe. Thanks to Field's vision and Potter's uncanny ability to sing from the spiritual center of each note, Being Dufay reveals the essential mystery of Dufay's melodic creations. By the time you reach the fifth track, "Presque Quelque Chose," which consists entirely of electronic sounds and synthesized voices based on Potter's voice, temporal reality ceases to bind the imagination. On Being Dufay, we journey to a place of boundless illumination.
Gustav Mahler
Symphony No. 4
Iván Fischer • Budapest Festival Orchestra
Channel Classics CCS SA 26109
Of Mahler's nine completed symphonies, the Fourth is unquestionably the sunniest. Smaller scaled than most of his orchestral works, its first three movements lead up to a delicious orchestral finale for soprano. That song, written way before the rest, presents a decidedly glutinous, childlike view of heaven in which saints and angels feast together to their etheric hearts' content. The melody is so filled with celestial warmth that you could spend days listening to every available or out of print recording, trying to find which soprano pleases you most. (I'm a Kathleen Battle partisan). Vegans would be wise to ignore the words and instead focus on the innocent beauty of the folk song setting.
Melissa Morgan
Until I Met You
Telarc CD-83684
Every now and then, a jazz singer appears with a voice so filled with soul and deeper meaning that you wonder how you could have possibly survived so long without her. That singer is the irresistible Melissa Morgan. Born in New York City in 1980, and raised in Teaneck, NJ, her first exposure to jazz was through her grandmother's recordings of Billie Holiday, Dinah Washington, Sarah Vaughan, Nancy Wilson and other greats. Morgan began studies as a classical singer, toured as part of the U.S. Youth Chorale, then went through a major shift during her teen years. The influence of Granny's recordings and friendship with a jazz drummer led her to embrace jazz full on. After a BA in jazz vocal performance from SUNY Purchase Conservatory of Music, she began to hone her skills in New York clubs. She has since moved to LA and achieved international recognition.
Morgan's voice speaks with knowing sophistication; her mastery of innuendo is supreme. Backed by an excellent rhythm section (piano, guitar, bass drums) sometimes augmented by horns, she has an uncanny ability to infuse the classic jazz sound of the '50s and '60s with a contemporary sensibility. The title track, Buddy Johnson's "Save Your Love for Me," is a total winner. "Is You Is or Is You Ain't My Baby?" swings, and "He Loves Me I Think" has all the smoky sophistication of a classic lounge act. On 11 selections that range from ballads to blues, Morgan grooves her way to stardom.
Playing For Change
Songs Around the World
Hear Music HRM-31130-00
In 2004, Grammy winning producer/engineer Mark Johnson was strolling down the streets of Santa Monica when he heard musician Roger Ridley singing "Stand by Me" from afar. Six years after he and a small, dedicated team of videographers began traveling the world to find ways to connect the world through music, Johnson heard the voice whose passion and conviction transformed his vision. He soon combined Ridley's rendition with others from around the world, creating the extraordinary YouTube world journey video of "Stand by Me" that has generated over seven million hits.
Now Johnson has teamed with legendary TV producer Norman Lear, the owner of Concord Records, to release a wonderful CD/DVD package that is available from many Starbucks and other vendors. The CD's ten songs, beginning with "Stand By Me," include a lump-in-the-throat performance of U2 and Bob Dylan's "Love Rescue Me" by the Omagh Community Youth Choir of Northern Ireland, and an amazing live rendition of Sam Cooke's "A Change is Gonna Come" that features vocalists Clarence Bekker and Grandpa Elliott. Keb' Mo' makes several appearances, as does the Congo's Mermans Kenkosenki. With such unforgettable songs as Tracy Chapman's "Talkin' Bout A Revolution," Peter Gabriel's "Biko," and Bob Marley's "One Love," and album proceeds already helping build two music schools in Africa, is it even necessary to urge you to buy Playing for Change?
UXÍA
Eterno Navigar
World Village WV 498024
"Uxía, the voice of the Atlantic," says the PR. "I'm in love," says the heart. Such is the discovery of Uxía, a singer and lyricist whose sweet, oft half-whispered voice beckons you to surrender to her entrancing vibration.
Uxía, who has been singing professionally since 1986, hails from Galicia, an autonomous country in northwest Spain bordered by Portugal, the Atlantic, and Spanish provinces. On her latest album, Eterno Navigar, whose tracks you can hear in low fidelity on uxia.net, she and a group of superb musicians set sail to Portuguese, Brazilian and African territories. In "Rumores de falúas, a gorgeous ballad with music by Galician composer Héctor Lorenzo, they invoke a dreamy first summer love on the beach. (The beautiful booklet lacks English translations, but there are brief summaries). Here the accompaniment is simple: piano, drums, double bass, cello, and Dobro provide a soft cushion to the voice. In "As nosas cores," a tribute to the strength and stamina of women, the accompaniment also includes accordion, trombone and nylon guitar. The intro to "Unha noite na eira do trigo," a classic hymn of Galician emigration, includes a haunting musical saw. Whether the song is slow or upbeat, the accompaniment is always sophisticated, the singing seductive. Uxía's Eterno navegar sets sail on a voyage of the heart, and pulls us gently along.
Jason Victor Serinus is a holistic author, bodyworker, whistling virtuoso and music critic (http://www.jasonserinus.com) who resides in Oakland, CA. Please send music review copies to Jason at 2749 E. 17th Street, Oakland, CA 94601 or email jserinus@planeteria.net.