Summer Eco Learning Opportunities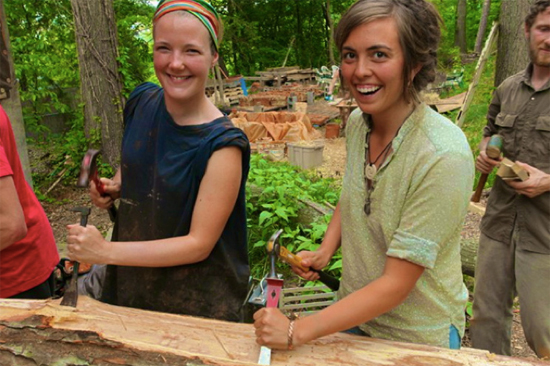 Using Dirt to Build Communities
This summer Kleiwerks International and Ashevillage Institute are offering learning opportunities in natural building in the mountains of Asheville, North Carolina. Taught by top-notch instructors at a leading eco-urban demonstration site, the programs empower participants to build beautiful, long-lasting, climate-appropriate structures using local clay, sand, straw, bamboo and other affordable, abundant materials.
Current industrial building practices use more than 50% of the world's resources; they are wasteful and harmful to our environment. Natural building promotes accessible, harmonious and time-tested technologies that empower people to build for themselves, work with their passions, create community, and participate in a growing global movement that offers real solutions to many of today's ills.
A nine-day Natural Building Extravaganza will be held August 9-18, bringing together an experienced team of eight instructors who will offer a comprehensive smorgasbord of 20 hands-on workshops, classes, slideshows, field trips and special projects. The NBX will be hosted at the Ashevillage Institute's one-acre eco-urban demonstration site, with many projects already underway.
When people come together in the mud, from a variety of backgrounds, ages, experiences and purposes, life isn't quite the same! For more information visit www.ashevillage.org/natural-building-extravaganza/
Greenpeace Student Opportunities
The Greenpeace Semester is an environmental training program for young adults who are driven to make real, positive change in their communities and on campuses. The Semester gives participants the skills needed to organize and advocate for the environment — from volunteer recruitment to understanding how to use the media to talk about an issue. Participants will leave the program well prepared to make a difference.
Also available is the Greenpeace Summer Experience, July 8-August 9. Greenpeace summer training is an accelerated program with one week of travel and four weeks of intensive workshops. Tuition is $2200. Because Greenpeace is committed to making the semester accessible for all students who are passionate about protecting the planet, there are a number of scholarships available. For more information visit www.greenpeace.org. — Source: Curriculum of Hope for a Peaceful World, Winter 2013.