Summer Music Reviews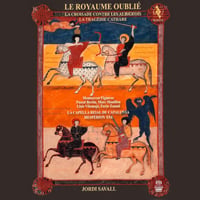 Hespèrion XXI • La Capella Reial de Catalunya • Jordi Savall
Le Royaume Oublié • The Forgotten Kingdom • The Albigensian Crusade
AliaVox AVSA9873 A/C
"Leaving myth and legend aside," write UNESCO "Artists for the Peace" soprano Montserrat Figueras and her viola da gambaist/conductor husband Jordi Savall, "the destruction of the memory of that remarkable civilization which was the 'land of Oc'… and the terrible tragedy of the Cathars … deserve our unreserved respect and determined effort to preserve their historical memory."
In three CDs and an extraordinary 558-page glossy book, these early music stalwarts present the tragic history of the Cathars. Christians who believed in the existence of two coeternal principles, Good and Evil, they came into conflict with official Church doctrine and were murdered, massacred and burned after the ironically titled Pope Innocent III launched the Crusades in 1208. This is a remarkable artistic achievement. Savall, Figueras, and their orchestras have gone to great expense to sing about and record abominations that we continue to repeat nine centuries later. May all human beings be free of the suffering imposed by ignorance and intolerance.
Catherine Russell
Inside this Heart of Mine
World Village 468092
Catherine Russell is back. After a long career as one of the best back-up singers in the business — she was one of the "coloured girls" who sang "Doo do doo" on Lou Reed's 1972 hit, "Walk on the Wild Side" — she has released another solo album of irresistible tunes from earlier times. Beginning with Fats Waller's classic "Inside This Heart of Mine," the 12 tracks strut through an era when barbeque was king, brothers were cats, whiskey ruled reason, and music got you farther than the almighty dollar.
Many of these songs were originally performed by Louis Armstrong, Duke Ellington, Peggy Lee, Maxine Sullivan, Howlin' Wolf, Wynonie Harris, Fats Waller and Luis Russell (Louis Armstrong's long-time musical director and Cat's father). Vaudeville, blues, Tin Pan Alley, New Orleans, swing, jive, Delta-blues and more rub shoulders, as Arlen, Ellington and Alec Wilder let loose. Russell won the German Record Critics' Award in jazz; her second album, Sentimental Streak, was called Vocal Album Of The Year in the 2008 Village Voice Jazz Critics Poll. Her back-up players, who know the value of restraint, are as idiomatic and cool as it gets. We've got another winner here.
Antonio Lysy
Antonio Lysy at the Broad: Music from Argentina
Yarlung Records
This analog-like recording sounds extremely close to the real thing. It also defines what the audiophile experience is all about. Recorded on both analog tape and high-resolution 176.4/24 digital media, producer Bob Attiyeh employed a single mike, extremely short custom silver interconnects, and a customized tube preamplifier with no mixer. It's available as either a redbook 44.1/16 CD pressed on a special gold alloy disc, or as a FLAC download from linnrecords.com in either lossless 44.1/16 FLAC or high-resolution, 88.2/24 format.
The music and playing are marvelous. The great Alberto Ginastera's Pampeana, Rhapsody No. 2, op. 21 begins with great force, with Antonio Lysy's cello and Bryan Pezzone's piano equally eloquent. José Bragato's Graciela y Buenos Aires, in which Lysy and bassist Pablo Motta team with the Capitol Ensemble, is all seduction. Ginastera returns with two of his Cinco Canciones Populares Argentinas, the deeply moving "Triste," and evocative "Zamba." A special treat is Omaramor, a cello solo by one of our finest contemporary composers, Osvaldo Golijov. Here, Lysy makes his cello sound like a symphony with plangent playing free of all buzz. A stunning, very modern sounding cello solo by Ginastera, three works by Piazzolla (including the well-known Oblivion, in arrangements by Bragato, a cellist who toured with Piazzolla and often arranged for him), and a cello/piano closer from Lalo Schifrin make for the most unhackneyed tour of Argentinean music I've ever encountered.
Paul Adams
Heavens
Lakefront 0016
Sometimes music comes to us at the right time. Shortly before my husband David received word that his aged father, who was bedridden with 24-hour hospice care, had taken a turn for the worse, Paul Adams' Heavens: Further Explorations of the Dreaming Flute arrived. That night, David was so moved by the beautiful music that he urged me to review it. It was only then that I opened the liner notes and discovered Adams' dedication "to my mother Paula, her hospice care, and the flute that comforted her on her journey home." If ever I needed validation beyond my own ears and heart that Adams' music captures the healing essence of transcendent love, and speaks with universal depth and empathy, I now had it.
The music of Heavens is as simple and basic as it is soulful. Adams plays wind instruments that come from his exotic collection of flutes, whistles and Chinese huilusi. These instruments may have a limited range, but Adams' ability to coax magic from them with his evocative, repetitive melodies is profound. He also has the musical wherewithal to vary timbres and deepen the experience by adding gongs, triangles, zither, percussion, and, on occasion, nature sounds. Beneath the instruments, the voices of the Eagle Ridge singers occasionally integrate into an ambient, quintessentially New Age soundstage whose extremely large, three-dimensional presentation creates an all-enveloping sense of warmth. Ideal for meditation, massage, reverie and blissing out, this is a wonderful album.
Sarah Vaughan
The Divine One
EuroArts DVD 2057128
Rightly known as "Sassy" and "The Divine One," Sarah Vaughan (1924-1990) ranks as one of the finest jazz vocalist America has ever produced. This excellent 56-minute documentary, digitally remastered for EuroArts' Masters of American Music series, abounds in irreplaceable footage and interviews that document the arc of her great career. Vaughan was only 19 when she won Amateur Night at the Apollo Theater in 1942. The next spring, she opened for Ella Fitzgerald. Soon, thanks to Billy Eckstine, her career was launched as Earl Hines' lead singer. The next year she joined Eckstine's band. By the end of 1944, Vaughan had not only cut her first record, but also performed with Dizzy Gillespie, Charlie Parker, Bernie Green and other greats. She soon left the Eckstine band to pursue her solo career. The rest, as they say is history.
The DVD's nine chapters are filled with fabulous footage. From her beginnings singing in church, we experience Sarah in the Eckstine Band, a thin, increasingly stylish vocalist in youthful first bloom. We also experience her fleshed out maturity, sweating it out under the lights in live performance. When I watch Sarah bite into words, chewing into music like no one else, I simply want to bow at her feet.