Summer's Harvest Recipes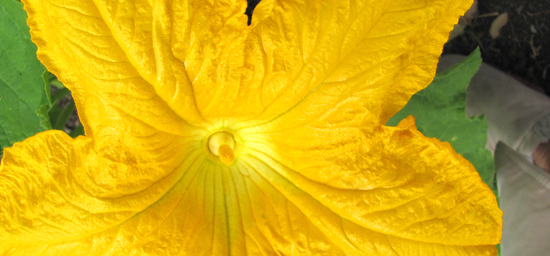 Fall is approaching and that means harvest time! This is my favorite season because, to me, nothing beats an early morning visit to local farmer's markets. The selection of produce is at its peak and the colorful displays are exciting and inspiring.
I strongly believe that the greatest healers are the people who grow our food and those who prepare it. Because of this, I only purchase organic produce. So, farmer's markets provide me with the opportunity to meet and speak with the people who grow these glorious vegetables and to thank organic farmers for caring enough about health and the environment to grow crops responsibly.
Eating a plant-based diet is one of the healthiest choices a person can make. The word "vegetable" comes from the Latin verb "vegere" which means, "to animate or enliven." Vegetables, as well as all plants, truly live up to their name and enliven and sustain life. They are the true source of proteins, carbohydrates and other vital nutrients necessary for our survival. Without plants, our planet would be lifeless and barren.
If you're not accustomed to vegetables as a primary food source, pamper yourself and visit a local farmer's market. Talk to the people growing your food; get connected to the source of your nourishment. Try some things that are new to you. Savor the variety of exciting flavors, textures and colors vegetables offer. Incorporate more vegetable dishes in your eating plan and notice the difference in how you look and feel. Feeling adventurous? Try some of these great tasting dishes and you'll be hooked!
Summer Squash and Corn
When there's an over abundance of tomatoes, corn, zucchini and yellow summer squash, toss them together for a great side dish for a late season BBQ. Or, toss it together with some leftover cooked brown rice and grilled, cubed tofu for a great main course.
Ingredients
1 Tablespoon olive oil
2 cloves garlic, minced
1 small onion, diced
1 zucchini, seeds removed and cut into small chunks
1 yellow squash, seeds removed and cut into small chunks
5 ears corn, kernels cut off cobs
2 medium tomatoes, diced
3 scallions, minced
Salt and pepper to taste
Directions
Heat the oil in a large frying pan over medium-high heat. Add the garlic and onion and sauté for one minute. Add the corn, zucchini and yellow squash and sauté for 5 – 6 minutes.
Add the tomatoes and sauté an additional 5 minutes. Toss in scallions and cook for one minute. Season to taste.
Root Vegetables with Teriyaki Sauce
Burdock (BURR dock) is not found in every supermarket, but it should be. Some people claim that its taste is similar to artichoke hearts. Burdock is a long, slender vegetable, with a rough, dark brown skin and white flesh. It's packed with protein, calcium, phosphorus and B vitamins. And, it's also said to possess blood-purifying qualities and to relieve arthritis and skin diseases.
Cleaning burdock is easy; just scrub it lightly with a vegetable brush to remove any dirt. Don't peel it; that's where most of the nutrients and flavor are. If it's not being used immediately after cutting, immerse the pieces in cold water to prevent discoloration and eliminate any slightly bitter taste. Add burdock to any vegetable soup or stew recipe to boost nutrition and flavor.
Ingredients
1 Tablespoon olive oil
2 Burdock roots, cut into thin, 3" long pieces
1/4 cup Shoyu (high quality soy sauce)
1/4 cup mirin (delicious, sweet rice wine used for cooking)
1cup of organic apple juice
1 1" slice of ginger
3 large carrots, cut into thin, 3" long pieces
1 medium daikon, cut into thin, 3" long pieces
Directions
Cut all the vegetables.
Heat olive oil in a frying pan over medium heat. Add the burdock and sauté for a few minutes. Add the Shoyu, mirin and 1 cup of apple juice. Add the piece of ginger, cover pan and bring to a boil.
Lower heat to simmer and cook for 5 minutes. Add the carrots and daikon and cook for 10 additional minutes. Remove cover and cook until liquid evaporates.
Root Stew
Welcome the new season by savoring the flavor of freshly harvested root vegetables. This stew is perfect for a cold fall evening. The wakame (wah KAH may — a sea vegetable) enhances the flavor of the root vegetables and brings out their natural sweetness.
Wakame absorbs salt and eliminates it from the system, as well as inhibiting cholesterol and sugar absorption. It's a great source of calcium, B vitamins, niacin, thiamin and vitamin C. Find wakame in Asian markets or in any natural foods market.
Ingredients
1 teaspoon sesame oil (you may substitute olive oil, but the flavor will differ)
5 cloves garlic, diced
1 Tablespoon gingerroot, grated
3 large potatoes, cubed
4 carrots, cut into 1" pieces
2 yams, cubed
2 turnips, cubed
1/2 pound tofu, cubed
1 onion, diced
1 bunch kale, chopped
1/4 cup Shoyu
2 Tablespoons brown rice syrup
2 Tablespoons mirin
2" piece of dried wakame, broken into small pieces
6 cups water (or vegetable stock)
Pepper to taste
Directions
Heat oil over medium-high heat in a Dutch oven. Add garlic, onion and ginger and sauté until golden brown.
Add all other ingredients except for pepper. Cover and simmer for 50 – 60 minutes over low heat until vegetables are tender.
Carrot, Daikon and Kale
Here's a dish that's packed with nutrients, color and flavor. If you've never had daikon before, you're in for a pleasant surprise. It looks like a big, white carrot and tastes like a small red radish. When it's cooked, it becomes very tender, juicy and sweet.
If you're lucky enough to get daikon with the green tops still attached, grab them! The greens add great color, taste and nutrition to soups and stew and are great added to a stir-fry. Daikon is a natural fat burner. It contains digestive enzymes that help transform complex carbohydrates, fats, and proteins into their more readily absorbable components. And, its phenolic compounds inhibit the formation of carcinogens in the body.
Ingredients
1 lb. kale (you may also substitute daikon greens or chard)
1 Tablespoon olive oil
2 garlic cloves, minced
1 inch piece of fresh ginger, grated
1/2 cup organic apple juice
4 large carrots, scrubbed and cut in diagonal slices
1 large daikon, scrubbed and cut into diagonal slices
Sea salt to taste
Directions
Wash the kale in cold water to remove any dirt. Shake off water and set aside.
Heat the oil in a frying pan over medium high heat. Add the minced garlic and sauté for a minute. Add the grated ginger and cook just until garlic begins to brown.
Add the juice, carrots and daikon. Cover the pan and cook for 5 minutes. Stir a few times to prevent sticking. Add the greens and cook an additional 5 minutes (if using daikon greens, cook an additional 10 minutes), stirring occasionally. Add salt to taste.
Note: to make this into a main dish, add some sliced onion and cubed tofu to the garlic when sautéing. Toss with some cooked noodles when done.
Michelle Hirsch lives in Southern New Hampshire and is the author of Venturesome Vegetarian.  She is a graduate of the world renowned Kushi Institute. Michelle can be contacted at mphirsch@yahoo.com.
Find New England holistic Personal Growth practitioners in the Spirit of Change online directory.