The Cambridge Doula Program: Helping Women Access Their Deepest Courage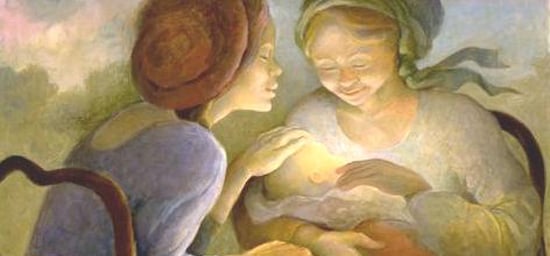 When Kate Ellsworth birthed at the Cambridge Birth Center in Cambridge, Massachusetts last September, she had support from a doula provided free by the Cambridge Health Alliance.
Her doula, Georgianna Swords, helped her relax with contractions by pouring warm water over belly. Ellsworth says Swords, "completely saved me. She thought of things no one else did and she made sure the other people at my birth took care of themselves." Her experience was "entirely positive". Ellsworth is also grateful for the fifteen hours of postpartum care Swords provided. "I didn't have family near me right away. Swords was nice and helpful and had great suggestions. She held the baby while I napped, folded laundry, and washed dishes during that blur that is the first weeks postpartum."
Carol Densmore, CNM, is the current director of the Cambridge Doula program, which is part of the Cambridge Health Alliance. The Alliance is a coalition of three hospitals and many community health centers. The women birthing at Cambridge Birth Center and Cambridge Hospital are an extremely diverse population. Many are immigrants who speak English as a second language. They are served by fifteen per diem doulas, who speak a dozen languages including Portuguese, Haitian Creole, Arabic, Urdu, Russian, Spanish, and Bengali. The birthing women would be unlikely to hire a doula if the Alliance didn't fund it. They qualify for the program by being referred by a midwife or doctor who feels they are in particularly vulnerable circumstances. Some factors that lead to a referral are: recent immigration, isolation and lack of family, a partner who can't participate in the birth due to cultural restrictions, a history of depression or abuse, and being a pregnant teen.
The doulas are in a unique position because they are not medically trained, but they are in a traditional medical setting. Densmore says this creates "unique possibilities in terms of the role of improving health care for moms and babies. It's easier for women to ask them questions since they don't wear a white coat. Support isn't just icing on the cake. I believe a patient's emotional state can impact health outcomes." Having a doula from the same culture, another mother who speaks the same language, is tremendously reassuring to a birthing woman. Doulas provide culturally appropriate support. Densmore says they can reassure a woman in the Birth Center or at Cambridge Hospital that, "You can be at home here. I will support you in a way you would have had at home."
The Program's Beginnings
Since it was founded in 1995, the Cambridge Doula Program has offered services to over 3,000 culturally diverse and socially at risk women and their families. The Program was founded by the Cambridge Midwives and Lorenza Holt, CCE, CD. Holt was the director until June 2004. She says the Doula Program was a "baby the Cambridge Midwives birthed as another asset for women coming to the Birth Center." The midwives' vision was "to help women of different cultural and linguistic backgrounds get culturally competent care. The populations were so diverse the midwives felt they needed community doulas to better serve the women in their care." The midwives wrote a grant to the Boston Foundation, which provided $22,000, two years' worth of seed money to get the program started.
The program recruited community women by distributing flyers asking "Do you want to mother mothers in your community at the time of birth?" Many women responded to the opportunity to do what women have done "throughout history: take care of other women at this time in life," says Holt. The Doula Program held an open house in February 1996. Women from varied communities and cultures, speaking many languages arrived to learn about becoming doulas. They learned the program was committed to paying them and training them for free. It was a win-win situation where women would get "a friend, a sister, a mother person who would love them and support them in labor in a passionate way so they wouldn't be alone," says Holt. "A doula could reduce a woman's stress level and make a difference in her satisfaction with her birth experience. The doulas would benefit too by being provided training and rewarding, paid work."
Doulas were hired because of their compassion and availability. Holt says they needed the "flexibility to drop everything day or night. If her beeper went off at 3 am, a doula had to be able to show up with a smile on her face." Their level of formal education was not considered. These women show a remarkable level of commitment, many work full time and go back to their jobs after being up all night at a birth. Holt adds, "The partners and family members who support doulas need to be recognized. They are part of the team for sure."
In the spring of 1996 the new doulas attended a sixty-hour training where they formed strong bonds. Eighteen doulas speaking eight to twelve languages attended. Holt describes it as one of her "most satisfying life experiences to be in the room with women from all different walks of life. There was the richness of all the women with their different languages and cultures. These women would be going back to their communities to help women have beautiful, empowering birth experiences." Training topics included labor support techniques, patient confidentiality, universal precautions, breastfeeding, domestic violence, postpartum depression, active listening skills, and community resources and social services for the entire Boston area.
The Cambridge Health Alliance is a public health institution. They serve patients regardless of their ability to pay or their immigration status. Since the spring of 2003, the Alliance has funded the program, including a part time director and per diem doulas. Boston Medical Center began a community doula program called Birth Sisters based on the Cambridge Doula program. In 2003, the programs began to recruit and train together. Doulas can work for both programs. Both organizations benefit by sharing their pool of resources, which provides for more support and a stronger foundation.
For some, being a doula has been a stepping-stone. One has become a midwife, another a clinical psychologist. For others, their work has enabled them to become better connected and respected in their own communities. Some have become certified childbirth educators with BACE, the Boston Area Childbirth Association, and are now teaching in their native languages. Holt says, "The doulas have continued to grow and blossom. The growth of the doulas themselves is an important piece of the Program." She adds, "We dream and hope we are creating a stronger society because women are stronger. It's a collective effort and all those seeds we're planting will germinate in different and unexpected ways. The benefit of this work will have long-term impacts that will surprise us on down the line. By strengthening women, we strengthen our children and therefore our communities. This is sacred work, very spiritual, and I can't imagine a better job than being a doula!"
For more information about the Cambridge Doula Program, contact Carol Densmore, CNM at cdensmore@challiance.org.
Julie Brill is a certified childbirth educator and homeschooling mother of two daughters. She trains childbirth educators for CAPPA, teaches perinatal classes, and works as a freelance writer. For more information on training to become a childbirth educator or childbirth classes please visit her website http://www.wellpregnancy.com.