The Cosmic Forecast for Fall 2011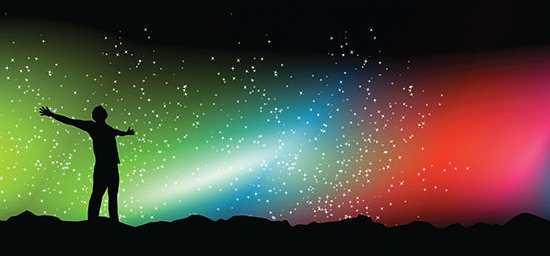 "I long to accomplish a great and noble task, but it is my chief duty to accomplish small tasks as if they were great and noble." — Helen Keller
As loyal readers of this column know, nations as well as individuals — anything with a beginning birth time and place — have horoscopes. It is these maps of the stars that reveal a nation's character and destiny, much the same way as they do for a person. This past summer's epic battle in Washington over the "debt ceiling" coincided with the conclusion of the USA's eighth Saturn return.
Both Saturn and its returns are objects of fear and misunderstanding. This is unfortunate because Saturn is a planet of wisdom born of experience. I prefer thinking of Saturn as a facilitator of maturity and clarity, the proponent of life's most serious reality checks and subsequent course changes. Seen from this perspective, the national Saturn return underscored what is broken in Washington, D.C. and subsequently, what needs fixing.
This fall Saturn is traveling through the later degrees of Libra, the sign of partnering and justice in which it is said to be exalted, or quite powerful. In part this power is derived from Saturn's rulership of the akashic records, the complete knowledge of all that has happened, is happening and will happen in the future. In Libra the Lord of Karma insists on fair play. Among the planets there is no better arbiter of what is just. The politicians who so cavalierly have put at risk our nation's prestige and well-being can expect to be held accountable at the polls during the next election cycle.
Saturn, the planet with the graceful rings, is now separating from a challenging T-square configuration with Uranus and Pluto. While this advance lowers some tensions, the square between Uranus and Pluto lingers through autumn and for several more years. The two were last in square during the Depression years of the 1930's. Judging by history, there are no fixes yet in sight for the ailing economy.
As Pluto advances through early Capricorn, the tiny but potent speck is at odds with the USA's Cancer Sun. The positioning foretells a decline in our nation's fortunes as well as the stature of the presidency. Shifting geo-political alliances and a search for a new national identity will also come in time.
Additionally, the autumn stars portend a growing realization; progress lies in the hands of ordinary citizens, not the plutocrats, politicians or bureaucrats. Saturn's approaching trine to retrograde Neptune suggests that however small, we each have a role to play. A catalyst of American independence, author Thomas Paine opined, "Those who expect to reap the blessings of freedom, must, like men, undergo the fatigue of supporting it." This fall Saturn provides the motivation needed to see Neptunian dreams and ideals translated into tangible results.
September 2011 (Libra Sept 23-Oct 22)
As summer's last great weekend hurrah nears, the Virgo Sun eases into a graceful Friday night trine with ebullient Jupiter. The enriching aspect crowns a lovely day and helps guide travelers to a great start of the holiday. Care must be taken with perishable food items on Saturday afternoon, the 3rd. Don't leave valuables unattended. The Saturday night social scene is a good one for making new friends in informal settings.
Sunday afternoon's first quarter Sagittarius Moon could induce passing worries. It may simply not be possible to touch all the bases. Don't hurry. Scale back to an easily managed schedule and relax. Labor Day sees pleasant influences, perfect for whiling away the late summer afternoon.
It's get down to business time on Tuesday the 6th. The Capricorn Moon invigorates an earthy grand trine that already includes Jupiter, Sun, Venus and Pluto. Both Tuesday and Wednesday are strong days for pursuing career aims. On Thursday mental Mercury's opposition to Neptune completes a string of three such aspects that began during late July. Photographers and creative types may feel inspired but pay attention to facts and figures. An oversight can cause a setback.
By the weekend of the 10th and 11th the presence of the waxing Moon is felt. Life speeds up. A post-midnight sextile between Venus and Mars adds extra spice to Saturday night's glamorous parties. The Pisces "Harvest" Moon is exactly full at 5:27am on Monday the 12th. This is a good week for negotiating contracts, selling, writing and travel, as Mercury forms a tight grand trine with Jupiter and Pluto. Many will receive good financial news or reap a bountiful crop before Wednesday is over.
Late Wednesday night Venus enters Libra where she soon is tested, first opposing Uranus on the morning of the 17th and then squaring Pluto the night of Sunday the 18th. These difficult aspects can trigger relationship break-ups and/or breakthroughs. Keep close tabs on what partners think and expect of you. Loving, giving and receiving may have strings attached at this time. Remember, true love asks nothing in return.
The working week of the 19th gets off to a solid start due to a helpful lunar angle with Saturn. Minor aspects are mostly constructive but watch out for early morning stress under Tuesday's last quarter Gemini Moon. Nerves are edgy so a little less coffee may be in order.
The Sun arrives in Libra at 5:05am EDT on Friday the 23rd. This day of balance, the Autumnal Equinox, also features a fabulous early morning trine between Mars and Uranus. Technological news is likely to be making headlines. Friday afternoon can feel euphoric at times as the playful Leo Moon aspects Jupiter and Venus, but be prepared as excitement may give way to shock over the weekend.
The Libra Sun, followed closely by mental Mercury, stands opposite Uranus and square to Pluto. The configuration is anything but calm. As will be the case over the next few years, whenever a planet enters a cardinal sign Earth is more likely to quake and the affairs of men go haywire. For this reason it is imperative to drive cautiously over the weekend and especially around the time of the Libra new Moon of the 27th. Be flexible. Adapt to fast-changing circumstances as necessary.
More auspicious travel and communication trends come in the afternoon of Wednesday the 28th. This agreeable atmosphere lasts through the end of the month, although Venus' conjunction with Saturn the evening of the 29th can be a harbinger of either heartache or a match made in heaven. Play it safe Friday night when a lunar square to Neptune can impair judgment and contribute to dangerous driving conditions.
October 2011 (Scorpio Oct 23- Nov 21)
October begins in high spirits. The Sagittarius Moon forms only harmonious angles throughout the weekend of the 1st and 2nd. Hobnobbing, spiritual journeying, traveling and studying are rewarding pursuits. The only worry is Mars' square to Jupiter early Monday morning. When these two face off words are sometimes spoken in haste, only to be regretted later. Observe that we each are entitled to free speech, even when we disagree.
Monday the 3rd is an energetic but arduous day. The Moon in Capricorn, a cardinal sign, runs a gauntlet of challenging aspects culminating with a late night square to the Sun. This first quarter stage of the Moon can send folks scurrying in search of distractions from uncomfortable feelings. A near simultaneous lunar trine to Jupiter helps us keep a healthy perspective on the day's trials and perhaps gives us cause to chuckle at the things we cannot control.
Four planets are currently in Libra, the sign of peace, love, understanding and when those fail, outright hostility. These include the Sun, Mercury, Venus and Saturn. Be nice! Good behavior garners favorable notice on the 6th and 7th. An early dinner Friday night proves extremely enjoyable. The world grows uncommonly restive over the weekend as the Pisces Moon drifts void-of-course for the better part of both days. The almost full waxing Moon channels plenty of energy to Earth but the lack of aspects can leave many folks feeling directionless.
Things pick up dramatically on Monday the 10th. A lunar conjunction with Uranus prompts political groups to demonstrate on behalf of various causes. The aspect also favors taking spur of the moment actions but think twice before bungee jumping or sky-diving. The Full "Hunter's" Moon in Aries is exact at 10:05pm on Tuesday the 11th. The Moon stands alone opposing the Sun, Saturn and Uranus. There are times when it is best to subvert self-interest for the good of others. The full Moon horoscope clearly supports this notion. In any case, it's a fantabulous night for a moondance.
The Sun overtakes and conjoins Saturn on Thursday the 13th. This day of reckoning, with its interesting mix of generosity and realism, points the way towards the people, projects and things worth committing to. By Friday evening almost everyone is ready to leave their cares behind. Venus' opposition to Jupiter says, "Let's party!" If your celebrating extends into the wee hours of Saturday morning, designate a driver or call a cab. Household chores may take up much of the weekend. The Virgo Moon aptly supports, cleaning, sorting and organizing.
During Sunday afternoon the Sun enters fall's deepest sign, Scorpio. The bare limbs of trees pierce slate gray skies while the hours of daylight continue to dwindle. The beginning of the new week is sluggish. The Moon is void-of-course Monday morning and the lunar cycle is ebbing. Wait until mid-week's Scorpio new Moon to launch new projects. Venus and Mars are at odds this week. Their square aspect highlights disagreements between partners. Friday afternoon, the 28th, is the most promising time to mend a rift. Pointing to better times ahead are the hopeful Sagittarius Moon, a healing trine between Jupiter and Pluto and helpful solar angles to Jupiter and Pluto. Faith and positive thinking carry the day. This emotional and spiritual boost carries through into the weekend.
Sunday afternoon's Capricorn Moon gets us grounded and by nightfall, planning for the coming week. The pragmatic Moon holds forth into Halloween when a late afternoon square between Venus and Neptune arouses more than expected interest in spooks, goblins and things spiritual. Be extra careful if you're out at dusk with little ones or partying late into the night with big people.
November 2011 (Sagittarius Nov 22-Dec 20)
On Tuesday the 1st fortunate angles between the Capricorn Moon, Mercury and Venus sustain a very constructive atmosphere. The evening social scene is promising so don't balk at participating. In fact, outgoing Venus, in Sagittarius as of the 2nd, is moving into a serendipitous trine to Uranus. This week could see magical meetings, including an exhilarating "love at first sight" encounter. Wednesday's midday first quarter Moon will likely see a few eyebrows raised over some juicy piece of gossip.
The 3rd and 4th are promising days for work of all kinds. Saturday the 5th feels languid as the Pisces Moon spends most of the day adrift, void-of-course. Attention spans are shortened and the climate is most suitable for non-critical chores and just chilling out. Be sure to set your clocks back an hour as Standard Time begins Sunday at 2:00am. A spur of the moment purchase or get together is great fun during Sunday afternoon. Take notice of what you eat and drink Sunday evening. An opposition between Mars and Neptune warns of drug and alcohol abuse as well as tainted food.
A waxing Moon is rapidly growing full, her light shining brightly all this week. The days move swiftly and are fruitful. The Full "Beaver" Moon in Taurus is exact at 3:16 PM on Thursday November 10th. Sharing resources and achieving sustainable comfort and security are compelling themes. In marked contrast, Veteran's Day is substantially lower key. The weekend sees an easy-going mood take hold.
Those with time on their hands gravitate towards home-related chores on Monday the 14th and the 15th. These mark the beginning of a string of productive days. Trip planners and travelers as well as bold thinkers will thrill to Mars' trine with Jupiter the afternoon of Thursday the 16th. This is also a great aspect for getting one's message across. Snags arrive Friday morning under the last quarter Moon. Stubborn people are uncompromising under this Moon/Sun square. Tensions ease during the evening. Many will be in the mood for fun. Dancing can be a blast.
The late Scorpio Sun tests retrograde Neptune on Sunday the 20th. Broken dreams and dashed hopes can be haunting. New goals, heroes and passions soon emerge. Venus harmonizes with Saturn during the early morning hours of Tuesday the 22nd. Turn to people you trust for comfort. The Sun then enters Sagittarius later the same morning. This is a good day to be on the move, traveling or shopping for the upcoming feast.
If you must be on the highways Wednesday, get an early start. The Sun's trine to Uranus helps keep traffic and information flowing swiftly. Mercury is hours away from retrograding but this will take nothing away from holiday excitement. The Winged Messenger reverses direction around 2am Thursday. A warm, loving radiance blesses Thanksgiving gatherings, thanks to a sextile between Venus and Neptune. What a superb aspect for offering thanks!
As we digest Thanksgiving Day meals the Moon eclipses the Sun. A Sagittarius new Moon/solar eclipse is exact at 1:10am on Friday the 25th. Almost certainly there will be surprises around this date. Some will require relatively minor changes of schedule. Others can permanently alter the political landscape. Keep your options open over the weekend, which ends on a very positive note. Sunday afternoon's Venus/Jupiter trine showers optimism, happiness and grace on receptive hearts.
Roll up your shirtsleeves and get right at chores on Monday the 28th. Fatigue can be a factor by late afternoon and it is advisable to turn in early. Plan to use your energy wisely this week. The Sun is in a tense square with Mars. Rushing or pressing forward with projects prematurely can be counter-productive. Slow your pace and do your best to get things right the first time.
Above all, keep looking up!
Eric Linter offers a complete range of astrological services, including his "On Top of the Stars Monthly Guide" for making inspired career and personal decisions. Consultations are available in person, by phone or on audiocassette. Contact Eric at 508-541-4115 or email at stars@ericlinter.com. Visit and read Eric's daily astrology reading on New England's premier holistic magazine homepage at www.spiritofchange.org.