The Cosmic Forecast for Summer 2011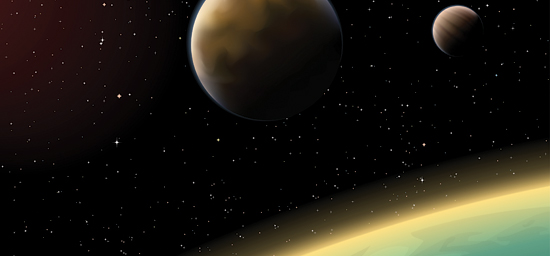 "We do not see things as they are. We see them as we are." — The Talmud
June and the summer season arrive with a series of solar and lunar eclipses. Often harbingers of unforeseen events, eclipses can bring reassurance to some people and portend calamity for others. I believe that challenging astrological influences serve as "course correctors," and are designed to set us back on track. The important thing to bear in mind is that an overshadowing of either "light" only occurs when the Sun, Earth and Moon are in closest alignment.
The Sun represents spirit, Earth our physical plane of existence and the Moon our emotional history and instincts. Thus the eclipse periods are ripe with potential for self-knowledge. There is no better time for tuning in to one's higher self. Those who meditate, pray and are receptive to spirit are more likely to benefit from increased clarity, awakenings, revelations of behind the scenes activities and other information releases. With two eclipses in June and one in July, there are sure to be moments of self-discovery and enlightenment this summer.
Up close, personal experiences with an eclipse can be infrequent. In most cases, the location of the Sun or Moon must be nearly conjunct a planet in a person's birth chart for it to be felt in a meaningful way. The Gemini/Sagittarius axis plays host to the first two June eclipses and the third, on July 1st, occupies the Cancer/Capricorn polarity. Not everything is what is seems. Healthy skepticism is advised. Don't rush to make judgments. Take time to gather facts. Hopefully we'll all gain clarity as the weeks pass by.
June 2011 (Cancer June 21-July 22)
The Gemini new Moon, a partial solar eclipse, is exact at 5:03PM EDT on Wednesday the 1st. The Moon casts a shadow on the Sun. Will emotions override logic? Not with the Sun and Moon in trine to Saturn. Self-preservation is a priority. Hard work, good judgment and an eye on success bring gains in coming weeks. However, don't count your chickens before they hatch. Post-eclipse, new information is likely to surface. Mental Mercury, after arriving in Gemini Thursday afternoon, is square to confusing Neptune on Friday the 3rd. A change in outlook or strategy remains a strong likelihood. Friday is also an emotionally trying day because Uranus, Pluto and Saturn each test the sensitive Cancer Moon. The weekend sees smoother going.
Jupiter arrives in Taurus, the earthiest of signs, on Saturday morning. Our solar system's largest planet will remain in this grounded, comfort loving sign until June of 2012. This is good news for natives of Taurus and to a lesser extent, those born under the other earth signs, Virgo and Capricorn. There's plenty more going on this weekend. Mercury and Uranus combine to amuse and enlighten countless minds. Friendships also thrive under the alignment. Venus lends special grace to Saturday night soirees. After a restful Sunday morning the social scene is again enjoyably busy later in the day.
Career progress is good on the 6th and 7th thanks in part to agreement between the Leo Moon and Gemini Sun on Monday and Mercury's trine with Saturn Tuesday afternoon. A more magical and mystical energy is also present. Jupiter is in sextile to Neptune Wednesday night. That same night features a tense first quarter Moon, which may briefly obscure the subtler, higher vibrations of the Jupiter/Neptune aspect. Don't get caught up in meaningless details and worries. Find inspiration in nature, the caress of a loved one or a treasured spiritual teaching.
Sensitivities remain acute. Venus follows Mercury into Gemini the morning of Thursday the 9th where she, too, squares Neptune. Guard heart and purse strings zealously but follow your creative and spiritual impulses. With a long void of course Moon, Saturday the 11th is fairly laid back. Sunday suddenly feels very busy under the waxing Moon. Mercury overtakes the Sun, Venus engages Uranus, and Saturn in Libra resumes forward motion. There's movement afoot! Be sure to get out and circulate.
Watch your step as Monday and the new working week begin. The Scorpio Moon is at odds with sign-ruler Mars, causing many to feel edgy and impatient. We are also just a few days away from the total lunar eclipse and it is wise to proceed cautiously. Stay open to new ideas.
The Full "Strawberry" Moon is exact at 4:14 PM EDT on Wednesday the 15th. The Full Moon gives us broader appreciation of our options, talents and possessions. Again, keep your mind open. Thursday may feel like a long and wearisome day but excitement returns as the weekend approaches. Plan a Friday night get together, either with a significant other or a group of friends. The social auspices are strikingly good. Saturday's calendar may fluctuate with distractions and fickle friends. The night finds an easy-going groove. Mercury's opposition to Pluto may stir up a hornet's nest on Sunday afternoon. If you plan to honor Dad, let him have the last word.
Mixed influences warrant careful watching the week of the 20th. Mars enters Gemini that Monday where the God of War promptly squares Neptune. Dangers include wild weather and errors in judgment. Mercury's Tuesday square to Saturn can serve the helpful purpose of causing folks to think and be prudent. This is also the day of the summer solstice. The Sun enters Cancer and summer begins at 1:17 PM on the 21st. The Sun joins in the fray of an ongoing T-square between Saturn, Uranus and Pluto. It is this configuration, now made stronger by the Sun, that speaks to current global power struggles and evolutionary changes. It appears we are in for a long, hot summer!
A silver lining in the solstice horoscope is the Sun's trine to Neptune. This is an aspect that awakens humanitarian impulses, encourages dreaming of a better world and ultimately empowers visionary actions. As June ends the Sun moves through the early degrees of Cancer, forming testing angles to Uranus on the 26th and Pluto on the 28th. We face important choices during this period. Every thought we think, word we speak or dollar we spend is concrete evidence of who we are and what we believe in. We do well to treat our selves, our associates and our Mother Earth with wisdom, kindness and respect.
Mixed in with the tough alignments is an uplifting solar sextile to Jupiter during the evening of Saturday the 25th. Go to a fabulous party, informative lecture or seminar. Tend to home and family matters on the 30th.
July 2011 (Leo July 23-August 22)
July begins with the Cancer new Moon and a partial solar eclipse at 4:54 AM. The Sun and Moon are both in square to Saturn. There'll be no quick starts today. A better idea is to slow down and prepare for the long holiday weekend. If you plan to travel, allow extra time to reach your destination.
The stars breathe new life into earthly affairs on Sunday the 3rd. Backyard barbecues sizzle and fun is in vogue under a Leo Moon. By the 4th the Moon is void of course, not a bad thing if you have your heart set on relaxing. Venus' trine to Neptune and Mercury's trine to Uranus put senses into a state of pleasurable hyper-alertness. There are good times to be had, even long after the last fireworks have pin-wheeled through the night sky.
Those of us returning from holiday may strain to keep up with a dizzying workload during the afternoon of the 5th. Things are calmer that evening as we begin a very constructive phase that lasts into the middle of the month. Mars's sextile with Saturn the morning of the 6th and Jupiter's sextile alignment to Pluto, exact the morning of the 7th, set the tone. Here's a super opportunity to capably deal with a wide range of problems, from routine tasks to restructuring partnerships and finances.
Uranus, always a wild card, turns retrograde on Saturday the 9th. The direction shift may rumble the earth as well as governments and even some friendships. Continue to work with purpose and devotion and you'll make notable progress on Monday the 11th while Mercury and Mars stand in a sextile. The following day brings more tests for partners. Venus is squaring Saturn. The strong survive. The borderline and questionable do not. The almost full Moon underscores the need to move on. As Thursday turns to Friday the 15th, the full "Buck" Capricorn Moon rides high in the sky and is exact at 2:40 AM EDT. The event chart spotlights practical and philosophical issues. Do your business practices reflect your deepest core beliefs? If they don't, this is a good time to make amends.
The weekend of the 16th and 17th is a quiet one. Relative calm prevails all week. The Sun enters Leo on Saturday the 23rd. Even the last quarter Moon, also on the 23rd, is a late night event that many of us will sleep through.
The morning of Monday the 25th is tricky. Keep an eye on your valuables, especially irreplaceable mementos. The late afternoon ushers in a more free-flowing mood that continues through Wednesday when the Leo Sun trines Uranus. Be responsive to hints, hunches and psychic impressions. The force is with you! An end of the week slowdown reflects the late stage of the lunar cycle. Back off the gas and coast a bit. Plenty of life will come to you if you let it. The Leo new Moon begins the gradual rebuilding cycle on Saturday afternoon, the 30th. Commune with your inner child this weekend. Be a kid. Spend time with your best buddies. It's a great time to reclaim lost innocence.
August 2011 (Virgo August 23-September 21)
Here comes another round of lightning-fast changes. Regal Venus opens the new month with a marvelous trine to Uranus. Night owls will certainly have their fun. Daylight denizens must deal with the Sun's mid-morning square to Jupiter. Keep your personal organizer handy because there is likely to be a huge pile of chores to handle. Take one thing at a time.
The night of Tuesday the 2nd mental Mercury starts a retrograde that lasts until the 26th. Try to keep things in perspective. Don't fret over inconsequential details. A few hours later, early Wednesday morning, Mars enters Cancer, adding to feelings of discomfort. You put the God of War at the kitchen stove and it's going to take some time to get the soufflé right. As fate would have it Mars is traveling in aspect with magical Neptune. The two form a trine Wednesday morning, giving dreamers and reformers a boost. The following night Neptune retrogrades into Aquarius. The mysterious planet of deception, altruism, self-sacrifice and unconditional love remains in Aquarius until February of next year.
The stars continue to be in a highly active pattern. Friday the 5th feels very busy. Saturday morning features the first quarter Moon in Scorpio. The rest of the day is calmer. Allow time for personal "space." Once the very subdued Sunday morning has passed, livelier trends are felt. Following a lunar aspect to sociable Uranus, Venus aligns with Saturn. It's a fitting backdrop for a gathering of old friends.
Monday the 8th sees Mercury retrograde into Leo and oppose retrograde Neptune. Mars is also forming a square with Uranus, an explosive combination. Extraordinary care is advised on Monday and Tuesday, even as many projects proceed fabulously well. Imaginations are piqued but bad weather and faulty machinery, including computers, are threats. Fiery Mars also opposes obstinate Pluto just after midnight on Thursday the 11th. Don't go looking for trouble. Wait until after the full Moon to bring up a sensitive issue.
The full "Sturgeon" Moon, now in Aquarius, maxes out at 2:57 PM on Saturday August 13th. The Leo Sun, Mercury and Venus are in close proximity while the Moon is aligned with Neptune. This is a socially energetic day and the full Moon adds plenty of pizzazz to the proceedings. Creative juices are flowing and the appeal of nature is magnetic. Head to a favorite spot and drink in the vibes. Bring your picnic lunch, camera, paints or hammock. Relaxing is the perfect remedy for the stresses of everyday living.
The Sun, Mercury and Venus travel as a team, conjoining one another on Tuesday the 16th. The Pisces Moon is void of course. Although the day's efforts may be of questionable value, the process will be pleasurable. Slip out of the office if you can and share the afternoon with a loved one.
Fiery Mars is on the move this week, reaching a sextile angle to Jupiter around midday on the 18th. The aspect helps keep chins up through the midweek period. There could be reason to celebrate Thursday night. The weekend approaches and begins pleasantly. Saturday is good for shopping and gardening. Sunday the 21st presents multiple challenges; the late afternoon last quarter Moon is central among them. Disagreements and misunderstandings can derail a happy day so be prepared. Venus and the Sun stand opposite Neptune. Do what you can to preserve the peace and keep communication channels open. Be nice!
The Sun pulls in to Virgo the morning of Tuesday the 23rd. Virgo, a mutable earth sign, reminds us that a new season will soon be upon us. Make it your intention to get the most out of each remaining summer day. Dive fully into the 24th. The morning is joyful. Perseverance is called for later in the day as Mars tests Saturn. The cosmic gearwheels turn more freely after the Cancer Moon passes by Mars the morning of the 25th. The turnabout is striking. Venus aligns with Pluto Thursday evening. Good will and love seem to be the cure for all that ails us.
Mental Mercury returns to forward motion the evening of the 26th. If you get the chance to take a weekend junket, join up. In any case, go easy and plan to get some rest. The Virgo new Moon is on Sunday night and is part of a grand trine in earth signs. Taking a more pro-active approach to your own health and well-being is indicated. Don't sell good food, exercise and natural healing modalities short.
Next up, a couple of noteworthy celestial events. In the wee hours of Tuesday the 30th Venus trines Jupiter as the giant planet turns retrograde. Harmony between the two "benefics" is always a "feel good" story. The glad tidings are most likely to be received on Monday the 29th.
Finally, after a daunting final day of the month, the late night hours bring good news. A visit from a friend or another trip could be in the offing. Keep looking up!
Eric Linter offers a complete range of astrological services, including his "On Top of the Stars Monthly Guide" for making inspired career and personal decisions. Consultations are available in person, by phone or on audiocassette. Contact Eric at 508-541-4115 or email at stars@ericlinter.com. Visit www.spiritofchange.org and read Eric's daily astrology reading on New England's premier holistic magazine site.