The Encyclopedia of Country Living: 10th Edition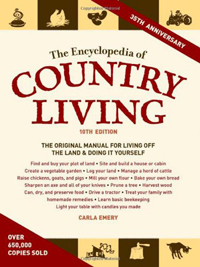 Carla Emery
The Encyclopedia of Country Living: 10th Edition
Sasquatch Books, Seattle, Washington. 2008
Carla Emery didn't speak as a child. At age five, a single trip to the doctor cured her (he said she was "just-tongue tied"). But her early experience as a mute left her with a profound appreciation for words, and a special understanding of animals. It's no surprise she became a prolific speaker and crusader for environmental stewardship. An integral part of the '70's back-to-the-land movement, Columbia University educated Emery became a hardworking Idaho homesteader. Often learning by trial and error, and knowing she was a writer in her heart, Emery set out to compile a how-to book for country living to help the many others interested in living off the land.
The Encyclopedia of Country Living was written and re-written over the span of thirty-two years. The first editions were mimeographed, self-published, and sold out of the back of Emery's car. Greatly expanded, the 10th edition is truly an exhaustive resource in self-sufficiency. At almost a thousand pages, the manual is huge. But Emery peppers the pages with anecdotes, organic philosophy and humor, making The Encyclopedia great fun to read for both country people and (in Emery's words) town people. It's like listening to the "old-timers" share wisdom, learning both the successes and the mistakes. Every subject imaginable is covered: buying and logging your land, finances, raising food, driving a tractor, making candles, canning (including life-saving canning rules), beekeeping and even birthing a baby alone. "Helpful Habits" include: Don't discuss the obvious, don't own a television, quit a job when you're losing efficiency, sing a lot, pray a lot. Though the writing is folksy and friendly, the presented information is straightforward and thorough, and, at times, not for the squeamish. Basic home butchering and gutting techniques for several types of domestic and wild animals are included (along with the best way to remove edible organs), as well as methods for dehorning and castration (complete with a recipe for Rocky Mountain Oysters). Yet the spiritual Emery writes, "Animals are as much God's creatures as we are. How we treat them while they are in our care says a lot about what kind of people we are."
The Encyclopedia of Country Living is as timely as it is extensive. Chapters discuss the real risks of neurotoxin poisoning and pesticide-induced cancers for farmers and unwarned agricultural workers, the great need for water conservation, and old-time hand (non-petroleum-using) harvesting technology. The expanded website, magazine, book and supplier listings are current and cover every subject imaginable.
Though Carla Emery passed on in 2005, her legacy lives on in her seven children and many grandchildren, and in her passion for self-sufficiency and concern for the environment presented in the 10th edition of this best selling manual.