The Guatemala Midwives Project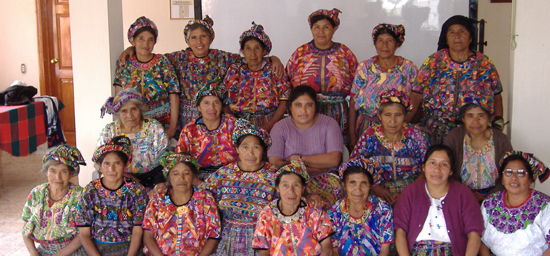 Dear Friends,
Felipe and Elena Ixcot escaped the death squads of the Guatemalan government in 1981 with their four children. They lived as refugees in Chiapas, Mexico, and were finally granted sanctuary by the Benedictine monks of the Western Priory in Vermont. In March 1999 they returned to their native village of Concepcion Chiquirichapa in Guatemala for the first time in 17 years.
Felipe and Elena shared a dream with the Mayan-Mam midwives in their village who had long-dreamed of building a maternity center in that remote area of the Southwestern Highlands of Guatemala to address the healthcare needs of the people and to support the continuation of their culture and traditional ways. The story that follows, written in 2001, is a hopeful testament of cooperation between cultures, and how individuals so far away from each other in distance can still make an enormous impact in each other's lives.
"The history of our medical science is beautiful, interesting and suggestive. Maya medicine for many thousands of years has a sort of trinity formed by Mother Ixchel, and the great couple of Citbolontún and Itzamná. These last two worked to discover the medicinal strengths of plants.
Mother Ixchel, for thousands of years in antiquity, is known as the Rainbow Woman. She was the one who advocated for maternity, and through it, for all the people. The whole nation carried beautiful branches of flowers because she cultivated the science of facilitating all future births and also knew the secrets for curing sterility. Many celebrations are celebrated in her honor.
Following this route, this way and this essence of our Mother Rainbow, many women of the Mam area, by themselves, individually for many years, have set out on our path for the beautiful way of giving life, and in many opportunities, two by two, or three by three, we have been looking to share our experience, to reveal our secrets, or discuss certain problems that arise every day and together seeking solutions to do a better job with our mission of givers of life.
On various occasions we were grouped in some associations that had as a mission to work with midwives, and we have participated gladly; but with this type of gathering, there doesn't exist any thinking that is truly indigenous and in keeping with the principles of Mother Ixchel because these were organizations connected with the non-indigenous culture, so it was very difficult to be able to exercise our own leadership and make decisions in terms of our Maya-Mam culture. ?
Thus it was that we began with some indigenous midwives to discuss this problem and the necessity of finding ways to set up our own organization. Then we had experiences with cooperation from local communities, and we used our own language that is vital for the practice of life, because by means of it we transmit values and we understand the spirit of the culture of the women we attend. This is to say, by being Mam we understand our sisters and they feel greater confidence when we put our culture into practice.
Then when we discovered that we are capable of creating our own organization, we understood that it was necessary to use the laws of Guatemala to organize ourselves from the judicial point of view and to have a legal base to carry out our sacred mission. We then began counting on the collaboration with our brother and sister Maya-Mam established in the U.S. of North America. We are referring to Doña Elena and Don Felipe Ixcot who have been interested in the work that we were developing. Without their help it would not have been possible to accomplish what we have now obtained.
And so we were a very small group of five who formed the Association of Mam Area Midwives (ACAM) and two collaborators making 7, perhaps because the colors of the rainbow are seven, in memory of Grandmother Ixchel. And thus, little by little, as the days went on we were joined by midwives from our community until we reached more than 40 sisters. Thanks to the intermediary of the Ixcot family, we created bonds of friendship and cooperation with Judy Luce. On this account, we began a series of visits from the U.S. with the Ixcot and Luce families, James Carbone of the Wellness Center, and many U.S. friends to talk about immediate plans and long range plans to support not just a midwives project but to plan a Midwives Program for Concepción Chiquirichapa.
On February 2, 2001, by the grace of the Maya-Mam culture and of the people of Concepción Chiquirichapa, Don Felipe and Doña Elena traveled to our city giving financial help to buy a piece of land which would be used to construct a maternity center which we had so much dreamed of. In this way we brought our dreams to fruition and we began another dream: the construction of the maternity center to care for the life of sons and daughters of the Maya-Mam culture.
Now there are more midwives dreamers who attend our meetings and we continue growing, letting the world know that cooperation between peoples and cultures is possible no matter what the distance. The important thing is love, the desire to live and the big responsibility to dream. We are a group of women who say to themselves: we are dream-eaters and this is the truth, because in our indigenous cultures we dream for the reality to construct it and we will construct it by dreaming about it. Many thanks!"
Since this story was written, and through the efforts of many U.S. midwives and donors, over $100,000 was raised and this dream became a reality. The Midwife Center was finally opened and blessed in a memorable celebration and feast in 2004.
Since that time, over 1000 people have come for consultations, and close to 200 births have occurred at the center. Twelve midwives do 24-hour shifts staffing the center full time and one day a week a woman physician who specializes in women's health volunteers her time. The midwives educate young women about family planning, health and safe sexuality, self-respect and the values of Maya culture. People respond in a positive way when spoken to in their own language in a loving way.
Midwife meetings and workshops are numerous and a midwife apprenticeship program has begun. Elena resumed her work in cataloging and planting the medicinal herbs needed for traditional healing, which she had carried out in Concepcion before she was forced to flee in the early 80's. With his video camera, Felipe is preserving the history and work of ACAM, and the important cultural, political and social events at the center that bring together the Mam people, as well as national and international gatherings of indigenous people. These efforts have strengthened confidence in traditional Mayan medicine that comes from Mother Earth.
According to Judy Luce, secretary of the ACAM Advisory Board of the International Mayan League/USA, "In January of 2000 the very thought of building a center was only a dream, and now ACAM is looked upon by many as the most significant project in all of Guatemala because it is owned and run by the Mayan midwives and because their work with childbearing women and their families is intricately tied to preserving Mayan culture, the dignity and autonomy of Mayan midwifery, and the health of Mother Earth and the environment. It is a project that engages the whole community and is a locus of community activity."
Yet much more needs to be done. Only a fraction of operating costs for running the center comes from fees paid by families who come for consultation. Felipe writes, "We ask you not to leave us alone in our fight against maternal and infant mortality, to improve the health of our people, and to relieve the trauma from war our country endured." These are the same highlands that suffered unspeakable injustices during the genocide of the early 80's by the Guatemalan Army and secret police. Over 250,000 Mayans were either killed or "disappeared." Currently, Guatemalans survive amidst staggering murder rates for women, random violence and terrifying death squads that roam the country, and deep corruption within the government. Our mission is to help these incredible people preserve their culture in any way we can.
If you'd like to donate to or get involved with The Midwife Center in any way please call James Carbone at 508-842-2780 or send an email to jcarbone@wellnesscorp.com. For more information about ACAM midwife center, please visit http://www.mayamidwifery-acam-imlusa.org/menu.html