The Occupy Movement Gets Creative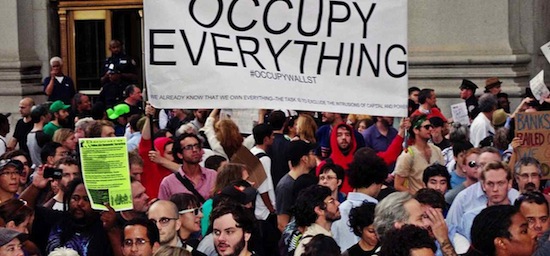 Most all of the original Occupy Wall Street encampments have been shut down in cities around the country and the occupiers evicted. While smaller groups are still encamped, the occupy movement is evolving into its next phase of how it moves forward without spaces to occupy, particularly with the harsh winter weather just around the corner.
So far, marches, walks and silent or vocal demonstrations at local community events continue to broadcast the occupy message. Critics of the movement insist the occupiers never clearly defined their message or demands, which is precisely what characterizes the nature of this grassroots movement: to give a face — hundreds of thousands of faces — and a very large presence to the majority of previously-faceless Americans that are getting ripped off by the current financial and economic system.
Their message is to broadcast their presence: We are here and now you see us. While Wall Street has been allowed to legally gamble America's prosperity away so it ends up lining the pockets of a very small minority — the 1% — of Americans, the rest of us are experiencing job loss, home foreclosure and reductions in public services and safety, affordable healthcare, quality education for our children and security for our retirement. Congress has not acted to preserve our national treasury for the American public so occupiers are here to make sure this message is seen, heard and exposed.
The crackdown by city officials to clear their public spaces of these faces is especially troubling in that it turns local police forces into military units acting against their own citizens who are exercising their Constitutional right to freedom of speech and assembly. Clearly, corporate interests rule over American freedom and democracy.
Despite these setbacks, an important benefit of the initial OWS occupying phase is that the movement has created a new cultural and political community almost overnight. Particularly in conservative cities around the country, progressive thinkers feeling isolated and alone have discovered large networks of like-minded people in their own neighborhoods, providing support, strength and a boost of new-found confidence.
MovetoAmend.org is organizing Occupy the Courts, a national day of protest on January 20, 2012. Volunteers will occupy all 94 Federal courthouses across the country, including the US Supreme court in Washington, DC, on the second anniversary of the infamous Citizens United v. FEC decision, which granted corporations in this country the rights of American personhood.
Sarah Seltzer, reporting on Alternet, lists Occupy actions that are continuing to take place around the country, beginning with locations for Nurse's Union Rallies on Wednesday, Nov. 30 in Great Britian and six cities in the United States including Boston.
Update: Thanks to those nurses' rallies, and Occupy Wall Street visibiity, pressure for a Wall Street speculation tax is growing. According to New York Times columnist Paul Krugman, "Because there are so many financial transactions, such a fee could yield several hundred billion dollars in revenue over the next decade."