The Real Reason General Mills Will Cut Fake Flavors from Cereals Like Trix and Lucky Charms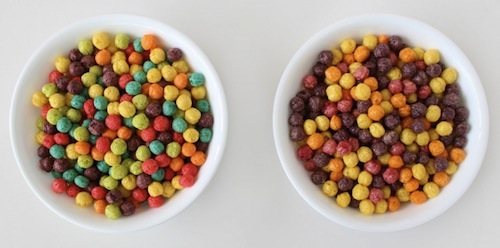 Breakfast behemoth General Mills, maker of Trix, Reese's Puffs and Lucky Charms, said Monday it plans to remove artificial colors and flavors from its cereals by 2017, becoming the latest food giant to swap out the additives in response to changing American tastes.
Instead of dyes like Red No. 40 and Yellow No. 6, Trix's crunchy rainbow corn balls will be colored by turmeric, a yellow spice in curries and mustard, and juice concentrates of blueberries, radishes and strawberries. Artificial vanilla will be replaced by the real stuff in the peanut-butter-loaded Reese's Puffs.
"People eat with their eyes, and so … the trick is, how can we maintain an appealing look, just not using the artificial colors?" said Jim Murphy, the president of General Mills's cereal division. "People don't want colors with numbers in their food anymore."
The flavors won't change, General Mills senior manager Lauren Pradhan said, and there will be "minimal to no changes in nutrition." Still, some breakfast bowls will undergo a bit of a makeover: The new Trix, for instance, will kill off its fluorescent blue and green puffs, which chemists found hard to color without artificial dyes.
The move puts General Mills in the same food-conglomerate camp as Taco Bell, McDonald's and Kraft, which over the last year have loudly removed mostly-harmless additives in hopes of making their foods look fresher or more natural.
But food experts said General Mills's changes are merely a marketing ploy, intended to make their cereals appear to be a healthier addition to breakfast bowls.
"These companies are desperate to keep parents buying these really unhealthy foods … and now they can trumpet 'no artificial dyes' as if that makes it a health food," said Michele Simon, a public-health attorney and president of Eat Drink Politics, a food-industry consulting firm.
"These kid-oriented cereals are still extremely processed, have virtually no nutritional value and are fortified with vitamins because the real nutrients have been stripped in processing," Simon added. "If they really wanted to be healthier, they should stop bombarding children with messages to eat candy in a box." Read the Full Article
See also:
Calming the Craving with Smart Snacking
Avoid These Traitor Organic Brands