The Wizard of Us: Transformational Lessons from Oz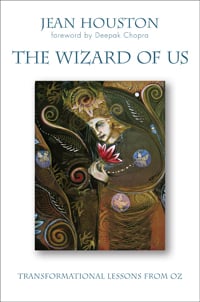 Jean Houston
The Wizard of Us: Transformational Lessons from Oz
2012, Beyond Words, New York, NY
Visionary thinker Jean Houston knows, "We are living in the most unique time in human history." Comparable to Dorothy's black and white world in the beginning of the Wizard of Oz tale, our old ways of doing things — health care, education and economics — simply aren't working. We are in a cyclone, being bumped on the head and called forth to create a new reality. How do we navigate such challenging times? The Wizard of Us: Transformational Lessons from Oz is Houston's guidebook for the journey.
Using the classic Oz narrative as metaphor, Houston reveals the tremendous and timely wisdom conveyed in this archetypal transformation story. Just like Dorothy after losing her little dog Toto, we, too, are in a state of profound longing for something different. After being catapulted from her uninspired life in Kansas and landing in Oz, Dorothy wants only to return home. It's too frightening to be in this new and colorful place and she yearns for her outmoded, dismal previous way of being. Travelling along the iconic yellow brick road is Dorothy's spiritual adventure. She gathers a community of support, a poly-racial tribe that includes the Lion (from the animal kingdom), the Tin Man (the mechanical kingdom), the Scarecrow (the vegetable kingdom) and Dorothy herself (human kingdom). Inclusion and respect of each kingdom is necessary as we create a new environment. Kind and beautiful Glinda represents Dorothy's highest guidance, her entelechy. Entelechy, a wonderful old Greek concept, is "the fullest realized essence of a thing." The entelechy of an acorn is to be an oak tree, a newborn's entelechy is to be a grown-up. Like Dorothy, we must listen to the urging of our entelechy. Additionally, Houston asserts, the entelechy of each one of us is to be something really extraordinary.
Gail Lord is a freelance writer living in Massachusetts. Please send book review copies to 51 North Street, Grafton, MA 01519 or email socbookreviewer@gmail.com.