They Came For Our Children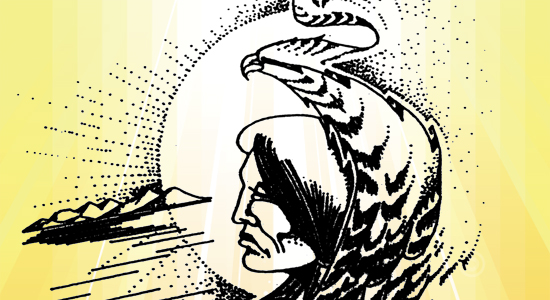 In June 2008, Canada initiated a Truth and Reconciliation Commission, whose mandate is to learn the truth about what happened to 150,000 First Nations children forced into Indian residential schools beginning in the 1870s, and to inform all Canadians about their findings. The initiative began with an apology from the Canadian Prime Minister, on behalf of the Government of Canada, to former students, their families, and communities, for Canada's role in the operation of the residential schools, which sought to eliminate parental involvement in the intellectual, cultural and spiritual development of their children. In addition to providing compensation to former students, a series of healing gatherings is underway across Canada to provide opportunities for survivors to speak the truth about their experiences and begin the process of reconciliation between First Nations peoples and Canadians.
The United States lags far behind its northern neighbor in the recognition of Native American history and the attribution of Native rights. According to 2012 US Census figures, Native Americans on reservations suffer the highest poverty rate of all US citizens; Natives off reservations suffer the 2nd highest rate. We also harbor our own forced Indian residential school history, which began in the 1860s, when Native Americans were placed onto reservations and expected to assimilate into mainstream, Christian culture. According to the first residential school founder, Richard Henry Pratt, head of the infamous Carlisle School in Carlisle, Pennsylvania, the solution was to "Kill the Indian in him, and save the man." The intention was nothing less than the annihilation of Native American culture, a genocidal wound still festering to this day. Will momentum from Canada's bold First Nations' initiatives spark any recognition of truth and healing south of their border? — Editor
Are healing and reconciliation possible after a country has committed a cultural genocide against generations of Aboriginal children under the guise of education?
This is a question that haunts Canada (and how many other countries throughout the world?) today, as a very shameful episode of Canadian history, ignored or often completely unknown by the majority of Euro Canadian citizens, is finally coming to light. For more than 150 years, from the 1870s to the 1990s, more than 150,000 First Nations, Inuit and Metis children from across Canada, were sent to residential schools that were founded by the government and run by members of several different Christian churches who willingly collaborated with the government officials.
Children as young as four years old were forcibly taken from their families and communities and stripped of their language, cultural identity and traditions, in a conscious attempt to destroy their identity in the name of "civilization." The children were often sent to schools far away from their homes, as authorities sought to break the bonds between the children and their parents. Hundreds of these children never returned home, victims of disease, accidents or failed attempts to escape, and were buried in unmarked graves sometimes without their parents even being notified.
While some former residential school students have memories of teachers who inspired and encouraged them, too many others became victims of physical, psychological and sexual abuse. Their education in the schools was a very frustrating experience, separating them from their parents' world and leaving them alienated from their families, poorly prepared to make their way in the dominant culture, and lacking any necessary parental skills, as they had not grown up in a normal family context. They ended up finding themselves as incapable of reintegrating their communities as they were of adapting to the non-native world. The residential schools thus not only ruined the survivors' childhood but their whole life.
Canada Acknowledges First Nations' Trauma
Canada's attempt to stamp out Aboriginal cultures failed, but the legacy of that long-standing effort remains. The problems caused by the residential school system did not cease the day the last school finally closed in 1996. The abnormally high rate of suicides, the disproportionate number of Natives in Canadian prisons, as well as the rampant presence of alcoholism, drug abuse and domestic violence within numerous Aboriginal communities today, is a clear sign that the trauma suffered by former residential school students has become a trans-generational trauma.
We cannot change the past, but the future is in our hands. Starting back in 1986, some religious denominations that had been involved in running the residential schools, undertook a first step towards reconciliation by publicly presenting their regrets for having tried to impose European values and culture on the Aboriginal peoples. As a concrete gesture of reconciliation, one church group has recently been exploring the possibility of helping finance a project for the promotion of one of the native languages, recognizing that when you lose your language, you lose the soul of your culture because you are forever disconnected from the wisdom of your ancestors.
In June, 2008, the Prime Minister of Canada, in the name of all Canadians, offered apologies to the survivors of the schools, acknowledging that the main objective of the government's former educational system had been to remove Native children from their homes in order to integrate them into the dominant culture, and that this politic of assimilation was wrong.
Canada is now called to work towards healing and reconciliation, and to establish the relations between Natives and non-Natives on a healthier basis of mutual respect. This is a task that is neither easy nor simple. Verbal excuses will be authentic only if they transform into concrete actions. In view of this objective, besides establishing a program of financial compensation for survivors who were victims of abuse, the government created a special commission, the Truth and Reconciliation Commission (TRC), which was given the responsibility to guide the healing process in the hope of correcting the past errors and constructing a future which all Canadians can be proud of.
The TRC began work in 2009, and over its five-year mandate will organize large national events in different Canadian provinces. Through these events, the TRC hopes to achieve three very important aims: (1) tell Canadians what really happened in the Indian residential schools, (2) honor the lives of former students and their families, and (3) create a permanent record of the residential school legacy by gathering testimonies from survivors and all those who suffered the consequences of this educational system, so that in four or five generations, no one can say "this never happened."
Since the beginning of the TRC's pan-Canadian tour, some 4,000 testimonies have already been gathered, and many more will surely be added during the last national events in Vancouver, B.C., and Edmonton, Alberta. Several months before the gathering that was to take place in Montreal, Quebec, on April 24-27 2013, a friend of mine who was a member of the TRC, asked me to accompany him to be a presence of prayer at the monthly meetings he and other members were holding as they worked on the multiple problems of organizing such an event. While all the TRC gatherings follow a certain standard program of ceremonies, conferences, testimony hearings and other activities, each has its own unique character that demands an immense amount of preparation; prayer was a welcome support.
At the gathering itself that was held at a large hotel in downtown Montreal, I was asked to co-facilitate two sessions of orientation for a group of volunteers who belonged to the four Christian denominations (Anglican, Catholic, Presbyterian and United Church) who had formerly played an active role in the residential schools. These volunteers were to take turns being available in case survivors wanted to meet a church representative in order to talk about their experiences as children in these institutions. I encouraged the volunteers not to try to do anything but rather just to be a listening heart, available to welcome the tears, the anger, but also the joys that survivors might wish to confide to them.
Photos Prompt Healing in the Archives Room
A very essential aspect of the gathering was an Archives Room where the four churches each had an information booth and made available all their collection of archived books containing photos (some very old) taken at the different residential schools. I ended up being constantly present in this room during the entire event, helping both the volunteers and the survivors. The Archives Room turned out to be one of the busiest — and, above all, one of the most emotionally charged — places in the whole gathering!
Some 600 survivors attended the Montreal event and many of them were anxious to come and see photos of their school. Often they needed to talk about their experiences. The photos brought up memories, and those of us who worked in the room, found ourselves so many times flooded in tears (those of survivors, but also often of our own!) There were moments of intense sorrow, anger, but at times even great joy, like the day when two elderly ladies who had attended the same school as children, suddenly met each other in the Archives Room after having lost all contact with each other for the past 40 years!
I witnessed yet another very touching scene that took place in that room one morning, when a group of survivors caught sight of a very elderly man who entered there, and recognized him as a former director of the residential school that they had attended. The survivors explained to me that when this man had arrived to take charge of their school, the first thing he did was fire all the teachers who were abusing the children. Then he ordered better food to be served at the school, and finally — a rare treat for the students! — he also invited the children's parents to come to the school to visit. When the former students saw him, they all rushed up to embrace him with so much joy and gratitude! It was an impressive sight for everyone present.
The TRC event had been advertised throughout Montreal as a "National Journey For Healing and Reconciliation," and as the days passed, more and more people, both Aboriginal and non-Native, came to the hotel. For some it was a one-time visit, but many others, fascinated by this unique opportunity to get in touch with the painful reality of the residential school history, kept returning day after day, especially to listen to the testimonies that some of the survivors made publicly.
Survivors had the choice of participating in sharing circles open to the public, or having their testimonies recorded in private. As one after another came to give firsthand accounts of childhood traumas before the large audience in one of the hotel's convention halls, it became rapidly evident that the healing process is far from over and that each survivor must walk the path of reconciliation respecting his or her own personal rhythm:
There was Edouard, who, 50 years after having been sexually aggressed, admitted: "I am not ready to be reconciled. One can't heal from that. It's impossible. It hurts too much."
Then there was Melissa, the daughter of a survivor, who still remains angry against the residential school system and who confided, "There are some survivors who say that they forgive, but me, I can't because what was done to our parents was done to us too."
Eva, a Cree survivor, expressed a feeling of confusion: "I want to become whole again, and I know that the only way to do that is to forgive, but it's hard. How do I do that? I'm struggling with that. I'm stuck at that point, knowing that I must forgive if I want to move forward…"
On the other hand, others have at last been able to make a step towards peace. Lizzie, a recovering survivor, was proud to be able to tell the audience, "I got healed last year, but I was angry for around 52 years. I'm not angry any more." Ruth, another survivor, declared, "I made a choice to let go, to be happy for myself."
The hall became heavy with palpable emotion, as hearts cracked open and tears flowed not only among those making testimonies, but also among many people in the audience. The TRC commissioners took the situation seriously, and specially trained aides circulated constantly throughout the room to give support to grieving people.
Children Who Never Celebrated Birthdays
As the last day of the event was drawing to a close, I think everyone was as relieved as I felt on discovering that the final activity scheduled was to end on more joyful note, as all the TRC gatherings traditionally end with an event called the "Birthday Party." The purpose of this was to honor the survivors in memory of their never being able to celebrate their birthdays while they were children growing up in the residential schools.
The party brought all the participants together in a convention hall capable of holding at least one thousand people. The room was packed full! Every single person, non-Native as well as Native, was offered a prettily decorated cupcake and a handmade birthday card (most of the cakes had been baked by church volunteers and the cards drawn by children), while on the stage in front of the room, a group of children and adults carried brightly colored balloons and sang "Happy Birthday" in several languages. At the same time, photos of a big birthday cake and of an exploding fireworks display were projected on a large screen to give a festive atmosphere to the party.
We were all enjoying our cupcakes when my attention was suddenly drawn to a quite young Native man slumped in a chair not far from where I was sitting. He was visibly angry, and radiated such an aura of immense pain and aggressiveness that I felt certain he must be the son or grandson of a survivor. Before the party ended, I silently went and placed on his lap a small tobacco tie (a handful of tobacco in a tiny red sack tied with a yellow ribbon) that I happened to have in my pocket. He pretended not to notice, but as soon as I returned to my seat, he picked up my offering and carefully attached the sack onto a bead and bone necklace he was wearing.
As the party drew to a close with a final prayer, the young man — who had defiantly remained seated during the prayer — stood up and came to me. He gave me a very gentle hug, murmuring, "You are the very first person in my life who has ever showed me love," before disappearing into the crowd starting to leave the hall.
I never found out his name, but his words will forever be held deep in my cracked-open heart as my most precious memory of the TRC gathering.
Ieiá:nes is a member of the Montreal Native Friendship Centre since 1986 and has been living in the heart of the city as a Christian urban hermit for the past 35 years.
See also:
The Discrimination That White Americans Will Never Know