Three Surprising Ways Big Companies Are Making The World A Greener Place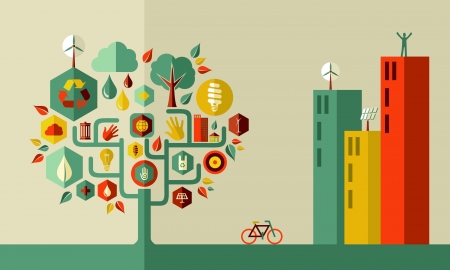 Taking care of the planet is a responsibility we all share. Individuals can make small changes that add up, but when big businesses make an effort to be eco-friendly it can have a huge impact.
Today there are thousands of businesses with the sole purpose of greening up Earth, but there are far more that do more harm than good. The United Nations' Paris Climate Agreement hopes to correct that trend. The deal was created after the world's first UN Climate Change Conference. One goal is to dramatically reduce the amount of greenhouse gas emissions generated by corporations.
Some big changes, like reducing pest control in agriculture, require government intervention in terms of regulations and enforcement. However, businesses are doing plenty of things on their own to make the world a cleaner place for all of us.
Creating Green Products
More and more companies are acknowledging the key role they play in environmental damage and protection by creating greener versions of their existing products. They're doing this by:
Using recycled materials
Increasing the lifespan of products
Decreasing the amount of energy needed to produce a product
Using natural, renewable resources
These upgrades require a fair amount of research and development, which costs money. Even products you'd never think could be green are now eco-friendly. A prime example of this is the green steel technology being developed by The A.J. Weller Corporation. Countless other construction items are getting the green treatment as well to help one of the least environmentally friendly industries reduce its eco-footprint.
Many corporations are also changing the way they package and ship products to reduce their environmental impact. Dell is a big business that has come up with a number of clever shipping solutions. One of their best ideas is mushroom packaging. Along with their partner Ecovative, Dell has developed a foam made of agriculture byproducts and mushroom mycelium that can be grown. They even use a heat treatment to eliminate allergens.
More Companies Are Letting Employees Work From Home
The U.S. Census Bureau has determined the average commute time to work in the U.S. is 25.4 minutes. That's a lot of miles for emissions and gallons of gasoline.
A recent survey by Microsoft listed the top benefits of working from home, even if it's only part-time. In the number 10 spot was the environmentally friendly advantage of not having to commute. Working from home, even just one day a week reduces an employee's eco footprint, since driving to and from work accounts for 98% of the average employee's work-related carbon footprint. Telecommuting also eliminates the waste that's generated from dining out during lunch, reduces paper use, and conserves space at the office, making telecommuting the greenest way to work.
Corporations Are Planting Forests
It's no secret that businesses use and waste a lot of paper, and paper consumption is one of the leading causes of deforestation. Some companies are stepping up to the plate, and they aren't waiting for Arbor Day to plant their trees.
Reducing paper waste is just the first step businesses are taking. Some companies sponsor forestation non-profits, encourage the community to help out with tree planting programs, and donate the actual trees. One of the most remarkable efforts to date is Apache Corporation's Tree Grant program. In the last 11 years, they have donated over 4 million trees for planting. Each tree is capable of producing enough clean oxygen in a season for ten people to breathe for an entire year.
While some businesses are stepping up their social responsibilities to minimize their impact, it's just as important for consumers to support those businesses that make an effort to go green.
Ashley Andrews is a San Diego-based freelance writer who blogs on a wide range of green living, business, health and technology topics.
See also:
EarthTalk: Your Environmental Questions Answered
ZeroLandfill Project Upcycles Free Materials For Artists And Educators