To Serve Is To Give: Volunteering and Traveling Abroad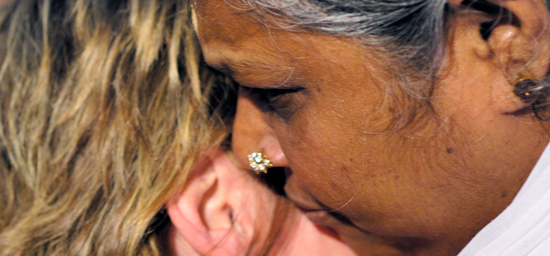 "Not enough is being done in the world. We have to stop talking and start doing." – UNICEF Executive Director Carol Bellamy, at her farewell party at United Nations Headquarters, New York, April 28, 2005.
Many of us feel lost, but there is a way out – a doorway to a place of indescribable peace. This doorway is within your very Self. You can open that door by awakening a desire to do something for someone in need, to give the best of yourself with love and compassion, and to selflessly serve those in need.
December 26, 2004
The ocean sparkled quietly under a warm, inviting sun. It was a beautiful day. Everyone went about his or her daily business. Children played happily while tourists strolled to the beach. Mothers lovingly cared for their homes and children while fathers made their way to work. It was a joyful day for many in Southeast Asia, as it was the day after Christmas; and in this richly diverse land, Christmas is a time to rejoice in the company of relatives and friends.
And yet, sadly and unexpectedly, it was also a day in which tens of thousands were caught unaware and unprepared. Without warning, a powerful underwater earthquake triggered a horrendous natural disaster, arguably the worst and most destructive in centuries. The tsunami of
December 26, 2004
measuring over 9.0 on the Richter scale, ravaged Southeast Asia and East Africa, leaving a horrific trail of hopelessness, fear, destruction and death in its wake.
However, the tsunami did more than destroy; it also unleashed a massive tidal wave of worldwide concern and compassion. One might liken this tidal wave to a call from Spirit, urging the world to abandon selfish desires and attend to a higher purpose. If you listen closely, you too will hear the call of Spirit, as have many individuals and organizations desiring to serve and make a profound difference in the world today.
Relief Efforts of Global Organizations
Many international organizations have been and continue to be emblems of selfless service; having raced into decisive action, they provide much needed service to tsunami survivors. The call for help is imminent to these organizations, and action is imperative. The tsunami of December 2004 claimed the lives of more than 250,000, devastated coastal lines, swept away villages, traumatized survivors, and destroyed the livelihoods of thousands. Indeed, organizations are instrumental in providing relief, but it's the volunteers who are at the forefront, making it all happen.
The Red Cross, dedicated to serving humanity all across the globe, and prominently known for their prowess in collecting a major portion of the United States blood supply, allocated millions to tsunami relief for water and sanitation efforts, vaccination and health programs as well as food aid, to name a few. However, it is the Red Cross' Psychosocial Program that is all the more profound. This unique program has been tailored to address the needs of the people of India, Indonesia and Sri Lanka. While it addresses the psychosocial needs of the people, it is also teaches and trains local practitioners, such as family counselors, psychologists and teachers, who in turn train additional people in the community to act as healing resources. This program fosters and cultivates the premise of service and it empowers people to participate fully in their own healing, while at the same time providing viable and long-term tools to under-served communities. With each passing day and encouragement, survivors of the tsunami become more self-sufficient.
"The American Red Cross, as part of the worldwide Red Cross movement, has witnessed one of the greatest demonstrations of compassion and support in its 124-year history," said Marsha J. Evans, President and CEO of the American Red Cross. To learn more about how you can volunteer at home with the Red Cross, please visit http://www.redcross.org.
Doctors Without Borders/Médecins Sans Frontières (MSF) offices worldwide sent over 200 international staff and more than 2000 metric tons of supplies to the region in support of the victims. The first MSF teams arrived in the affected areas within 72 hours of the tsunami hitting, and now has operations in Indonesia, Sri Lanka, India and Thailand. After the initial emergency response, the emphasis today is on guaranteeing quality medical care via hospitals, health centers and MSF mobile clinics, as well as helping communities cope with post-traumatic stress, water and sanitation needs, and the loss of livelihoods. Targeted support is being given to particularly vulnerable groups through the provision of reconstruction tools and materials for health centers, homes and boats. For more information, please visit http://www.doctorswithoutborders.org.
Many organizations provide terrific, wonderfully effective platforms for selfless service. In their own unique ways, organizations foster a higher level of awareness, which is necessary to promote successful service projects. Mata Amritanandamayi organizations have a worldwide reach. While the Mata Amritanandmayi Math (MAM) is doing extraordinary humanitarian work in South India in relation to the tsunami, the HeathCare Charities, Inc., an affiliate of the Mata Amritanandamayi Center (MAC) in the US is beginning to focus its resources to helping survivors of the tsunami in Sri Lanka by funding the construction of over 100 units of housing. The Amma Center of Michigan, is developing, in conjunction with Cleveland State University, a community rebuilding project in India that includes building free homes and understanding the cultural context in which such service needs to be done. For information visit http://www.amma.org.
Oxfam International is another such organization. Although much of Oxfam International's focus relating to tsunami relief has been on food distribution, housing, water and sanitation efforts (not unlike the Red Cross), they are also intensely dedicated to discovering why women, more than men, were killed by the tsunami, and the solutions that might prevent such high death tolls in the future.
On March 28, 2005, Oxfam International released a press release with the heading, "Three months on: new figures show tsunami may have killed up to four times as many women as men." While there has been no official study, their findings are no less alarming; women often stayed behind to look for children and family members, and precious time was lost in their desperate search. The tsunami struck on a Sunday when women typically bathe in the sea. Desperate to hold on to children, exhausted from their weight and the power of the sea, hundreds of thousands of women perished. Men climbed trees to escape the overwhelming waters; women, however, unaccustomed to climbing trees, didn't try. While men were working in fields, or while they were deep at sea where it's typical for tsunami waves to pass under boats without incident, women were on the shorelines cleaning the day's catch. Thus, women were at terrible risk and were unable to withstand the devastation. As a result of their findings, Oxfam International continues to put high priority on the needs of all people, including the important and unique needs of women. To learn more about the tsunami's impact on women and ways to help, please visit http://www.oxfam.org.
According to the latest data, over 1,600 primary schools or more than 40% in the 15 affected districts of Indonesia need to be repaired or rebuilt. UNICEF, a non-profit organization mandated by the United Nations General Assembly to advocate for the protection of children's rights, launched a comprehensive relief effort that provided aid to many countries affected by the tsunami. With the motto of "building back better," UNICEF successfully supports the return of primary school children to class by providing 5,956 school-in-a-box kits for 480,000 children, 5,606 recreation kits for 672,000 children as well as 422 school tents and 194,400 text books. Working together with the Ministry of Education, UNICEF also helped recruit and train 1,200 temporary primary school teachers in Aceh and Nias. These teachers will be deployed from the beginning of the next school year in July and UNICEF will also provide their salaries for the first six months. For information about UNICEF's work on behalf of children around the world, please visit http://www.unicef.org.
Based in Boston, United Planet (UP) is an international, virtual (web-based) non-profit organization that recruits volunteers and interns for relief projects the world over. The mission of United Planet is "to foster cross-cultural and geographical understanding, to broaden global perspectives, and to promote friendship, peace, and social and economic prosperity among cultures." UP was recently featured on CNN for its Cultural Awareness Program (CAP), an educational project designed to build bridges between cultures.
Dr. Michael Geci-Black volunteered in Indonesia through United Planet, which is still sponsoring tsunami relief programs along Thailand's coast, near the city of Ranong. Dave Santulli, UP executive director, explains that "in addition to the medical volunteering, we have opportunities for non-medical people going to help….Volunteers have done a whole variety of things: helping to build fishing boats, fishing hatcheries, helping fishermen make nets…going into the schools…and I think just being with the people is something that the (Thai) people really did appreciate, that compassion." For more information about how you can get involved, please visit http://www.unitedplanet.org.
Another organization that is actively recruiting volunteers for tsunami relief efforts is the Samaritans, a Christian faith organization. The Samaritan's Purse International Relief project is saving lives and alleviating the suffering in areas hardest hit by the recent tsunami. For more information about volunteering for the Samaritans, please visit http://www.samaritanspurse.org.
The tsunami of December 2004 was not exclusive to South East Asia. Portions of East Africa were also pummeled, causing 300 deaths and the displacement of 50,000 in Somalia. The International Children's Fund (ICF) has been working in East Africa for 25 years. They have built a powerful network of individuals and organizations that are able to deliver disaster provisions to the destitute. However, due to the magnitude of the devastation, and due to the volatile state of affairs in Somalia, there are very few opportunities for international volunteers at this time. Visit http://www.icfaid.com. Another organization that has managed to provide tsunami-relief to Somalia is Muslim Aid: Serving Humanity, which provides relief to survivors of the tsunami disaster through long-term development programs. "Whoever saved a life, it shall be as if he had saved the life of all mankind" (Qur'an 5:32). To learn more about their efforts, please visit http://www.muslimaid.org.
Individuals Responding to the Call
Many individuals have also responded to the desperate call of tsunami survivors. Ex-Presidents Bush and Clinton were asked by current President George W. Bush to lead the U.S. effort to provide private aid to hundreds of thousands of tsunami victims. They also visited Indonesia, Sri Lanka and the Maldives, and now plan a visit to India. The ex-presidents stood in intense tropical heat in the shattered Thai village of Ban Nam Khem as children who lost family members in the tsunami presented them with their deeply personal drawings of the terrible disaster.
While these are the most celebrated individuals who have personally dedicated themselves to helping, the experiences of ordinary individuals are inspiring and revealing. An American doctor, Michael Geci-Black, M.D, is one such person dedicated to serving those in need. Inspired to help the suffering, he set out on a journey that ultimately led him to the epicenter of the tragedy, Banda Aceh, Indonesia.
He shares his experience: "I've been an emergency physician for nearly ten years. Like most of my colleagues, I had never practiced under true disaster conditions. I had never been to a Muslim country. I had never been to Asia. I didn't know anything about the culture or history of the people of Aceh. I couldn't speak a lick of Acehenese. I had never treated a patient whose entire family had perished before their very eyes…and then, for weeks I worked in an outdoor clinic that saw over 500 patients a day. Day after day I spoke with men and women who wept as they recounted their personal tragedy. Yet despite the unimaginable suffering, these people still smiled. They laughed at my jokes, invited me into their makeshift tent villages, taught me their language, and gave me a gift of hope I didn't know existed."
Others who were in Southeast Asia during the tsunami of 2004 experienced this miraculous gift of hope. To immerse herself in spiritual practice, Ellen (Anavadya) Papadeas made a pilgrimage to the South India ashram center of humanitarian and spiritual leader Sri Mata Amritanandamayi Devi, known as Amma. Ellen met her goal, but not in the way she expected.
"Three days after my arrival, I was called to my fourth floor balcony by an unfamiliar roaring sound. The stench of sewage immediately permeated the air as I watched a torrent of water crash through the grounds below. An earthquake had occurred, someone said, and a tsunami had flooded the village. There might be another wave coming…I decided that if it was my time, I would just surrender." When asked what it was like, the thought of dying, she said, "I felt peace and joy. Peace in that I felt absolutely no resistance to the thought of dying, and joy and surprise in realizing that I actually felt that way."
While sharing temporary quarters at a relief camp after the tsunami, Ellen recalls a wide range of responses from the suddenly homeless villagers who became her neighbors. "You could see and feel that the villagers were experiencing such deep and unimaginable grief – they were mourning the loss of their loved ones, their homes, everything. You could also hear the women wailing at night. It was heart breaking for all of us to hear and feel such grief and sadness. Yet at the same time, I heard accounts of the villagers saying things like, 'If God gave this to us, God can take it away.' I was astounded by their resilience and hope. They helped me to realize more fully that God can be a salve for all who suffer, no matter how difficult the situation."
A few days following the immediate tsunami devastation, Ellen was asked to join a small team of volunteers to make a documentary film about the ashram's relief efforts, which soon spread from Southern India to Sri Lanka and the Andaman and Nicobar Islands. In the end, Ellen realized that it was through the gift of service that she would meet her goal of spiritual practice, and it was through selfless service that she was able to become an instrument of healing and peace to those in need. At the conclusion of her story, Ellen said, "Amma is always reminding us that serving others is a spiritual practice in and of itself; it's love in action. We must never forget that God works through people to bring healing. We are God's arms and legs. We must make the effort to be of comfort to the suffering and grace will naturally begin to flow. If anything positive can come of this, it is the gift of compassion and service."
Dr. Black and Ellen were among the thousands who were guided by an inner calling to serve and give, and who quickly responded to the call of Spirit. The hope and compassion they developed for others gave them overwhelming joy and happiness, giving tangible truth to the ancient teaching of the Upanishads, "If you want to be happy, be giving."
It seems as if a synchronicity of Spirit has occurred everywhere. Just two days prior to the tsunami of December 2004, a group of volunteers running http://www.Pro.Poor.org decided to create a blog, an interactive forum for service action in South Asia. And just two days after the tsunami, their blog, http://www.bethechange.org, was inundated with hundreds of daily comments from around the globe. People responded with astounding warmth and compassion as if they were experiencing the tragedy first hand. Instantly, people around the world were able to connect with each other and share their deepest concerns. The Internet itself became an instrument of peace as empathy and sorrow poured forth. Hundreds expressed their desires to serve: "I will do anything I can to help." "Please give me a chance to give back; it is my calling." "Floating in the tsunami water, it is a miracle that my family is alive today." How fortuitous is the creation of this blog, and by an organization dedicated to providing service action in South Asia.
Volunteering and Traveling Abroad
"We must be the change we wish to see." – Gandhi
The foremost purpose of volunteering is to serve. Selfless service is a doorway into your truest Self, a place where joy and peace are infinitely abundant. To open this door is to awaken a desire to do something for someone in need by giving the best of yourself with love and compassion. The ability to serve selflessly is a gift we all possess and it is a driving force for many organizations, their leaders and volunteers.
Consider the possibility that to realize selflessness is the ultimate purpose and goal of our life. When the work is done with this level of sincerity, love effortlessly flows like a river to all in need, and the work becomes the highest form of meditation and prayer – a spiritual practice. An inner light ignites and we begin to experience the wondrous effects of service. We discover the truth – that we are serving our very Self – loving and honoring this Self in each and all. The personal rewards are endless, and there are few words to describe the joy and self-gratification that one can experience, although the heart recognizes and knows it.
Perhaps you are now considering volunteering your time and resources. Volunteering abroad is also a wonderful way to meet people you might not otherwise meet – sharing with and learning from the locals in host communities. Traveling to a disaster relief area is also a great way to work with others as part of a team; it's a wonderful opportunity to use your skills and interests in an unconventional setting to benefit those in distress. There is much you can do that a local person cannot. Your flexibility, sense of adventure and resources can add freshness to an important and ongoing process.
Ask yourself the following questions: "Am I willing to offer my abilities and skills to a community requesting help?" "Do I enjoy learning about cultures and unfamiliar lifestyles?" If you answered "yes," then you may be on your way to further researching the role you can play as a volunteer providing relief. When we become self-aware, we become aware that giving to another is really giving to our own Self. As the Course in Miracles says, "To have, give all to all." (ACIM, text, p. 104.)
You too can be a part of the wondrous and glorious process of selfless service and immerse yourself in this gift. An open heart and mind are all that is needed. If you are thinking of traveling abroad, why not consider a volunteer vacation? There are many resources offering numerous opportunities to serve tsunami survivors – a few of which have been mentioned in this article. Please investigate them further or make a financial donation if volunteering your service is not right for you at this time. Whether from home or abroad, you are invited to participate fully and engage your heart in service to the world. As Amma lovingly said in response to the tsunami disaster, "One thing we can do in this situation is to invoke love and compassion in our hearts. Pray with your hearts. Act with your hands."
For listings of other service organizations, please visit the following websites to learn how you can help and make a positive impact in the world. Check http://www.Amazon.com for book titles on volunteer vacations.
http://www.serveyourworld.com
http://www.tsunamivolunteer.net
http://www.InterAction.org
http://www.pro.poor.org
http://www.bethechange.org