Urban Sweat: Relax, Renew, Rejuvenate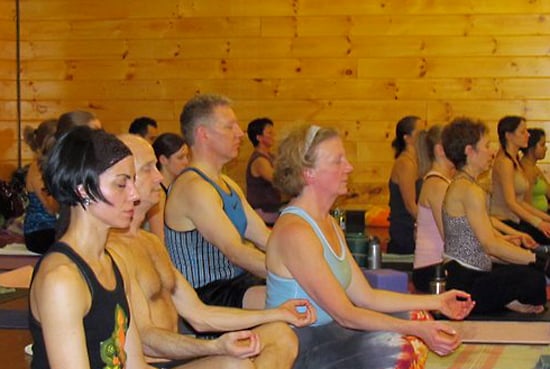 Springtime is all about the re: rebirth, reawaken, rejuvenate, and Urban Sweat in Cranston, Rhode Island is exactly the place to find it.
The first of its kind in the country, creator and owner Christine Raffa built the 15,000 square foot eco-friendly center with six heated healing rooms because she wanted a place for people to deeply relax and rejuvenate. Urban Sweat is nestled in Raffa's Cranston yoga complex, where she offers more than sixty weekly yoga classes.
"I've had the great fortune to travel worldwide and experience first hand the healing benefits of relaxation and detoxification. Many recorded cultures have documented rituals and gathering places for social interaction through relaxation, detoxification and cleansing the body," say Raffa. "Finlandian people have the sauna, Russians use the banya, Native Americans the sweat lodge, Mexicans the temasle, there's the Turkish hamman and so on."
A feature room at Urban Sweat is the Himalayan pink salt grotto, which has 13,500 pounds of rock salt that reawakens the energy of your body by releasing negative ionization. The healing power of the rock salt is not only esthetically beautiful, but a short visit leaves you refreshed, relaxed and renewed.
The hottest Urban Sweat room is the black charcoal sauna that pulls heavy metals and provides deep therapeutic release for one's muscles. Set at 180 degrees, the room is dimly lit, giving users a meditative experience.
The yellow turmeric sauna is a high heat sauna infused with the culinary spice known for its anti-inflammatory properties and health benefits. The radiant, deep heat set at 160 degrees is a great space for body healing and relaxation.
The Urban hamman has benches heated to 105 degrees to soothe tight, tired muscles and leave one feeling refreshed. If you are brave enough to try the cold plunge, you'll find yourself showered with water set at fifty-five degrees for the ultimate in an inner wake-up call!
The eucalyptus steam sauna gently infuses eucalyptus oil into the room set at 140 degrees and 100 percent humidity. When you emerge from this room your body is deeply moisturized and your lungs revitalized and refreshed.
For those who want to chill, the Oceanic Relaxation Room may help cool things down. 7,500 pounds of Dead Sea salt fill this room that is designed to calm the nervous system and soothe the soul. Subdued lighting and underwater footage of corals, sea creatures and fish, plus gentle sounds of ocean waves, provide maximum relaxation and a quiet place to nap in zero gravity loungers.
In addition to the heated healing rooms, Urban Sweat offers a variety of treatments including massages, facials, reflexology and Ayurvedic treatments. "It's a one of a kind active relaxation center where old world wisdom meets new world self care," says Raffa.
Raffa Yoga and Urban Sweat are located at 19 Sharpe Drive in Cranston, RI. Visit www.raffayoga.com or (401) 463-3335.