Versatile Meal Ideas For Fall Veggies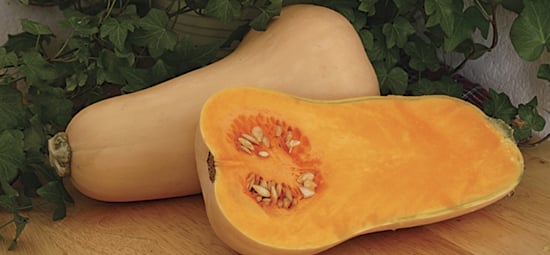 For many people fall is the best time to live in New England. With much of the summer produce still available — salad greens, peppers, tomatoes, beans, herbs and more — the later season crops come into full production as well, including onions, carrots, celeriac, squashes, etc. It is truly a time of gastronomical bounty unlike any other time of the year. Whether you are trying to capture your own harvest and preserve it, making weekly treks to your local farmer's market, or scrambling to get kids back to school or yourself back to work after a summer break, we still need fast, versatile food.
Is this quick and flavorful recipe a side dish, a main course, a dip or a soup?
I like making a big batch of this beans and butternut dish and am always amazed at how many different ways it makes its way into a meal. Is it a vegetable side dish, a main course, a dip or a soup? For me it depends on the time of day, who I have to feed and what else is in the fridge!
Bean & Butternut Saute With Fresh Sage
2 cups chopped roasted butternut squash (1/2 inch cubes)
2 tbsp olive oil
1/4 cup olive oil
2 tbsp butter
1 cup chopped onion
1 cup shredded celeriac (or finely chopped celery)
2 cups cooked (or canned) cannellini beans or chick peas
3 tbsp chopped fresh sage
2 tbsp chopped parsley
2 tbsp fresh lemon juice
1 1/4 tsp salt
1/8 tsp pepper
Start by cutting the butternut squash just below the neck as it starts to round. This part has the most flesh in it so I work with it first. Cut off the top of the squash then use a vegetable peeler or sharp knife to remove the rind. Chop the flesh into 1/2 inch chunks, measure two cups and toss with the 2 tablespoons of olive oil. Arrange squash on a cookie sheet so it's a single layer and roast in a 375 degree oven for about 20 minutes until tender. Set aside.
Heat the 1/4 cup of olive oil and 2 tbsp butter in a large saute/fry pan and place over medium heat. Add chopped onion and cook until soft, about 3-4 minutes, then add the shredded celeriac or celery and sauté for 4-5 minutes until cooked through. Add the chopped fresh sage for the last minute of cooking time. Add the beans, the butternut squash, lemon juice and cook until everything is warmed through, then add in the parsley at the very end. Season with salt and pepper to taste. Serve with the greens recipe below.
Garlic & Greens
2 tbsp olive oil
2 tbsp chopped garlic
5 cups of packed chopped kale*
1/2 tsp mirin (Asian rice cooking wine)
Salt and pepper to taste
Grated cheese of choice (optional), smoked Gouda or Manchego work well
1/4-1/3 cup chopped fresh tomatoes per serving
Chopped parsley for garnish
*You can use any other cooking greens, Swiss chard, spinach, etc. They all require slightly different cooking times so look for the color change as an indication that they are done.
Rinse kale leaves. Fold leaf in half to expose center rib, cut out rib and chop remaining leaf into 1/2 inch strips. Pour olive oil into saute pan (I use a cast iron fry pan) and place on medium heat. Add garlic then add the rinsed, chopped kale. There is probably enough water on the leaves from rinsing them to quickly steam the greens but if not add a teaspoon or two of water — you don't need much — cover and steam for a couple of minutes. The leaves will turn a bright green when they are done. Toss in the mirin and let it cook off. Add a few pinches of salt and some pepper. Be careful not to over salt kale; it's much easier to add more at the table.
To serve, make a small bed of greens, add the bean and butternut saute, Grate cheese if using and top with chopped fresh tomatoes and additional parsley.
This recipe lends itself to lots of easy adjustments that change up the flavor. Try subbing in carrot for the butternut squash and changing the choice of herbs. I like to double or triple this recipe so I can use some right away as a side dish; it goes well with fish or chicken and rice. Or use it as the base of a tasty vegetarian meal; just add a serving of rice and a side salad.
I have warmed it up the next day and given it a slight whirl in the food processor with a tablespoon of olive oil, pinch of salt and enough water to reach a dip consistency, where it works beautifully with some crackers or rice chips as an accompaniment to a salad or soup for a great lunch. You can give it a kick by adding in some chopped hot pepper.
I have also taken a cup of leftover rice and a few cups of the bean/butternut saute and made a quick soup by adding some water and vegetable bouillon. I'm currently using the Better Than Bouillon brand. I'm sure you get the idea. This recipe is simply a launching point; feel free to adjust it to the herbs and flavors that you and those you cook for most enjoy.