Wasting Water Is Weird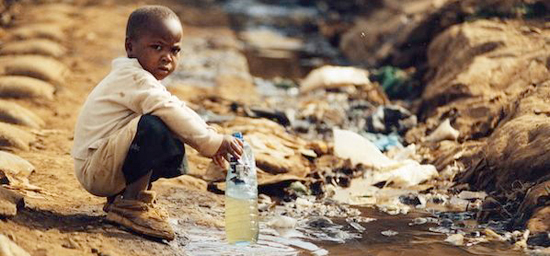 A new survey finds more Americans would choose providing clean water for the world than accepting $1 million for themselves. More Americans, however, would take the $1 million rather than single-handedly stopping global warming, rescuing the world's rainforests or saving the world's endangered species, the survey found.
"Americans say clean water is important enough that they'd sacrifice $1 million to ensure the entire world has it," said Suzanne Shelton, President and CEO of Shelton Group, which conducted the survey. "Yet our survey also found that many Americans don't make daily sacrifices to conserve water."
The poll, which surveyed 1,013 adults, found only 26 percent had replaced toilets or showerheads with low-flow alternatives, and only 6 percent had planted low-water landscaping. As for Americans' daily habits: only 61 percent turn off the water when brushing their teeth, and just 53 percent run their dishwasher only when it's completely full.
"Our survey shows Americans know we need to conserve water, so we don't have an awareness problem," Shelton said. "Our nation has an action problem. We can't get people to move."
That's why Shelton Group, in collaboration with the Environmental Protection Agency's (EPA) WaterSense® program, created a national campaign called Wasting Water is Weird. It's sponsored by Bosch home appliances, Kohler, Lowe's and Procter & Gamble.
The campaign seeks to shift Americans from automatic behaviors — such as running the water while brushing their teeth — to conscious decisions — such as taking a shorter shower. The 30-second spots deliver an "aha" moment via Rip the Drip, a humorously "weird" character that turns up whenever people start wasting water. After they've realized they're using more water than they need — and that Wasting Water is Weird — they stop. The campaign also incorporates video PSAs, a website, social media, and outdoor and online advertising.
"Our research shows you cannot just tell people to stop wasting water or try to guilt them into making a change. It doesn't work," Shelton said. "This campaign is designed to make people think, or better yet, to cringe when they find themselves wasting water."
Clearly, America doesn't need an awareness campaign, Shelton said. Americans already know the importance of clean water. The survey asked Americans: "If you could only choose one of these, would you rather…" and then gave a list of choices. The results:
35 percent chose "ensure the entire world has clean water."
28 percent selected "be given $1 million."
17 percent picked "single-handedly stop global warming."
11 percent chose "save the world's rainforests."
9 percent selected "save the world's endangered species."
For more information on the national campaign, visit www.wastingwaterisweird.com.