Wedding Bells Ring In New Traditions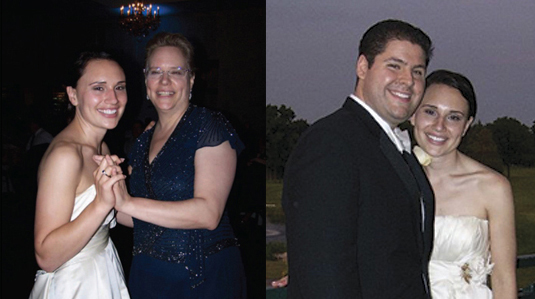 Spirit of Change advertising director Michella Bedrosian, daughter of publisher Carol Bedrosian, married Steven Brudner in Whitinsville, MA on June 30, 2012. Cheers and best wishes for our newly named advertising director, Michella Brudner, and her new husband Stephen!
Event planning diva Michella meticulously attended to every detail of her wedding ahead of time so the day could be stress-free and enjoyable for everyone. From the Del's lemonade stand serving cool treats to guests after the ceremony on a hot, hot summer day to the keen planning that allowed the bride and groom to enjoy the cocktail hour with their guests rather than be stuck in a photo shoot, the day will be fondly remembered by all who attended.
Inspired by the mother-daughter dance at the recent wedding of dear friend Laurie Busby, Michella orchestrated one at her reception and invited all mothers and daughters to share the floor. The many trios of grandmother-mother-daughters who unexpectedly popped out onto the dance floor together brought smiles and cheer to everyone. Honoring the strength, resilience and eternity of our mother-daughter bonds at our wedding receptions is a tradition whose time has come.