Welcoming Pleasure Back to the Table
When French meets raw…eating for pleasure and vitality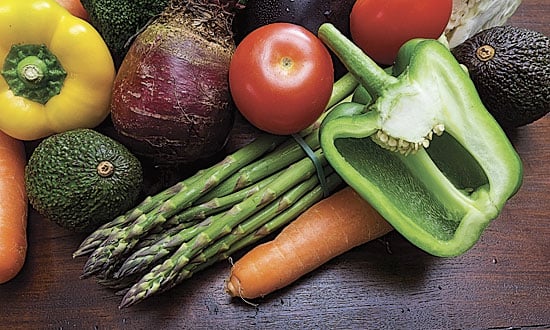 I love and embrace the raw food cuisine…and I am also French. For me (and my French compatriots), eating is sensual, nurturing, and deeply satisfying.
We expect nothing but pleasure out of the experience, and our bodies respond accordingly. As it turns out, while researching the whole "French don't get fat" paradox for my own work, I discovered that there is quite a bit of research showing that pleasure is a powerful metabolizer. Pleasure increases oxygenation and blood flow, and decreases the production of cortisol and insulin, ultimately helping you burn fat and build muscle.
In this country, many people spend their lives "trying" to clean up their diets only to encounter feelings of confusion, resistance and deprivation; others will succeed at their 1-week cleanse, but will go back to their pre-detox habits as soon as it is over, bemoaning their lack of willpower. The problem with this, and why I think it always backfires, is that there is no pleasure or satisfaction, only stress. This leads to feelings of failure and to a stress response within the body that triggers fat accumulation and relentless cravings.
The missing key ingredient is this: When you're turned on by your food, you turn on your metabolism and a whole lot more.
One research I came across looked at the relationship between nutrient absorption — in this case, iron — and food preferences. When the meals were "disliked" the iron absorption was less than 50%, whereas when the meals were "liked" the absorption of iron was about 80%.1
Basically, if you put yourself on a diet of foods you think you should eat to lose weight and be healthier but don't enjoy it one bit, you are not doing your body any favor. Obviously, this isn't your green light to binge on all your favorite junk foods, as there are simply no nutrients to absorb from them, but the point is to focus on your connection to your food. How you eat — sensually and with pleasure, or shoving it in while multitasking — and how it makes you feel. It is about getting out of your head and into your body.
In order to fully connect with your body, you need to slow down, get playful, and become engaged with your food and environment. Only then can the sensuality and satisfaction of eating breathe you back into the present moment, turning your metabolism furnace on, as well as bringing your awareness to the other pleasures in your life you might have otherwise been too rushed to notice — your kid's dimples, your partner's warm skin, or your best friend's laugh.
It is time to reconnect with yourself and your loved ones and commit to welcoming pleasure back to the table. Drop your suspicions and judgments around food and learn to trust your body. It knows what it wants.
Here are a few tips to get you started:
Flirt with the veggies at your grocery store. They might look threatening at first, but perhaps you just don't know how to best engage them. Get to know your veggies one at a time, experimenting with a new one each week, then choose your favorites. Kinda' like speed dating!
Make love in the kitchen. Apologize to your kitchen for having neglected it for so long and get busy with it. It will really pay off for you to spend a little quality time in this special room. Turn the music on or invite your best girlfriend. Who knew it could be so fun, stress-free, and rewarding!
Get juicy. Improvise a party for your cells — green juices will treat them to a real good time! No need to invest in a juicer as there are plenty of raw juices available now at your local natural store. Just keep them green and organic; no one wants a shot of pesticides!
Finally, cleaning up your diet and lifestyle does not have to be an "all or nothing drama." You can have some raw life-force food and a French macaroon. You can have both vibrancy and decadence.
Get your taste buds buzzing and nutrient density soaring with the simplicity of superfoods, some of my favorites being kale, avocado, and quinoa. Put them together in one bowl and they will rock your world!
VaVa Vous (Super)Bowl
3 cups chopped kale, central stem removed
1 cup cooked quinoa
1 avocado, diced
½ cup of chopped nuts or seeds (raw)
1 cup cubed zucchini and/or cucumber
¼ cup chopped red bell pepper
½ cup dried cranberries (optional)
¼ cup chopped red or green onions
Note: Get frisky! Make it your own by adding all your leftover or CSA extras.
Massage some dressing onto the kale for a few minutes to soften this hardy green powerhouse. Give it some good elbow grease. I keep several creamy dressings to vary the pleasures; see two recipes below. Then add the remaining ingredients and toss with the leftover dressing. For added texture, color, and nutrition, sprinkle a teaspoon of black sesame seeds.
Lemon Vinaigrette
3 T fresh organic lemon juice, plus zest
¼ cup olive oil
¼ cup apple cider vinegar
1 T agave or honey
Creamy Avocado Dressing
½ ripe avocado
3 T olive oil
2 T apple cider vinegar
Juice of 1 organic lemon
½ T honey or maple syrup
Place all the ingredients in a blender and voila!
Notes
1. "Food That Tastes Good Is More Nutritious," Tufts University Health and Nutrition Letter, October 2000.
Born and raised in France, Anne Gulick is a nutrition and lifestyle coach and a raw food chef. After a ten-year search for answers to debilitating issues ranging from autoimmune disease to severe fatigue and depression, Anne realized that her body knew how to heal itself when nourished properly and now coaches clients how to do the same. She can be reached at (508) 528-3561 or www.annegulick.com.