We're All Running A Marathon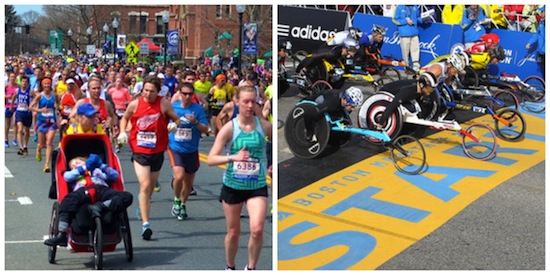 As I stood with thousands of other cheering spectators along Route 135 in Natick on Marathon Monday, tears of pride and gratitude welled up in me to be a member of this sea of humanity. Not just the thousands of dedicated, finely-tuned athletes from dozens of countries — women, men, disabled, helpers — giving it their all, but the rest of us participating from the sidelines, too, created a human experience we could own and truly be proud of.
Inspiration peaked with each passing wave of winners heralded by police car and motorcycle escorts. "Here they come!" First, the wheelchair racers, each of whom was greeted with enthusiastic barking from Scruff, a nearby pooch taking in the marathon experience. Next came the women racers, hailed with Bruce Springsteen's "Born to Run" blaring from an outdoor loudspeaker. The crowd erupted into stunning applause as the men's leaders strode confidently past, still clustered tightly together at mile 10.
We were all races, ages and abilities, achieving and encouraging each other to be our best. It doesn't get any better than that.
The tragic violence at the end of this year's Boston Marathon cannot be allowed to diminish our inspiration or deter us from continuing to create the better world we wish to live in. It's not only possible, it is happening each day we make choices to treat others the way we would want to be treated ourselves. Life is a marathon of these choices.
Robert F. Kennedy's speech, "Mindless Menace of Violence," delivered to the people of Cleveland, Ohio, in 1968 the day after Martin Luther King Jr.'s assassination, is even more poignant today for the people of Boston and all over America. Let us be inspired to keep going in this good way, an uplifted way, and the only way we can possibly win.
Carol Bedrosian is the publisher of Spirit of Change, New England's largest holistic magazine.