What is Macrobiotics?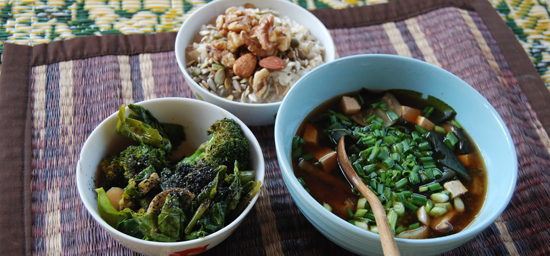 Macrobiotics is a Greek term ("macro" means long, and "bios" means life) first introduced by Hippocrites, the father of Western medicine. Modern practice follows the guidelines taught by George Ohsawa and, most recently, by Michio Kushi.
Michio Kushi and his wife Aveline came to America 50 years ago from Japan and together they introduced macrobiotics through cooking classes, cookbooks and lectures. The Kushis have authored over 20 books on cancer prevention, preventing heart attack, stroke, high blood pressure and the role of diet in preventing and reversing other diseases. They started the Erewhon Natural Food store in the 1960's and began the Kushi Institute in 1978. The Smithsonian Institute in Washington, D.C. has a permanent exhibit of his work on display at the National Museum of Natural History in honor of his pioneering efforts in the natural foods movement.
The philosophy of macrobiotics is that diet influences how one feels emotionally and physically. It is the way of life according to nature — based on the harmonious relationship of people to their environment. A macrobiotic view is that food is more than just fuel to get through the day. It influences physical and mental health as well as one's approach to the environment.
Macrobiotics is not a medicine, cure, diet, treatment or therapy. It is an approach to living which places emphasis on making the best dietary choices for a physical and/or emotional condition. It takes into account each individual's requirements to create optimal health, vitality and well being. The view is that sickness is a natural attempt of the body to return to a more balanced state or condition.
Ensuring optimal health is each person's responsibility. Eating in a macrobiotic style is an effective way to take responsibility for personal health. The macrobiotic perspective is that sickness is a progression, and that illness exists before symptoms arise. Fundamentally, macrobiotic practice is not to focus on the symptoms, but in changing the conditions and circumstances under which those symptoms developed.
Guiding principles in making informed macrobiotic food choices include:
Eating whole foods
Selecting organic foods whenever possible
Selecting locally grown foods
Eating and cooking foods according to the current season
Food choices include whole grains, beans, fresh vegetables, seasonal fruits, nuts, seeds, and soups. Emphasis is on a variety of foods, cooking methods, eating regularly, chewing food well and keeping mentally and physically active.
Basic Miso Soup
Serves 4
This soup is very versatile. It can be prepared as a simple, soothing broth or a heartier meal-in-a-bowl. The version I'm offering is somewhere in between and includes a few ingredients that may seem strange to those new to whole foods. Rest assured, once you try them, you'll be hooked.
Miso, a savory paste made from soybeans is often used to make healthy, delicious broths. It's been used for centuries in Asia as a healing food and is a good source of protein and B vitamins. It also helps cleanse radiation and nicotine from the body.
Miso comes in a variety of flavors ranging from sweet to savory and can be found in health food stores. Long-aged barley miso is the highest in enzymes that facilitate digestion and strengthen the blood quality and is preferred for everyday usage.
Wakame is a sea vegetable with a subtly sweet flavor and is sold in dried form in health food stores. It is high in calcium, iron, iodine and B vitamins, all essential for good nutrition and digestion. It's used in Asian medicine to protect against high blood pressure, strengthen intestines, skin and hair and offset the damaging effects of radiation.
4-5 cups water
1 cup onion, sliced in thin half moons
1 to 2 inch piece wakame
1/2 cup sliced carrot
1/2 cup corn kernels (fresh or frozen)
3 teaspoons barley miso
Chopped scallion, parsley or chives for garnish.
Note: you may also add any leftover beans, grains or vegetables to boost nutrition, flavor and heartiness to the soup.
Break wakame into small pieces (or soak and cut with knife). Place wakame, water, onion and carrot, and corn in a pot. Cover, and bring to a boil over high heat.
Reduce heat and simmer 3-5 minutes.
Place miso in a small bowl and add some of the simmering broth. Stir to dissolve the miso. Add dissolved miso to soup, cover and simmer another 2 minutes. Place in serving bowls and garnish.
Boiled Brown Rice
Serves 4
Brown rice is a near perfect food. It's packed with many of the nutrients we need to sustain life and it has a satisfying nutty flavor that can't be beat.
1 cup brown rice
2 cups boiling water
pinch of sea salt
Wash the rice by swirling it in a bowl of cool water. Drain in a fine mesh strainer. This rinses the rice clean of dirt and dust and produces a better quality dish.
Place rice in a pot, add water and salt. Bring to a boil. Cover and reduce to a simmer — without stirring or lifting the lid — for 50-60 minutes.
Good-For-You Veggie "Fries"
Serves 4
You'll be amazed at how easy it is to make a healthy alternative to the calorie-laden, nutrient-absent American favorite.
2 yams
2 parsnips
1-2 teaspoons olive oil
Sea salt
Optional seasonings: 1/2 tsp. Curry powder, chili powder, garlic salt or pepper to taste.
Preheat oven to 400 degrees.
Wash vegetables. Peel yam if skin is tough; otherwise leave it on. Cut yams and parsnips into wedges or French fry shapes. Place the pieces in a large mixing bowl.
Sprinkle the veggies with the oil and toss to coat evenly. Spread in a single layer on an oiled baking sheet. Bake 30 minutes — until brown and tender. Sprinkle with salt if desired.
Michelle Hirsch lives in southern New Hampshire and teaches whole foods cooking classes throughout New England. She is a graduate of the world renowned Kushi Institute where she currently works on curriculum development. Michelle can be contacted at mphirsch@yahoo.com.