Whole Foods Healthy Cooking: An Organized Kitchen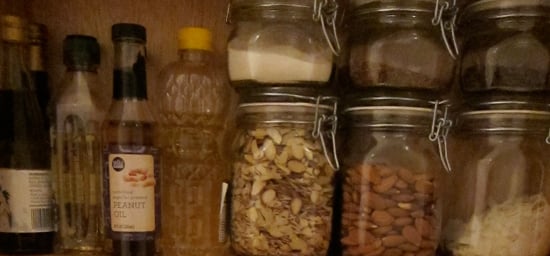 KISS in the kitchen! That's our theme for today. Think about your kitchen. What first comes to mind? Is it a place you love to be? Or is it a place you dread spending time in? What activities happen in this room? Do the kids do their homework there? Does it double as your home office? What's the general feeling you get from stepping into this room?
The kitchen is the heart of a home — the hub that everything going on in the house connects to. How it is utilized, the products stored and prepared in it all influence the health conditions of the family members. So, where does the KISS come in? Well, yes, you could actually kiss your kids and significant other in the kitchen and that can improve health conditions. But the KISS I'm referring to is a guideline to help bring health to your home and family through your kitchen. What's that old saying? "Nothin' says lovin' like something from the oven!"
KISS = Keep It Simple and Spacious. Yes, even the tiniest galley kitchens can feel spacious and welcoming! Follow these guidelines and you will enjoy the time you spend in your kitchen more and improve the health of your family in the process. According to the principles of feng shui, health and finances are closely related. Who knows, by improving your health you may even improve your financial situation along the way. Not a bad deal.
Grab some trash bags, boxes and cleaning supplies and let's get started! Label one "toss," one "donate" and one "recycle."
Empty the refrigerator and freezer and go through the contents. Check expiration dates, ingredient labels and toss out anything that shouldn't be taking up space in your kitchen. While focusing on the refrigerator, don't forget the exterior. Go through anything stuck on with tape/magnets and organize it or dispose of it.
Remove everything from your counters and give the surface a thorough cleaning. Before placing anything back, think about the last "S" in our KISS guideline. The goal is a feeling of spaciousness in the kitchen. It makes meal preparation and eating more relaxing and that energy transfers to the food. Keep appliances and other things you use regularly within reach, but try to keep counters as clear as you can. If you have things displayed that seem to collect dust, consider placing them in the donation box. Clean anything you place back on your counter and think about where it makes the most sense to place it. Where will you find it easiest to use?
Empty your upper and lower cabinets. Go through everything. Toss unused glass jars into the recycle box, donate unused dinnerware, containers, etc., to charity and toss out old spices and seasonings. Unlike wine, these don't improve with age. If you haven't used it for the past year, give it to someone who will. You don't need it cluttering your life. Organize the contents of the cabinets. Create space. Make it easy to get to things you need. If you make it easily accessible, you'll use it more. Make sure your cupboards are stocked with good-for-you food. Avoid manufactured food. Make it fresh and fabulous.
Clean the sink and stove. These are essential for food preparation and should always be free from debris and clutter. Shiny clean prep areas and equipment means good energy and it enhances your ability to prepare healthy food.
I cook. I really cook a lot. And, I can't pass by a kitchen shop without stopping in and something always catches my eye. I tend to accumulate kitchen things. When I recently KISSed my own kitchen, I ended up with a large toss box and two large donate boxes. And, I ended up giving away unused appliances I've had stored — unused for a few years — to people who love having them and use them all the time. It's not always an exciting process to go through, but the feeling after it's done makes it well worth it. It becomes a welcoming place for all those everyday family activities.
To keep your kitchen sparkling and full of good energy, stock the following in your cleaning supply cupboard. Buy these in the large economy size to save money and make your own earth-friendly cleaning supplies for pennies.
Baking soda — to clean, deodorize and remove stains
Liquid castile soap — to clean anything!
Salt — for cleaning and scrubbing
White vinegar — to clean and remove stains
All-purpose cleaners: These are easy to make and are as effective as anything you can buy. Make yours in minutes by mixing equal parts of water and vinegar and storing it in a spray bottle. Label it "all purpose cleaner" and you're good to go. Spray on countertops, bathroom surfaces and even floors.
Drain un-clogger: I recently had a clogged drain and I dumped about half a small box of baking soda down the drain. Then I poured about four cups of white vinegar in. And, just like those childhood science experiments, it bubbled and foamed. I waited about 10 minutes and ran the hot water. My drain unclogged! For more stubborn clogs, heat the vinegar before pouring down the drain.
Scrubbing cleaner: Dump a few tablespoons of baking soda in a pile at the bottom of your sink (or other surface you want to clean), sprinkle a little salt, add just enough water to make a paste (add vinegar for more stubborn cleaning jobs) and scrub.
Floor cleaner: Mix about one half cup of castile soap with a gallon of water.
So, the kitchen's been KISSed and it feels like a great place to spend time in. It's time to use the efficiently organized supplies, gather the family around, cook something great and spend time as a family around the kitchen table!
OTHER RECIPES
Chickpea and Red Pepper Salad
Serve this quick to fix tasty salad as is, or spoon it into pita pockets for a Mediterranean sandwich. To seed a cucumber, cut it in half down the center. Cut the length of the cucumber into manageable 4- or 5-inch pieces. One at a time, hold each piece in the palm of your hand, cut side up. Use a spoon to scrape out the center of each piece, until the seeds are removed.
Ingredients
2 15-ounce cans chickpeas, drained and rinsed
1 medium cucumber, seeded and chopped
1 red bell pepper, cored, seeded and chopped
1 cup corn kernels (thawed, if frozen)
2 tablespoons extra-virgin olive oil
2 tablespoons balsamic vinegar
2 tablespoons soy sauce
1/2 teaspoon mustard powder
1/2 teaspoon red chili paste
1 clove garlic, minced
6 cups baby salad greens
Directions
Combine chickpeas, cucumber, pepper and corn in a large bowl.
Whisk together the remaining ingredients, except the salad greens, in a small bowl.
Toss the dressing with the chickpea mixture to coat evenly.
Arrange 1 cup of greens on each serving plate and top with chickpea mixture.
Apple Pie
It's hard to imagine an apple pie can be this easy, and taste this good. Serve it chilled with a glass of crisp dessert wine or light fruit juice or warm it up and serve it topped with a dollop of nondairy vanilla ice cream. Either way, it's great.
If you like a bit more tooth to your apple pies, reduce the dried apples by about one third and add the same amount of chopped fresh apples during the final 5-10 minutes of simmering, depending on how tender you want the apple chunks.
A note about crusts…natural food stores sell wonderful prepared pie crusts made with quality ingredients and without hydrogenated oils. You just pop them in the oven and bake. This pie is also luscious with a simple gingersnap crust. To make one, use a food processor to finely chop 3 handfuls of ginger snaps. Melt 6 tablespoons soy butter and add to the gingersnap crumbs. Pulse until crumbs form a loose, clumpy mixture. Press this mixture into a pie plate and bake at 350 F for 15 minutes, or until just beginning to brown. Cool completely before filling.
Ingredients
1 pie crust
1/2 pound dried apple pieces
Water
1 teaspoon cinnamon
3 tablespoons brown rice or maple syrup
1/2 tablespoon kuzu (a healthy thickener available at natural foods markets)
Directions
Bake crust.
While crust bakes, place the dried apples in a medium saucepan and add enough water to cover the apples by about one half inch. Allow apples to soak for 15 minutes.
Add cinnamon and brown rice or maple syrup to the apples and bring to a simmer over a medium flame for about 15 minutes. Add another half cup water if needed. The apples are done when the water turns syrupy and the fruit breaks apart when poked with a fork.
In a glass, mix the kuzu with 1/4 cup of cold water. Stir the kuzu mixture into the apples. Continue simmering until the mixture thickens, roughly 3-4 minutes.
Once thickened, pour the apples into the pie crust and refrigerate for about 2 hours.
Citrus Cilantro Rice
This tangy rice is great served warm with roasted vegetables or chilled and tossed with salad greens and cherry tomatoes. Add even more pizzazz by garnishing with tangerine segments just before serving. To avoid spending a fortune on olive oil, buy two types: a pricey one for drizzling raw over salads, crostini and other uncooked foods and a cheaper one for baking and sautéing. Heating dulls the taste of even the most expensive oils.
Ingredients
2 teaspoons extra-virgin olive oil
1 cup long-grain brown rice
2 cups vegetable broth
1/2 teaspoon orange zest
1/2 teaspoon lemon zest
1/2 teaspoon lime zest
1 cup frozen peas
1 tablespoon chopped fresh cilantro
4 scallions, diced (about 1/3 cup)
1/2 cup almond slivers
2 tablespoons seasoned brown rice vinegar
Directions
Combine the oil and rice in a medium skillet and sauté over a medium-high flame 3 minutes or until the rice just begins to brown.
Add the broth, zests, peas and cilantro. Bring to a boil. Reduce heat to low and cover. Simmer 40 minutes or until rice is tender and liquid has been absorbed.
Uncover and cool 10 minutes. Transfer rice to a serving bowl and toss with scallions, almond slivers and vinegar.
Crostini di Fave (Crostini with Fava Bean Pate)
This recipe came to us from Salvatore Denaro, the charismatic owner of a combination wine cellar, cheese shop and restaurant in Foligno, Italy. His style is simple. You come in, sit down and the food begins showing up at your table. No menus, just course after delicious course is presented to you. One exceptional course he offers is an elegant appetizer of olive oil-drizzled toasts smeared with a fava bean hummus that packs plenty of flavor in a simple package.
While Salvatore wouldn't dream of using canned beans to make this dish (the taste of fresh beans is superior), few of us have the sort of time and patience fresh require. This recipe uses time-friendly canned beans. Should you have the time to use dry beans, follow the directions below, then proceed to the remainder of the recipe.
To make this dish the traditional way, start with 1 and 1/2 cups of dry fava beans. Soak them in a large pot of water for 12 hours. Drain the beans and add 6 cups of fresh water, 1 diced carrot, 1/2 cup of diced onion and 1 stick of celery, chopped. Bring the beans to a boil, cover and simmer for 1 and 1/2 hours. When the beans are tender, use a slotted spoon to remove them from the water. Don't worry if you get a few pieces of vegetable. The skins on the beans should be tender. Peal them off and discard.
Ingredients
1 12-inch baguette
2 cups cooked or canned fava beans
1/4 cup extra-virgin olive oil plus one tablespoon
1/2 teaspoon salt
1/4 cup vegetable broth
Directions
Preheat oven to 350 F.
Using a sharp bread knife, slice the bread into thin rounds, about 1/3 inch thick.
Lightly oil a cookie sheet with half the olive oil. Arrange the bread slices on the pan.
Drizzle the remaining olive oil over the bread. Bake the bread in the oven 5-8 minutes, or until crisp but not browned.
Meanwhile, use a food processor to puree all but 1/3 cup of the fava beans. Add the remaining beans and pulse for 5-10 seconds to chop, but not puree, the last beans.
In a large skillet, combine bean mixture, 1 tablespoon oil, salt and broth. Heat over a medium flame for 5 minutes, stirring frequently.
When the bread is done, use a large spoon to slather each round with the pate and arrange the slices on a serving platter. Serve warm or room temperature and savor the flavor!
Spicy Orange Salad
This is one refreshing salad. It's a great addition to any meal and makes a satisfying lunch to take to work. Make extra dressing while you're at it. It's fantastic drizzled over steamed veggies and rice. Dressing can be refrigerated for up to a week. Allow to come to room temperature and shake well before each use. When apples are in season, try substituting apple chunks for the oranges, and apple juice or cider for the juice in the dressing.
Salad
Ingredients
3/4 pound mixed greens
1 small cucumber, sliced into rounds
1 cup fresh green beans, cut into small sections — raw or blanched — your choice
1/2 cup dry-roasted cashews
2 oranges, peeled, separated into sections, and each section cut in half
Dressing
1/3 cup apple cider vinegar
1/4 cup orange juice
1 tablespoon fresh dill, chopped
1 teaspoon honey
1/2 teaspoon paprika
1/2 teaspoon soy sauce
1/2 teaspoon salt
1/3 cup olive oil
Directions
In a large bowl toss the mixed greens, cucumber slices and green beans. Top with cashews and orange sections.
Place all dressing ingredients in a glass jar with a tight lid and shake vigorously.
Drizzle dressing over salad and serve.
All recipes are courtesy of Michelle Hirsch, Spirit of Change foods columnist and co-author with her son J.M. Hirsch of Venturesome Vegetarian (Surrey Books, 2004).
Michelle Hirsch lives in southern NH and teaches whole foods cooking throughout New England. She is a graduate of the world-renowned Kushi Institute where she also worked developing curriculum.
Michelle is the author of Venturesome Vegetarian.
Michelle Hirsch lives in southern NH and teaches whole foods cooking throughout New England. She is a graduate of the world renowned Kushi Institute where she also worked developing curriculum. Michelle is the author of Venturesome Vegetarian and can be contacted at mphirsch@yahoo.com or c/o Spirit of Change, PO Box 405, Uxbridge, MA 01569.