Whole Foods Healthy Cooking: Barley and Sweet Vegetable Soup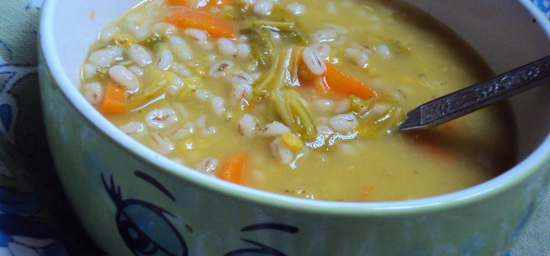 This soup has a soothing, cooling effect on the body and is especially beneficial for the liver and gallbladder.
Due to its abundance of sweet vegetables, it helps reduce cravings for sweets and is a good source of fiber, complex carbohydrates and protein. Research shows that barley is beneficial for individuals with diabetes, hyperlipidemia and other metabolic diseases. It also is a good seasonal transition dish incorporating foods from both winter and spring.
Miso, a savory paste made from soybeans, often is used to make healthy, delicious broths. It's been used for centuries in Asia as a healing food and is a good source of protein and B vitamins. It also helps cleanse radiation and nicotine from the body.
3/4 cup pearled barley, washed
1 cup green onions, sliced thin
1/2 cup buttercup squash, cubed
1/4 cup celery, diced (for sweeter broth, omit leaves)
1/4 cup carrots, diced
1/2 cup cabbage, diced
2 inch piece of kombu, soaked and diced (a dried sea vegetable that can be purchased at health and Asian food stores)
5 to 6 cups water
1/2 tsp. sea salt
1 Tbls. sweet white miso (dissolve in a little of the soup's broth before adding)
Parsley, chopped, for garnish
Place kombu in pot and layer the vegetables and barley on top in the following order: onion, celery, cabbage, squash, carrot and barley. Add water by pouring along sides of pot (so as not to disturb layers), cover and bring to a boil. Reduce heat to medium low and simmer for 30 minutes. Season with salt and simmer another 10 minutes. Add miso during last 2–3 minutes. Serve garnished with chopped parsley.
Michelle Hirsch is a graduate of the world-renowned Kushi Institute where she also worked developing curriculum. Michelle is the author of Venturesome Vegetarian and can be contacted at mphirsch@yahoo.com.
This article is a  Spirit of Change 20th anniversary issue reprint from Mar/Apr 2001.
Find local holistic 

Women's Health

practitioners in the Spirit of Change online directory.