Whole Foods Healthy Cooking: Cooking on a Budget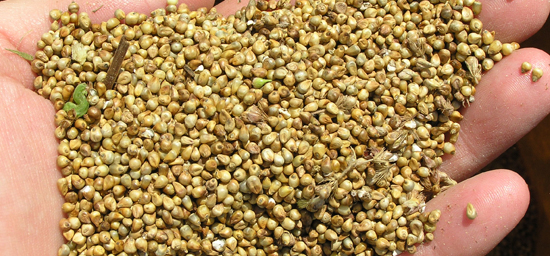 The one question I can count on being asked each time I do a cooking class is about suggestions on how to keep the cost down.
The recent class I did in Southern Massachusetts was no exception. The consensus of participants was that healthy foods are a better choice, but that cost sometimes takes it out of the list of options.
We're going to dispel the myth that eating well equates to an empty wallet. The good news is that healthy foods not only contribute to overall well-being, they can also keep more money in your pocket. The key is understanding how to shop.
Purchasing food at a natural food store doesn't mean that everything available is a good choice. On a recent shopping trip I overheard a young girl pleading with her father to buy a package of cookies. He said "no" and she replied "but they're organic!" As he gently removed the package of cookies from his daughter's hand he said, "but they're still cookies."
Natural food stores are full of healthy choices, some not so healthy choices and some very pricey choices. Junk food is still junk food and processed food is still processed. Neither of these should take up much space in anyone's grocery cart. They shortchange both pocket and health.
If you haven't been a regular shopper at the bulk section of your favorite natural food store, you're missing out on one of the ultimate bargains around. And, pairing up selections from the bulk aisle with in-season produce are the foundation for a celebration of flavors and textures that will make your taste buds stand up and take notice.
One of the least expensive and most healthful grains around is millet. Give it a try. It has universal appeal, is easily prepared and packs a nutritional punch. A key step in bringing out its flavor is to buy it fresh, and to rinse and toast it before using in any recipe.
RECIPES
Noodles and Beans
Serves 4
Noodles are always a great choice. You can't beat the bulk section for selection and price. Try mixing several varieties of noodles in this dish for added interest. Add your favorite in-season veggies and you have a healthy, satisfying meal that gets you out of the kitchen fast and is easy on the budget. Tip: To cut collards into ribbons, after washing, stack leaves on top of one another, roll them all into a cylinder shape, like a cigar. Hold the cylinder at the stem end and beginning at the other end, slice into narrow ribbons. It's a great way to cut greens for a stir fry, soup or any other dish.
Ingredients
1 pound soba, Udon, or other noodles
1 Tablespoon olive oil
1 bunch collard greens, cut into ribbons
1 carrot, sliced
3 cloves garlic, diced
1 scallion, sliced (separate green and white parts)
1 can white beans, drained
Sea salt to taste
Freshly ground pepper to taste
Chili pepper flakes (optional)
Directions
Bring water to a boil and cook noodles for 7 minutes or according to directions for the noodle of your choice. While cooking, prepare the veggies and beans.
Heat the oil in a frying pan over medium heat. Add sliced collards and carrots. Saute for 2 minutes. Add the garlic and white part of the sliced scallion and sauté another 2 minutes.
Add drained white beans and sauté until heated.
Drain cooked noodles and place in serving bowl. Add vegetable/bean mixture and toss to mix. Season to taste with salt and pepper and chili pepper flakes if desired. Top with green part of scallion.
Millet
Ingredients
1 cup millet, rinsed and drained
3 cups spring water (or vegetable stock)
Pinch sea salt
Directions
Place millet in a fine mesh strainer. Briefly rinse under cool water and drain for a few minutes.
Heat a heavy skillet over medium heat and dry roast the millet for a few minutes by adding the drained millet to the hot pan and, stirring frequently, dry-roast the millet until it becomes dry and fragrant, but not brown. Remove from heat. Note: Dry roasting any nut or grain enhances the flavor. Dry roasting means that the pan is dry when you put the ingredients in, and any moisture left on the ingredient quickly evaporates. I demonstrated dry roasting nuts during a recent cooking class and had the class taste unroasted almonds and freshly roasted almonds. All were amazed at the world of difference in taste and one man said that the roasting tip alone was worth the trip to take the class!
Bring the water to a boil, add salt and toss in roasted millet. Return to a boil, reduce heat to a simmer and cover. Cook for 20 —30 minutes until all liquid is absorbed. Remove from heat and leave covered for a few minutes.
Slow Cooker Method
To save time and even more money, use dry beans instead of canned and use a slow cooker. You can wake up to a delicious meal ready to take for lunch. Packing lunch is easy on the wallet and is a healthier choice. Not all slow cookers operate the same, so be sure to follow the manufacturers directions for your model.
In the morning, toss the rinsed beans in a bowl with water to soak (add enough water so that beans remain covered with water).
After dinner that evening, drain the beans and toss all the ingredients into the slow cooker.
Set the cooker on high heat and cook for 2 hours.
Reduce heat to low and let cook overnight (approx. 6 hours).
While stew cooks, prepare the millet.
Store prepared millet in the refrigerator in a covered container.
In the a.m. pack up the hot, prepared stew for lunch by placing a serving of the prepared millet at the bottom of your lunch container. Top with the hot stew.
Money Saving Tips
Select vegetables that are in-season and on sale. Make substitutions in recipes. If a recipe calls for broccoli and the asparagus looks great and is a bargain, go for it.
Save your vegetable trimmings to use for vegetable stock. Free vegetable stock beats buying cartons or cans of it any day!
How to Make Vegetable Stock
Directions
Gather your vegetable trimmings in a container in the freezer until you have about 8 cups
Toss in a pot with 8 —10 cups water and some seasoning (salt, pepper, parsley, bay leaf) and simmer for 2 hours
Drain the stock into a storage container and freeze or use immediately
Discard the vegetable trimmings
Plan on having food left over at the end of a meal and create something new for the next one.
Drag It Through The Garden Millet Meal
(Cook once, eat twice)
Serves 6
Ingredients
2 Tablespoons olive oil
1 large onion, chopped
2 cloves garlic, diced
1 carrot, diced
1 stalk celery, diced
1 teaspoon chile powder
6 cups vegetable stock (or water)
1 can kidney beans, drained
1 can chickpeas, drained
5 stalks asparagus, cut into bite-sized pieces
5 plum tomatoes, diced
3 medium sweet potatoes, scrubbed and cut into bite-sized pieces
6 fingerling potatoes cut in half
2 cups chopped greens (kale or collards)
1 cup corn kernels (fresh or frozen)
2 teaspoons sea salt
2 scallions, sliced (for garnish if desired)
Cooked millet
Directions
Heat olive oil in a Dutch oven over medium high heat. Add the onion, garlic, carrot and celery. Add the chile powder and cook another minute.
Add the vegetable stock and remaining ingredients, cover and simmer for 30 minutes, or until beans and vegetables are tender. Serve over cooked millet. Garnish with sliced scallions.
Day Two Meal From the Millet Recipe
Directions
Mash leftover stew and millet together, season with a few drops of hot sauce if desired and form into patties
Coat a frying pan with olive oil and cook over medium high heat for 7–9 minutes and gently flip over and cook another 5 minutes.
Or place patties on a lightly greased cooking sheet and bake in a 350 degree oven for 20 minutes. Serve with a salad or greens or as a "burger" with your favorite fixings.
Michelle Hirsch lives in southern NH and teaches whole foods cooking throughout New England. She is a graduate of the world renowned Kushi Institute where she also worked developing curriculum. She can be contacted at mphirsch@yahoo.com. Visit Michelle on Saturday March 26 at Whole Foods Market in Bellingham, MA where she will be offering a cooking class and book signing for her new book Venturesome Vegetarian Cooking! To register, call Whole Foods at 508-966-3331.