Whole Foods Healthy Cooking: Delicious Whole Grains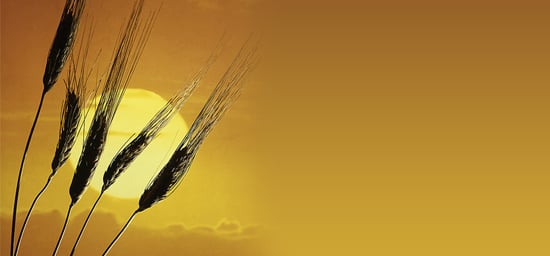 When studying macrobiotics and learning to cook with whole foods, I discovered that the best way to achieve maximum health is to eat wholesome, unrefined foods prepared with care and good energy. Foods selected should not contain poisonous ingredients or dangerous preservatives and should be grown on pure soils and be GMO free.
One of the easiest ways to incorporate whole foods into anyone's everyday eating plan is to use more whole grains. They're readily available, inexpensive and very versatile. For thousands of years grains have been the principle food for every major culture. From a macrobiotic perspective, whole grains are a perfect balance of yin and yang and that within the germ of every grain is the potential for thousands of grains. Energetically these foods are powerhouses.
Unfortunately, most people think that grains are grains. There's confusion over the difference between whole wheat bread and whole wheat grain. Supermarkets are well stocked with processed foods whose labels lead consumers to believe they're nutritious choices. Check out the labels before you purchase. Items like white rice, couscous, instant oats, breads, etc. are stripped down versions of their original grain and yield far fewer nutrients. I'm not saying never to eat these foods, just don't include them daily.
Whole grains have three layers: the bran (shell of the grain just under the husk), endosperm (middle layer) and germ (the embryo — it's what would grow into a new plant if sown). Unfortunately most grain products in our country are highly refined. Most of the outer layers of the grain are removed so that they'll cook faster and the germ is removed to increase shelf life. That means that most of the vitamins, minerals and healthy components never make it to our plates. Food manufacturers attempt to replace some of the nutrients they take away, but they don't replace the fiber, vitamin E or trace minerals from the bran.
Cook extra at one meal and use the remainder at another. It cuts down on cooking time and makes including grains easier. One thing I do when going to a non-vegan friendly restaurant is toss a container of cooked grains in my purse. My friends order their meals and I can always get a salad. When it arrives, I toss in my grains and I have a complete, nutritious meal. In 2003, try including a whole grain into one meal a week and work up to at least one per day. Here are some whole grain dishes to try. Enjoy!
Savory Rice and Shiitake Casserole
This tasty rice dish adds a new flavor dimension to cooked rice and provides significant health benefits too. Rice is easy to digest, contains all the essential amino acids, and its high water content acts as a diuretic promoting proper circulation and regulation of blood pressure. The shiitake mushrooms not only add their distinctive, hearty, smoky flavor and chewy texture, they stimulate the body's production of interferon, an immune substance that counteracts viruses and cancer. Macrobiotics teaches us that they also help discharge negative effects of the consumption of animal foods.
Ingredients
1/2 cup dried shiitake mushrooms
2 cups boiling water
1 tablespoon tamari
1/2 tablespoon freshly grated ginger
1 clove garlic, minced
3/4 cup brown basmati rice
1/3 cup Wehani rice
1/3 cup wild rice
Directions
Bring the water to a boil in a small saucepan. Add the dried mushrooms to the water, cover with the pan lid and let sit for 15 minutes or until soft.
While mushrooms are soaking, wash rice by placing in a medium sized bowl. Fill bowl with cool water and, at the sink, gently swish it around with your hand. Pour off water and repeat procedure. Set rice aside for a few minutes.
Remove the mushrooms from the soaking water, slice off the stems (reserve for stock at a later time) and cut the caps into slivers.
Strain the mushroom soaking water into a measuring cup and add water, if needed, to equal two and a half cups of liquid. In a medium saucepan, place the mushroom soaking liquid, tamari, sliced mushrooms, ginger, garlic and the rice. Bring to a boil, cover pan and simmer for 60 minutes. Fluff with a fork and serve.
Luscious Millet Waffles
Yes, this is the same grain you fed your pet parakeet when you were growing up. It's a tiny, yellow grain that's a tasty addition to a variety of dishes. Of all the grains, millet contains the most protein and iron and is high in B vitamins, calcium and other minerals. It's gluten free, so if you're on a restricted diet, give it a try.
Eating too many baked flour products can cause stagnation in the intestines and digestive tract. If your family is reluctant to try whole grain, make these delicious waffles. They'll get all the benefits of a whole grain in a form that's familiar to them.
Ingredients
2 cups millet
1 1/2 cups water for soaking
2 tablespoons unrefined corn oil or other vegetable oil
2 tablespoons brown rice syrup or maple syrup
1/2 teaspoon sea salt
1 teaspoon baking powder
1/2 teaspoon ground coriander
1/2 teaspoon vanilla
Directions
Wash millet by placing it in a fine mesh strainer and quickly rinsing under cool water. Transfer millet to a mixing bowl, add the water and cover loosely with plastic wrap or a clean kitchen towel. Let stand on counter overnight, or a minimum of four hours.
Drain millet and place in a blender. Add one cup of water, corn oil, brown rice syrup, sea salt, baking powder, coriander and vanilla. Blend mixture until it's a thick batter.
Heat waffle iron according to manufacturer's directions, pour a sufficient amount of batter, and bake the appropriate time for your iron. Repeat process for remaining batter.
Serve immediately topped with fresh fruit, syrup or try it as a main course with a savory vegetable dish.
Kushi Brownies
On the rare occasions that I make baked flour desserts, this one is frequently requested. It's versatile and packs all the superior nutritional benefits of brown rice. Amasake is a refreshing drink made from whole grain brown rice. The rice is cooked, mixed with koji (a rice culture) and incubated for 10 hours. The end product is easy to digest, high in fiber and B vitamins, low in fats and contains no cholesterol.
Ingredients
1 1/2 cups roasted walnuts, coarsely chopped
2 cups whole wheat pastry flour
1 cup unbleached white flour
1/2 teaspoon sea salt
1 tablespoon baking powder
1/4 cup corn oil
1/4 cup organic applesauce
1 cup brown rice syrup (can do half maple syrup)
3 cups Amasake
1 1/2 cups grain coffee
1 tablespoon vanilla
Directions
Preheat oven to 350 degrees and lightly grease a 9" X 13" baking pan.
Place walnuts in a strainer and rinse under cool water (this removes dirt & debris from storage). To roast walnuts, heat a cast iron pan on the stove, add walnuts and stir frequently over medium heat until they smell fragrant. Set aside to cool.
In a large bowl, mix together all dry ingredients including walnuts. In a smaller bowl, thoroughly mix wet ingredients.
Add wet ingredients to dry and stir just until well mixed. Bake at 350 degrees for 50 minutes, or until a toothpick inserted comes out clean. Remove from oven, let cool and cut into squares.
In a Hurry Burritos
When time is limited, you don't need to sacrifice taste and nutrition. Keep a few staples on your pantry shelf and you're always only a few minutes away from a tasty meal. It's faster than a run to Taco Bell and better than any pre-packaged mix. You can cook extra rice and freeze it for up to one month so you'll always have it on hand.
Ingredients
1 tablespoon olive oil
1 medium onion, chopped
1 clove garlic, minced
1 teaspoon chili powder
1/2 teaspoon cumin
3 cups leftover cooked brown rice
1 lb. canned black beans, drained and rinsed
1 cup frozen corn kernels
Flour or corn tortillas, heated if desired
2 scallions, thinly sliced
Prepared salsa
Directions
Heat the olive oil in a large skillet. Add onion, garlic, chili powder and cumin and sauté over medium high heat until the onion is translucent, about 3 minutes. Add rice, beans and corn. Cook until completely heated.
Remove from heat. Spoon half a cup of the mixture down the center of each tortilla. Sprinkle some scallion slices over top of filling. Fold tortilla closed and top with salsa.
If you like sour cream on your burritos, try this non-dairy version for a flavorful addition to your burrito filling. Just spread on top of filling before folding tortilla.
Ingredients
1 package silken tofu, drained and crumbled
1 tablespoon olive oil
1 tablespoon lemon juice
1 1/2 tablespoons brown rice vinegar
1 teaspoon brown rice syrup
Pinch of sea salt
Directions
Put all the ingredients in a blender and process until smooth.
Creamy Brown Rice Pudding
Ingredients
1 cup vanilla soymilk
1 cup soft tofu, crumbled
2 ripe bananas
1/2 cup brown rice syrup
1/2 teaspoon cinnamon
1/2 teaspoon sea salt
1/2 teaspoon vanilla
2 cups cooked short-grain brown rice
1/2 cup raisins or dried cherries, if desired (soak them in fruit juice first for extra flavor)
1/2 cup chopped nuts, optional (almonds or walnuts are great)
Freshly ground nutmeg if desired
Directions
Preheat oven to 350 degrees.
In a food processor, add soymilk, tofu, bananas and brown rice syrup. Process until smooth and creamy. Add cinnamon, salt and vanilla and process briefly.
Place rice in a large mixing bowl and add the tofu mixture. Stir well. Add fruit and/or nuts if desired.
Oil a 9" X 13" baking pan and pour in rice mixture. Spread smooth. Sprinkle top with nutmeg if desired.
Bake for 1 hour or until firm and top is lightly browned.
Michelle Hirsch lives in Southern New Hampshire and teaches whole foods cooking classes throughout New England. She is a graduate of the world renowned Kushi Institute where she currently works on curriculum development. Michelle can be contacted at mphirsch@yahoo.com.