Whole Foods Healthy Cooking: Grocery Aisle Wanderlust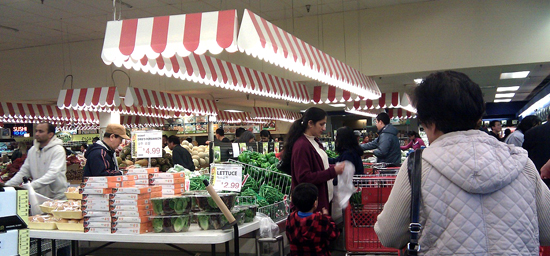 What's the next best thing to an exotic summer vacation? Tour your local ethnic markets and grocery stores! I recently visited China, India, Russia, Portugal and Korea all in one day! It's the next best thing to being there. Experience the flavors and scents of faraway lands in the time it takes you to food shop.
If you're tired of the same meals, bored in the kitchen and wish you could get your family to try different foods, go ethnic. It's a sure way to awaken your taste buds and add excitement to mealtime. The tastes and aromas of distant or exotic locations not only adds adventure to cooking, it's fun and healthy too. Ethnic dishes tend to emphasize freshness and nutrition. Using fresh ingredients boosts energy and helps relieve stress. Vegetables, fruits, grains and spices are used to create the flavorful dishes that are replacing the fat and high salt content of foods that currently make up the typical American diet.
Regardless of where I go, one of the first places I head to when visiting a location is the grocery store or local market place. It gives me a wonderful perspective of everyday life in the area and introduces me to new flavors and scents to enhance my cooking. And it's easy to experiment. Every time I visit I ask questions and leave inspired to try something new.
If there's any doubt that ethnic foods have gone mainstream, check out the selection carried by most grocery stores and supermarkets today: lemon grass, curries, exotic rice, tamarind, mirin, chutneys and other ethnic specialty ingredients too numerous to mention. What was once considered exotic is now common. American tastes are changing for the better. We're a more diverse population than ever before and it's reflected by the foods we sell and the restaurants that thrive in our communities.
Some of my family's favorite meals are when we do an "Around the World" theme. We start with an appetizer from one country and progress through the meal with a dish from a variety of locations. It's a little eclectic, but very fun. Try having the children research the country you're "visiting" and let them help prepare the meal. During the meal, discuss what they learned about the people and their food. Try some of these healthy, flavorful recipes to get started.
RECIPES
Umbrian Baked Beans
The traditional version of this Italian dish calls for soaking dry beans overnight, then cooking them for several hours. This recipe is updated for busy cooks and uses canned beans. Serve this alongside steamed vegetables and fresh bread. In warm weather I serve this room temperature over a bed of mixed greens and chilled noodles sprinkled with balsamic vinegar and olive oil. I also vary the flavor by mixing up the beans, perhaps a combination of navy, fava and chickpea. Experiment with your favorites.
Ingredients
1/4 cup extra-virgin olive oil
2 tablespoons fresh basil leaves
1 tablespoon fresh rosemary leaves
3 tablespoons capers
1/2 tablespoon Dijon mustard
1 can (16 ounces) navy beans
Directions
Preheat oven to 350 F. Combine the olive oil, basil, rosemary, capers and mustard in a food processor or blender and puree until smooth.
In a small baking dish, toss the beans with the sauce. Cover with foil and bake for 30 minutes. Serve hot.
Thai Lemon Grass Soup
I studied Thai cooking years ago and found this to be a great light soup that's the perfect beginning to almost any meal. We often serve it with a meal of fresh spring rolls and sushi. Almost any type of noodle will do. Use your favorite. If you want a more "noodly" soup, just cook additional noodles separately (according to package directions) and add to the finished soup. My husband enjoys really spicy food, so to spice this up, I sprinkle his bowl with some dried red chili flakes when I'm ready to serve it.
Ingredients
1 ounce mung bean thread noodles (Available at Asian markets and most grocery stores)
4 stalks lemon grass
6 cups vegetable broth
1 lb. tofu, cut into 1/2 inch cubes
juice of 1 lime
2 scallions, thinly sliced
Fresh basil leaves, slivered (optional — for garnish)
Directions
Place bean thread noodles in a bowl of water and let stand while preparing the soup.
Pound lemon grass stalks with a mallet to break the fibers and release the flavor. Cut stalks into three-inch pieces. Place the lemon grass in a large saucepan and add the vegetable stock. Bring to a boil over medium high heat. Reduce heat to low, cover, and simmer for 20 minutes. Remove lemon grass stalks and discard.
Add tofu cubes and simmer for 1 minute. Add reserved noodles and cook an additional minute.
Remove from heat and stir in lime juice and scallions. Ladle into bowls and garnish with basil if desired.
Gingery Asian Pressed Salad
This recipe is delicious and a little unusual — kind of a cross between coleslaw and kimichee. Make sure to mix all the ingredients in a large mixing bowl.
Ingredients
Salad
1/4 cup golden raisins
1/2 head small cabbage, thinly shredded
1 cucumber, peeled and thinly sliced
4-5 radishes, thinly sliced
1 medium carrot
1/4 cup umeboshi vinegar
1 large apple
1/4 cup sunflower seeds
Dressing
1/4 cup tahini
1-inch piece fresh ginger
1/4 cup mirin
1 teaspoon soy sauce
2 tablespoons orange juice
1 tablespoon apricot all-fruit jam
Directions
Place the raisins in a small bowl and cover with warm water. Let stand 20 minutes or until soft and plump. Drain and set aside.
To make the salad, combine the cabbage, cucumber and radish slices in a large mixing bowl. Use a vegetable peeler to shave the carrot into the bowl.
Add the umeboshi vinegar to the vegetables. Use your hands to massage the vinegar into the vegetables, squeezing gently, for about 3 minutes. Place a plate on top of the vegetables inside the bowl. Use something heavy, such as a pitcher filled with water, to weigh down the plate. Leave it for 1 hour.
While the salad presses, make the dressing. Combine all ingredients in a blender or food processor and puree until very smooth. Cover and refrigerate until ready to use.
Once the salad has pressed, remove the weight, but leave the plate in place. Hold the plate down tight with one hand and use the other to tip the bowl over the sink to drain excess water.
Transfer the vegetables, which now should look slightly wilted, to a medium bowl by grabbing handfuls and squeezing gently to remove any remaining liquid.
Slice the apple in half and cut out the core. Slice each half in very thin half moons. Add the apple slices to the salad.
To serve the salad, toss it with several tablespoons of the dressing (or to taste). Garnish with raisins and sunflower seeds.
Tomato and Coconut Milk Rice
The peppers add fire to this dish from Mozambique, but they are mellowed by sweet coconut milk. On a warm summer day, serve this room temperature or chilled.
Start to Finish: 45 minutes
Servings: 4
Ingredients
2 tablespoons peanut oil
1/2 cup onion, finely chopped
1 small hot pepper (habenero is nice), seeded and chopped
1 cup uncooked Arborio rice
1 and 1/2 cups coconut milk
2 medium tomatoes, chopped
1 teaspoon salt
1 and 1/2 teaspoons dried chili pepper
Directions
In a large skillet, heat the oil over a medium flame and sauté the onions and peppers for about 5 minutes, or until they are soft but not brown.
Add the rice and stir for 3 minutes, until the grains are evenly coated. Add the coconut milk, tomatoes and salt and bring to a simmer over medium heat.
Cover the pan, reduce the heat to low and simmer for about 20 minutes, or until all the liquid is absorbed and the rice is tender. Add water or more coconut milk if needed.
Remove the skillet from the heat and stir in the chili pepper. Cover again and let sit for 10 minutes before serving.
Fruit Pizza
Ingredients
1 pizza dough (frozen or from local pizza shop)
Assorted fruit: apples, pineapple, kiwi, strawberries, blueberries, peaches, etc.
Apple butter or vegan butter spread
1/2 cup sugar mixed with 2 teaspoons cinnamon
Directions
Preheat oven to 350 degrees.
Roll out pizza dough into one 12-inch pizza or four individual sized pizzas and place on a baking pan. Spread dough with apple butter or vegan butter-like spread.
Sprinkle with some of the sugar/cinnamon mixture. Arrange fruit over top. Sprinkle with more sugar/cinnamon mixture (not necessary to use all sugar mixture).
Bake for approximately 15 minutes or until crust is lightly browned. Serve warm.
Michelle Hirsch lives in southern NH and teaches whole foods cooking throughout New England. She is a graduate of the world renowned Kushi Institute where she also worked developing curriculum. She can be contacted at mphirsch@yahoo.com. Visit Michelle on Saturday March 26 at Whole Foods Market in Bellingham, MA where she will be offering a cooking class and book signing for her new book Venturesome Vegetarian Cooking! To register, call Whole Foods at 508-966-3331.