Whole Foods Healthy Cooking: Kids Meals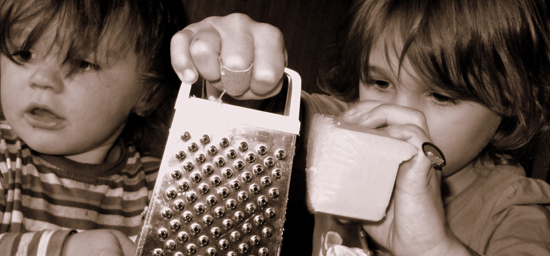 Summer vacation is almost here! It's the time of year when children get to spend more time at home and fill the neighborhood yards with play and laughter.
If you're focused on healthy eating and trying to find ways to encourage your children to make better food choices, there's no better time than now. It's not always easy, but it's well worth the effort and it's a great opportunity for parents and children to learn together. Plus, it establishes eating habits that will impact their health through adulthood. It's the best health insurance coverage there is.
Next time you walk through the food court at the mall or visit a "kid-friendly" restaurant, observe the food choices most children make. I guarantee that foods selected most often are things like chicken nuggets, hot dogs and pepperoni pizza. Foods loaded with saturated fats are favorites. It's no wonder that The New England Journal of Medicine states that at least 60 percent of our children have early atherosclerotic (hardened artery) damage. This is not a condition that should be present in our children.
The food group that seems to generate the most controversy when discussing raising healthy children is dairy products. If you're choosing to eliminate this food group from your child's diet, be prepared for unsolicited nutritional advice and commentary from acquaintances and strangers alike. Vegans believe that no human, child or adult needs to consume dairy products to live long, healthy lives. Dr. Frank Oski, former director of pediatrics at Johns Hopkins University who states, "There is no reason to drink cow's milk at any time in your life. It was designed for calves, not for humans, and we should all stop drinking it today, this afternoon" supports this view. To find out more about the dangers of dairy, I recommend reading, Milk the Deadly Poison by Robert Cohen (Argus Publishing or visit http://www.notmilk.com).
Ideally an infant transitions from mother's milk to a simple grain cereal to vegetables and fruits and beyond. Consulting with a trained professional can help make choices easier and less frustrating. Once children reach school age they should be well acquainted with and enjoy a wide variety of fresh, wholesome foods free of artificial flavors, colors, preservatives and additives. As summer approaches, partner with your children and find new, exciting foods and methods of preparing them. Make it part of summertime fun activities.
As it has with so many others, involving my child in daily food preparation was rewarding for my son and me. I would put his infant seat next to me on the kitchen counter and talk to him about what I was preparing. As soon as he could hold a wooden spoon, I placed one in his hand. It was fascinating to watch as he progressed from babbling happily and merely waving it around to helping prepare simple dishes and offering suggestions for ingredient variations. We spent his growth years cooking most meals together and talking about what was going on in our lives. It was well worth the investment.
Here are some recipes to get started. Grab the kids, go grocery shopping, talk about the ingredients, select them together and have fun cooking. Make it an activity everyone looks forward to because it adds value not only to health, but also to parent/child relationships.
Sandwich Pizza
Make your own portable "pockets" and enjoy lunch in the park. Either use your favorite pizza dough recipe or purchase a ready to bake whole grain pizza dough at the natural foods store. To make it extra easy and fast, try selecting a variety of already washed and cut filling ingredients from the salad bar.
Ingredients
1 pizza dough
Filling suggestions: olives, onions, carrots, sweet peppers, tomatoes, tofu, pizza sauce, fresh basil leaves, garlic, broccoli, zucchini, mushrooms, chickpeas, seitan, etc
Olive oil for sautéing vegetables
Directions
Preheat oven to 425 degrees
Heat the oil in a large skillet over medium heat
Add your favorite veggies/filling ingredients (cut into small pieces) and sauté for 5 minutes
Divide the pizza dough into three or four pieces and roll each into a circle
Spread filling ingredients evenly in the middle of the circle
Fold dough over filling (like a turnover) and seal the edges with a fork
Place on a greased baking sheet and bake for 30 minutes
Pressed Salad
Try a new twist on tossed salads. Send the kids out to the back yard to find a great rock that weighs a few pounds. Have them bring it in the house and wash it off. Tell them you'll use it to make the salad.
Make this light, fresh, crunchy salad often during the summer. Older children can help cut up the vegetables. When the salt is added to the vegetables they get shiny and bright and the liquid starts to come to the surface. Thinly sliced veggies means more surface area and a superior salad. This salad is especially good for digestion and helps build flexibility. The salt breaks down the tough fibers of plants and makes the nutrients easier to digest.
Ingredients
1/2 head small cabbage, thinly sliced
1 cucumber, thinly sliced
4-5 radishes, thinly sliced
1 stalk celery, thinly sliced diagonally
1/2 cup red onion, sliced paper thin
1 small carrot, grated
1/4 cup umeboshi vinegar
Directions
Place all vegetables in a crock or non-metal bowl
Add the vinegar and mix well
With your hands, toss ingredients; don't knead (Children love playing with the salad.)
Place a plate over the vegetables and press down
Weight plate with the clean rock or other weight
Leave it for 1 hour. Remove, squeeze out excess liquid, place in a bowl and serve
Note: instead of umeboshi vinegar, you may use 1/4 tsp. sea salt and 2 Tbls brown rice vinegar. Weight it down for an hour. Squeeze out excess liquid. Rinse with water if too salty.
VERSION 2:
Ingredients
2 cups green cabbage, finely shredded
1/2 cup carrot, grated
1/2 cup red apple, quartered and sliced thin
1 tsp. sea salt
1/8 cup raisins, soaked while salad is pressed
1 handful walnuts, roasted
Directions
Place the veggies and apples in a mixing bowl
Add sea salt and mix thoroughly with your hands (The oil in hands interacts with the salt and brings enzymes out.)
Press veggies for 2—2 1/2 hours
Remove and squeeze out excess liquid
Toss in the soaked raisins and roasted walnuts
Healthy Jacks
When I was growing up, ball games and movies meant Cracker Jacks. Today, we have healthier alternatives. It's still a treat, but made with better-for-you ingredients.
Ingredients
4 cups popped corn
1/4 cup brown rice syrup
1/4 cup barley malt syrup
1/2 cup roasted peanuts
Directions
Place the brown rice syrup and barley malt syrup in a saucepan and heat
Place the popped corn and peanuts in a large mixing bowl
Pour the hot syrup over the mixture and mix thoroughly
Spread the mixture evenly on a baking sheet
Preheat oven to 350 degrees and bake for 5-7 minutes or until the syrup hardens around the corn and turns slightly brown like caramel
Remove from the oven and place in a serving bowl
Baked Sweet Potato Fries
If your kids are craving French fries and burgers, indulge with these easy to make and delicious to eat versions. I like to cut a mixture of sweet potatoes, a blue variety and a russet and bake them together. It's visually interesting and the flavor combination is great. It also exposes kids to new and different foods. Toss some veggie burgers on and put a variety of condiments out so everyone can build their own burger.
Ingredients
2 lbs. sweet potatoes, peeled & cut into thick French fry lengths(use organic and leave the peel on)
Spray can of olive oil
1 clove garlic, minced
1 tsp. salt
1/4 tsp. pepper
Directions
Preheat oven to 425 degrees
Line a baking sheet with paper or foil
Lightly spray with olive oil
Place potato pieces in a single layer on baking sheet
Spray lightly with olive oil and sprinkle with salt, pepper and minced garlic to taste. Bake 30 minutes or until browned and crispy
Note: For a spicier version, sprinkle with some cayenne pepper and chili powder. An alternative to spray olive oil is the place the potato pieces in a plastic zip lock bag, add 1—2 tablespoons olive oil and shake to coat evenly. Place on the baking sheet and sprinkle with seasoning.
"Cheese" Popcorn
Nutritional yeast is a natural whole plant grown as a food crop. It is high in protein and B vitamins and has a delicious, cheesy taste. It's always a favorite. Rent a movie for the family and share a big bowl of this luscious treat.
Ingredients
Popcorn
Shoyu (high quality soy sauce)
Nutritional yeast
Directions
Put freshly popped, unseasoned corn in a bowl
Place shoyu in a spray bottle and spray over popcorn
Sprinkle immediately with nutritional yeast (to taste) over popcorn and toss
Michelle Hirsch lives in southern NH and teaches whole foods cooking throughout New England. She is a graduate of the world renowned Kushi Institute where she also worked developing curriculum. She can be contacted at mphirsch@yahoo.com.