Whole Foods Healthy Cooking: Lettuce Eat!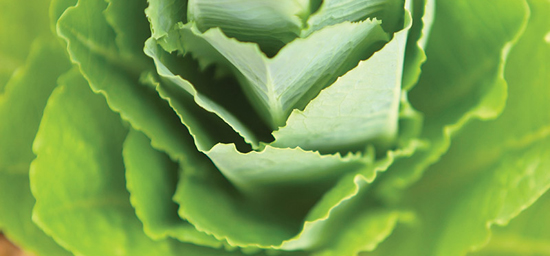 When you think of spring and summer, what are the first words that come to mind? For me, it's fresh, crisp and green. There's something special about each season, but these are the seasons I yearn for the most.
I look forward to opening the windows and letting gentle breezes bring new energy to every corner of my home. I like the casual, informal, outdoor dining opportunities to relax with family and friends. And, I enjoy the transition to lighter cooking styles and the increasing abundance of local, fresh ingredients to experiment with. Farmers' markets are starting up again and in increasing numbers. Go with an open mind and a sense of adventure. Discover new things to try. Make a commitment to try something you've never tried before.
Visit the markets and talk to growers. Get to know who's growing your food and learn some new preparation tips and recipes. Consider joining a CSA (Community Supported Agriculture) farm near you. CSAs are where people support local farmers by paying, in advance, for a share in the farmer's crops. The money covers the cost of running the farm and everyone gets a weekly share of whatever is being harvested. It's like getting a surprise gift every week. You never know what's inside! Everyone wins with this system. Farmers have some cash to plant, grow and harvest crops, there's an increased tie to the community and members get incredibly fresh produce and a chance to reconnect with the land. Check out the opportunities to join one in your area. A good web site to get started is: http://www.localharvest.org/csa/
Taking our cue from those three words I used to describe this season — fresh, crisp and green — we're going to explore the dining delights of a vegetable that truly represents the season: lettuces! They're among the first fresh crops to appear and are some of the freshest, crispest and greenest choices around. You can't freeze it, you can't can it; it's either fresh or it isn't usable.
There are four basic types of lettuce:
Type Example Flavor Texture Butterhead
Boston
Bibb
Mild flavor
Sweet Loose heads
Buttery texture Crisphead Iceberg Very mild flavor
Neutral flavor Crispy Loose leaf Red leaf
Green leaf Mild flavor Softer and delicate
Velvety Cos Romaine
Baby romaine Strong taste Crispy
Selection: Look for leaves that are crisp and without any brown spots.
Storing: Wash leaves well, pat dry or use a lettuce spinner to remove excess water. Place a damp paper towel in a plastic bag and lay lettuce leaves on top. Most varieties will keep for four days. Iceberg will generally keep for over a week. If you purchase lettuce with roots still attached, you can place the roots in a glass of water and cover the leaves with a plastic bag and refrigerate. Storing lettuce near fruits that give off ethylene gases, like apples, will cause lettuce to spoil more quickly, so be careful where you place lettuce in the refrigerator.
Uses: We're all familiar with using lettuces in salads and if you've never ventured beyond using it as a foundation for your salad or as a condiment for your sandwich, give some of these recipes a try. I guarantee you'll enjoy lettuce not only for its versatility, but also for the ease of preparation and delicious taste and texture.
Grilled
Radicchio or Romaine works best. Cut head of lettuce in half lengthwise and brush some extra virgin olive oil on the cut side. Sprinkle with sea salt and freshly ground pepper. Grill until just beginning to brown and lettuce becomes soft. Enjoy!
Sautéed
To sauté lettuce, cut the core from lettuce (Bibb is great for this), wash leaves and pat dry, lay leaves on top of one another and roll up. Cut in thin ribbons down the length of the lettuce roll. Heat a teaspoon of extra virgin olive oil in a sauté pan (or for a buttery flavor, use avocado oil). Add a clove of garlic, minced. Toss in a cup of fresh peas and sauté for a few minutes until peas are a bright green. Toss in cut lettuce leaves and sauté until leaves are wilted. Season with salt and pepper.
Wraps
Now, here's your chance to really have some fun with lettuce. I guarantee this will become a family favorite for dinner!
Prepping lettuce: Core lettuce (your choice of variety) and gently separate leaves, wash and pat dry, and store in refrigerator to keep crisp (this is easily done a day or two ahead).
Prepping filling for the wrap: Think about color and texture for fillings; vary the veggies and seasonings. Filling can be made ahead and refrigerated a day or two. Serve chilled or warm up right before serving. If using tofu, I like to cut it into three "steaks" and drain it on paper towels. Then, dice it and place in a freezer container and freeze overnight or longer. Take out in the morning and leave in the refrigerator to thaw during the day. The texture is perfect for wraps.
Ingredients for cooked filling: Select any combination of the following ingredients you enjoy.
Seasoning Thickeners Veggies Protein Wrap 1 Tablespoon soy sauce 1 teaspoon cornstarch 2 cloves garlic, minced 12 oz. firm tofu, diced Romaine 1 Tablespoon mirin 1 teaspoon kudzu 2 green onions, chopped 12 oz. seitan, diced Bibb 1 teaspoon brown sugar 1 teaspoon arrowroot 1 red bell pepper, diced 2 cups adzuki beans, cooked Iceberg 1 teaspoon ginger, grated Leftover cooked brown rice 2 stalks celery, diced Half cup chopped almonds Loose leaf 1 tablespoon toasted sesame oil Half cup water chestnuts, diced 1 package smoked tofu, diced Nori – to line lettuce leaf if desired 3 tablespoons hoisin sauce 1 cup carrots, shredded Hot chili paste to taste 1 cup cabbage, shredded Sea salt 2 cups eggplant, diced Freshly ground pepper 1 cup mushrooms, diced 1 teaspoon rice vinegar 1 cup fresh bean sprouts Half cup fresh corn kernels 1 sweet onion, diced 4 leaves kale, finely chopped 1 stalk broccoli, chopped
Cooking filling: Heat 1 tablespoon extra virgin olive oil in large sauté pan over medium high heat. Add veggies of your choice — experiment with different combinations. Plan on a cup or two per person. Add seasonings. Saute until veggies start softening up. Add protein and sauté for a few minutes. Remove from heat and place filling in serving bowl. Garnish with parsley, ground nuts, or any other ingredient you like.
Serving: Place lettuce leaves on serving platter. Offer sheets of nori if you'd like to line the lettuce leaves. Each person takes a lettuce leaf and places a few tablespoons of filling inside the leaf. Season with sauce if desired. Roll leaf around filling and enjoy!
Peppery Apricot Sauce
If you enjoy sweet and sour flavors, you'll love this sauce.
3 tablespoons brown rice vinegar
1 teaspoon ginger, grated
1 clove garlic
2 tablespoons lemon juice
1/2 cup apricot all-fruit jam
¼ teaspoon sea salt
¼ teaspoon hot pepper sauce
¼ cup chopped scallion, for garnish
Combine all ingredients, except scallions, in a food processor or blender and puree until smooth. Serve at room temp or warmed slightly. Garnish with scallions. Reheat this sauce in a small saucepan over low heat for a few minutes.
Spicy Sauce
A friend brought this sauce over one day and it was an immediate hit with everyone.
1/4 cup brown sugar
1/2 cup green tea (cold, left over – already steeped)
2 tablespoons soy sauce
1 clove garlic
2 tablespoons rice wine vinegar
2 tablespoons ketchup
1 tablespoon lemon juice
1/8 teaspoon toasted sesame oil
1 tablespoon Chinese hot mustard
2 teaspoons water
1-2 teaspoons red chili paste
Place all ingredients in a blender and puree until smooth.
Peanut sauce:
¼ cup soy sauce
1/8 cup brown rice vinegar
1/3 cup water
1 tablespoon maple syrup
½ teaspoon sea salt
1 inch piece ginger, ground
2/3 cup peanut butter
2 tablespoons toasted sesame oil
1/2 teaspoon paprika
1 teaspoon hot pepper sauce
Combine all ingredients in a blender or food processor and blend until smooth. Adjust peanut butter and water for desired consistency. Serve immediately or chill. If chilled, let come to room temp before serving.
Looking for a wrap that needs little to no preparation? Think about some of your favorite salads. Now, gather some of the ingredients and put it together without the lettuce. Spoon the filling into your lettuce leaves and you've got a great variation to traditional salads. And, if you purchase some of the ingredients already prepped from the salad bar, you can end those hectic days with relaxing mealtime with family.
Greek Salad Wraps
Greek salads are really popular. What's not to like? They're delicious, healthy and easy to prepare.
2 roma tomatoes, diced
1 cucumber, seeded and diced
1/2 green bell pepper, seeded and diced
1/2 red bell pepper, seeded and diced
One hothouse cucumber, chopped
2 tablespoons capers, drained
2 tablespoons extra virgin olive oil
2 tablespoons red wine vinegar
1/3 cup kalamata olives, chopped
1 scallion, chopped
1 cup tofu, crumbled and sprinkled with oregano
Sea salt to taste
Freshly ground pepper to taste
Lettuce leaves
Combine all ingredients except lettuce leaves. Toss and keep chilled until time to serve. To serve, each person spoons some filling into their lettuce leaf, rolls it and enjoys. Recipe makes two to three entrée servings.
Hummus and/or Tofu Wraps
This is really easy and delicious. Purchase your favorite hummus and/or tofu salad or make your favorite recipes. Add some chopped red peppers and sprinkle with paprika for garnish. Spoon onto lettuce leaves and wrap.
Michelle Hirsch lives in southern NH and teaches whole foods cooking throughout New England. She is a graduate of the world-renowned Kushi Institute where she also worked developing curriculum. Michelle is the author of Venturesome Vegetarian and can be contacted at mphirsch@yahoo.com.