Whole Foods Healthy Cooking: No Waste Cooking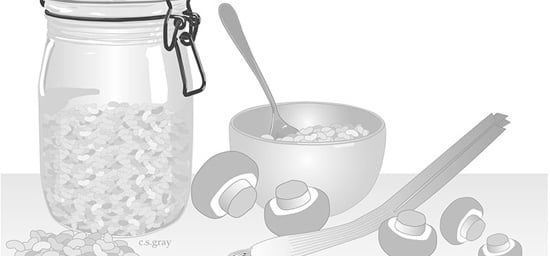 I've never been much of a shopper, but I do enjoy exploring the aisles of any grocery store or farmer's market I visit. In fact, some friends feel the need to establish "rules" prior to any road trip — "no grocery stops." I can't help it.
Any shop that sells food draws me in like a magnet. It's really all about the thrill of discovery. I'm always on the lookout for something new to try — a new vegetable, spice, etc. For some folks it's shoes, for me it's ingredients for a new dish. It's very exciting and yes, maybe a bit addictive.
I enjoy talking to people about food and how they're preparing their selections. You can learn a lot about a person by the way he or she approaches food. The normal, everyday chatter I usually overhear during these visits about the food and ingredients they're selecting is being replaced by frustrated comments about the high cost of everything. The mood has changed. Now, it not only costs us more for fuel to drive to the store and cook the food, it's costing more to purchase it too. The Consumer Price Index for food in 2007 showed a price increase of four percent. It hasn't been that high in over a decade. It's hitting people's wallets and there's concern.
Yes, it can be discouraging to see more of the family budget go to these basic necessities, and we're not going to explore the reasons for the price increases in this column. Our focus here is "no waste cooking." No waste of ingredients and no waste in nutrition. Shopping and cooking with a concentration on value doesn't mean giving up delicious, nutritious and adventurous meals. It does mean putting a little more thought and effort into the planning and preparation of meals. And, it requires being willing to do a little experimenting with new ingredients and cooking methods. Approach it with a sense of adventure and discovery and I guarantee you'll never go back to a more haphazard approach again — even if prices don't go any higher.
First, start in your pantry. Create a rotation system that works for you. I always restock my shelves from the back so that items that have been there the longest are in front. There's nothing more budget draining than having to toss out food you've paid for and forgot you had. Watch for sales and stock up on things that are essentials for your family. In my house I'm always well stocked with the following items that are supplemented by other ingredients I find while shopping:
Brown rice
Miso
Brown rice and whole wheat pastas
Beans
Ezekiel English muffins (flourless)
Tomato sauce
Potatoes – Yukon gold and yams
Salsa
Mushrooms
Onions
Quinoa
Oats
Tofu
Broccoli
Carrots
Seitan
Soy or almond milk
Frozen berries
Olive oil
Balsamic vinegar
Buy grains, beans and spices in bulk. Why pay for packaging and advertising? Neither will contribute to the taste of your meal. Omit processed foods from your list. Cook whole oats instead of buying the instant variety. Challenge yourself to a taste test of the two. Instant will remind you of wallpaper paste when you compare them to the real thing. Oatmeal preparation is easy and you can't beat the taste.
One of my favorite meals during cold weather is soup. After shoveling the walk or driving home on a freezing cold day, there's nothing more welcoming than the aroma of soup. The warmth of the bowl is comforting and the flavor is satisfying. If you're accustomed to canned soups, give the homemade variety a try. It's less costly, more nutritious and has superior flavor. And, it's so easy to make.
A good soup starts with the stock. Don't waste money on canned or packaged stock. It's high in sodium and has an inferior flavor. Make your own. You'll never go hungry if you have a great stock on hand. I make what we refer to as "free soup" every week. It's simple and I can get from start to finish in 30 minutes. I start with a pot of stock and then clean out the refrigerator. Leftovers get tossed in, and in less than 20 minutes you've got delicious soup!
I have a "stock prep" container in my freezer at all times. This doesn't cost you anything but a little time. Most people toss their veggie trimmings along with the nutrients they contain. When I'm prepping veggies I toss all the trimmings (wash veggies prior to prepping) into the container, including onion peels. Once the container is full, I toss the contents into a pot, check the fridge for any veggies going limp and add those to the mix. I also add an onion, a piece of kombu and a few cloves of garlic. Some of my favorite trimmings include potato, squash, carrots, corn cobs, greens, green peppers, herbs, peas, mushrooms and apples. Be careful not to add the peels of waxed produce like rutabaga or any strong flavored veggies like Brussels sprouts, cabbage, broccoli or bok choy. I've experimented and found they give the stock a bitter taste.
Homemade Stock
Keep some on hand in the freezer to use for soups and stews. Use freezer containers the size that's appropriate for your meal needs. I find one-cup containers very versatile. If you like using stock for sautéing, pour some into ice cube trays. When frozen, pop them out and store in a freezer bag. When you're ready to sauté, toss one in the skillet and sauté.
Place your vegetable trimmings in a pan. Add double the amount of water and bring to a boil. Simmer for an hour. For a more intense flavor, simmer for longer, until the liquid is reduced to half its volume. Strain stock and discard the veggie scraps. Place in freezer containers.
Quick Bean Soup
It's less expensive to start with dried beans and there's more variety, but if time is an issue, used canned. Using your homemade stock as a base, you'll have a hearty, delicious soup in no time.
3 potatoes, cubed
5 carrots, sliced
1 large onion, chopped
1 clove garlic, diced
6 cups vegetable stock
4 cups beans, drained
Place all ingredients in a pot and bring to a boil. Cover and simmer for 20 minutes. Serve with whole grain bread.
Breakfast Burritos
This is a hearty breakfast that will keep you going until lunch. Try combinations of your favorite ingredients left from the previous night's dinner. You'll come up with some favorite combinations. One of my favorite mixtures is stir-fry. I use about a cup and a half to fill the burritos. I've listed the approximate amounts of the ingredients here. Typically, I season my stir-fry veggies with freshly ground pepper, sea salt, paprika and cayenne pepper.
1/4 cup brown rice
1/4 cup sautéed onions and mushrooms
1/4 cup chopped kale
1/2 cup cubed tofu (beans are also delicious)
Heat tortilla until soft and warm. Put ingredients along the lower third of the tortilla, fold in sides and roll away from you.
Homemade Tortillas
If you want to get adventurous and make your own tortillas, give it a try. They'll taste better than anything you can buy.
5 cups unbleached flour (I like to use half whole wheat and half unbleached
4 teaspoons baking powder
1 teaspoon sea salt
2 tablespoons vegetable shortening
1 1/2 cups warm water (may not need all of the water)
Place flour, baking powder and salt in a large bowl and stir to mix well. Using a fork or your hands, work in the shortening until incorporated. Add water, a little at a time, until it forms a soft dough.
Lightly flour your work surface and place dough on surface. Knead for about five minutes until dough is smooth and elastic. Divide dough into small pieces (about 1/4 cup) and roll each into a ball.
Using a rolling pin, roll into thin circles about an eighth of an inch thick. Heat a skillet, preferably cast iron, to medium high. Place one tortilla into the heated skillet and cook for one or two minutes or until top gets bubbly. Turn and heat other side for a minute. Remove from skillet and keep warm wrapped in a clean kitchen towel. Repeat with remaining dough.
Get Up and Go Oatmeal
What could be easier than waking up to a breakfast that's ready and waiting for you! I use whole oats (also called oat groats) for extra flavor and ease of preparation. Put it on before you go to bed and eight hours later you'll be rewarded with a delicious, creamy bowl of oatmeal that's portable. Spoon the hot oats into a thermal container to take to work.
1 cup whole oats, rinsed and drained
3 cups boiling water
1 cup soy or hemp milk
1 teaspoon cinnamon
Pinch of sea salt
Place all the ingredients in a slow cooker set on low heat. Let it cook overnight or for eight hours. Oats should be tender and creamy. Some variations to try: add a chopped apple, a few handfuls of blueberries, ground flax seed, or a tablespoon or two of peanut or almond butter. Top with some chopped walnuts and a splash of maple syrup.
Stuffed Potato
Whenever I heat up the oven, I always toss in a potato or two for the following day. An easy lunch or light dinner is only minutes away when you have a baked potato ready. I like to top the potato with whatever veggies are left over from dinner. If you like creamy, cheesy sauces, you'll love this recipe. This recipe was given to me by a friend and it's been a favorite ever since.
Sauce
1 cup nutritional yeast
2 tablespoons Dijon mustard
1 tablespoon whole wheat flour
1 cup unsweetened soy milk
1 teaspoon onion powder
1/2 teaspoon garlic powder
1/2 teaspoon salt
Add all ingredients in a sauce pan and cook over medium heat. Stir frequently until mixture is thick. Heat potato, split and top with your leftover veggies. Spoon hot sauce over veggies. Note: this is also great spooned over brown rice topped with your favorite veggie mixture.
Noodles with Peanut Sauce
Peanut noodles are a favorite of ours. We'll serve it over any type of noodle, but our favorite is soba noodles tossed with some veggies and topped with this sauce. Just cook your favorite noodles (toss in some veggies and cook along with the noodles if you like), drain and place in a serving dish. Top with the sauce.
1/4 cup soy sauce
1/8 cup brown rice vinegar
1/2 cup veggie stock
1 tablespoon maple syrup or 3/4 tablespoon sugar
1/2 teaspoon sea salt
1-inch piece fresh ginger
1 cup peanut butter
2 tablespoons toasted sesame seed oil
1/2 teaspoon paprika
1 teaspoon hot pepper sauce
Combine all ingredients in a blender or food processor and puree until smooth. Serve immediately over hot noodles or chill. If chilling for later use, bring to room temperature before serving.
Baked Apple Dessert
I love the flavor of baked apples, but I don't like coring them. And I don't always have the patience to get it just right. So I take a shortcut and just cut them in half. They're easier to core and I like the end result better. Preheat oven to 350 degrees.
1 apple per person, cut in half lengthwise and cored
1–2 teaspoons sugar per apple
1/2 teaspoon cinnamon per apple
1/2 teaspoon vegan butter per apple
Lightly coat a baking dish with cooking spray. Add enough water to dish to barely coat the bottom. Place apple halves in dish, cut side up. Mix sugar and cinnamon and spoon onto each apple half. Place a bit of the butter on top of each apple half. Bake in oven for about 15 minutes or until soft, but not mushy. Time will vary depending on type and size of apple used.
Michelle Hirsch lives in southern NH and teaches whole foods cooking throughout New England. She is a graduate of the world-renowned Kushi Institute where she also worked developing curriculum. Michelle is the author of Venturesome Vegetarian and can be contacted at mphirsch@yahoo.com.