Whole Foods Healthy Cooking: One Pot Wonders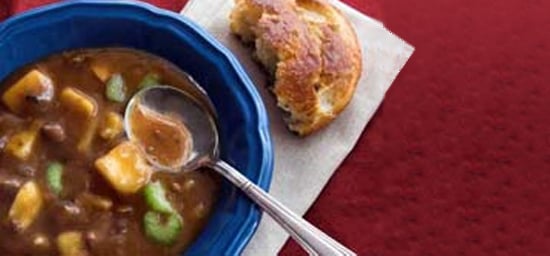 Last week a colleague of mine excitedly showed me a new diet she found. It promised rapid weight loss by eating fast foods like donuts, potato chips, cheeseburgers and frozen meals. "It's so convenient," she gushed. "This is really going to work for me. It doesn't require any cooking."
Most of us feel tugged in so many directions we're often not sure which day it is and preparing dinner or packing a lunch can be the last thing that comes to mind as a great thing to do. If cooking rarely makes it on your "to do" list, you're likely shortchanging yourself in more areas than one. It's not a problem if it's an occasional thing; we all need a break now and then. It does become a problem when take out and processed foods become the norm. The effects of such a diet may not be immediately noticeable, but it does accumulate over time, taking its toll.
According to Dr. David Ludwig, director of the Optimal Weight for Life program at Children's Hospital in Boston, "Most children in the United States have fast food at least once a week and it's served in enormous portion sizes." He notes that "typical fast food meals are high in refined starch and added sugar (and) also have a high glycemic index, which, according to some studies,…can increase hunger and make a person want to eat more throughout the day." In his Surgeon General Report, former Surgeon General Dr. C. Everett Koop noted that the American diet is the cause of approximately two-thirds of the deaths due to disease in America, notably, coronary heart disease, stroke, arteriolosclerosis, diabetes, and some types of cancer. He states that Americans are not starving from lack of food as they are in many other countries. They are malnourished by simply not eating the proper food.
What we choose to eat does matter and it needs to be a priority in our lives. In past columns I've written about the importance of eating locally and selecting foods that are in season. It truly is one of the best ways to receive maximum health benefits from food. Mother Nature does know best. Foods grown following sustainable agricultural practices and in accordance to nature's cycles provide inhabitants of each region with the nutrition they need throughout the year. There's a reason why strawberries in November do not offer the same taste and nutritional value that they do fresh from the fields in July.
Luckily, winter is the perfect season to create new habits. Following the rhythm of the season, just as nature slows things down and gathers energy for spring, it's time for us to spend more time indoors and slow down the pace of everyday life. It's an ideal time to connect with family and a fun way to do that is over food. Turn off the TV, open the refrigerator and explore your options. Cook together. Cooking isn't something we can afford to do when and if there's time; there'll always be something else. Make connecting with those you love and the foods that influence health a priority.
Here's a formula for what I call "one pot wonders" that makes it easy. No fancy gadgets or equipment required! Just keep your kitchen stocked with some essential ingredients and you'll have an endless variety of dishes ready in less time than it takes to get fast food. All the recipes in this issue include very similar ingredients and cooking techniques. Stock up on some basic ingredients and create a variety of great meals with very little effort.
Stocking Your Kitchen for Winter
As you shop, keep an eye out for what looks fabulous that day. Build your inventory as you go. Add at least one new item every shopping trip and experiment with various combinations. Most ingredients in a winter pantry have a long storage time, so you'll be set for at least a week's worth of great meals.
Oils
Incredible variety of flavors and colors and a key ingredient for taste and nutrition
Olive — virgin olive oil is best for sautéing, extra virgin is delicate and best for dressings
Dark sesame — rich, smoky, nutty flavor; use to sauté, in sauces or to add flavor to soups (sprinkle a few drops in your bowl)
Coconut — buy virgin organic coconut oil; it's one of the tastiest and healthiest cooking oils you can buy. I use it for most stir frying and for popping corn.
Avocado — nutty, buttery flavor; use to sauté and in dressings
Seasonings
Add flavor and nutrition to dishes; mix and match to come up with your favorite combinations.
Curry powder — largely composed of turmeric; reputation for improving mental functions. Use it to turn your veggie dishes into a curry.
Turmeric — aids digestion of protein and is a natural antibiotic
Cinnamon — studies show it helps regulate blood sugars
Bay leaves — adds great flavor; remember to remove before serving
Thyme — natural antiseptic, nutrient rich, helps with respiratory problems, contains a variety of flavonoids
Oregano — great flavor and aroma, antibacterial, antioxidant; thought to be the most antioxidant rich food of all
Nutmeg — use in any dish with greens to really bring out the flavor; aids indigestion, lowering cholesterol
Paprika — the richest source of natural carotenoids and natural capsanthin
Cumin — peppery, nutty flavor and a good source of iron
Sea Salt — use the mineral rich organic sea salt available in health food stores; table salt harms, sea salt heals
Pepper, fresh ground — stimulates the taste buds, improves digestion, antibacterial, stimulates breakdown of fat cells
Miso — rich in antioxidants and protective fatty acids, vitamin E, protein and vitamin B12 along with a variety of minerals that help boost the immune system
Vegetable Stock
Canned/jarred: diced tomatoes, tomato sauce, olives, beans (chickpeas, black, pinto, kidney, cannelloni, or other favorites)
Dried: mushrooms (shitake, wood ear), grains (brown rice, brown rice pasta, whole wheat pasta),
Fresh essentials: onions, ginger root (store in freezer and grate as needed), garlic
Fresh veggies: winter squash, cabbage (red, green, Savoy, bok choy), root veggies (parsnips, carrots, potatoes, sweet potatoes, rutabaga, turnips)
Greens: spinach, collards, kale, chard
Proteins: seitan, tofu, tofu products (sausages, meat balls, burgers), tempeh
Thickeners: kudzu, arrowroot
Once you're well stocked, the fun begins. Open the fridge and cupboards and go for what appeals to you. Follow these simple steps, get adventurous and mix and match your ingredients for some of the best tasting soups and stews you've ever had.
Cooking basics:
Heat oil
Saute onions and garlic
Add carrots
Add stock
Add primary ingredients
Bring to a boil
Reduce to simmer
Add spices/seasonings
Stir and serve
3F Soup
Fast, fabulous and flavorful — it's everything a good soup should be. It should take 50 minutes from start to finish. And you'll have extra for a no-prep lunch the next day.
2 tablespoons olive oil
1 large onion, chopped
2 cloves garlic, chopped
1 large carrot, sliced
2 cups winter squash cubed, unpeeled if organic (my favorite is Red Kuri)
6 shitake mushrooms, sliced, stems removed
4 cups vegetable stock
1 15 oz. can diced tomatoes
1 15 oz. can black beans
4 oz. brown rice spaghetti, broken into short lengths
4 cups savoy cabbage, thinly sliced
1 cup corn kernels
1 cup broccoli, chopped
Salt and pepper to taste
Heat oil in Dutch oven and add onions and garlic. Saute for 3 minutes. Add carrots and sauté for another 3 minutes. Add squash, mushrooms, vegetable stock, tomatoes and beans and simmer for 15 minutes. Add remaining ingredients, stir well and simmer another 15 minutes.
New England Baked Beans
2 tablespoons olive oil
1 large onion, chopped
1 medium carrot, finely diced
2 tablespoons ginger, finely grated
3 cloves garlic, minced
6 cups beans (use your favorite variety, or mix and match a variety of them; just drain and rinse)
1/2 cup tomato sauce
1/2 cup sweetener (your choice: molasses, brown sugar, brown rice syrup or maple syrup)
1/2 cup applesauce
1 teaspoon Dijon mustard
1/2 teaspoon thyme
1/4 teaspoon cinnamon
2 bay leafs
12 gingersnap cookies, crushed
Preheat oven to 350 degrees. Heat oil in medium skillet and sauté onions, garlic and carrots for 5 minutes or until tender. While sautéing, mix all other ingredients in a casserole dish. Add the onion mixture and stir well. Bake in oven for 45 minutes. Remove bay leaves and serve.
Mmmm…Moussaka
Put on the brown rice and then begin the moussaka. Both will be done and ready to eat in 45 minutes.
2 tablespoons olive oil
3 large onions, halved and thinly sliced
2 cloves garlic, minced
3 carrots, sliced
1 cup vegetable stock
3/4 cup barley
2 potatoes, halved and sliced
2 eggplants, cut into 1" cubes
3/4 tsp. oregano
3/4 tsp. cinnamon
3/4 tsp. thyme
2 cups tomatoes, diced
1 cup mushrooms, sliced
2 cups chickpeas
Salt and pepper to taste
Heat oil in a large pan over medium heat. Saute onions and garlic for 2 minutes. Add carrots and sauté another 2 minutes. Add potatoes, eggplant, cinnamon, oregano, thyme, barley and vegetable stock. Bring to a boil. Reduce heat and simmer, uncovered for 5 minutes. Add tomatoes, mushrooms and chickpeas and continue cooking until thickened, about 10 minutes. Season to taste with salt and pepper. Serve over brown rice.
Winter Stew
2 tablespoons olive oil
1 large onion, chopped
1 clove garlic, minced
1 red bell pepper, diced
4 cups vegetable stock
1 sweet potato, cut into 1" cubes
3 large carrots, sliced
1 teaspoon cumin
1/2 teaspoon paprika
1/2 teaspoon nutmeg
3 cups kale, chopped
1 cup corn kernels
10 oz. firm tofu, cut into 1" cubes
Salt and pepper to taste
Heat oil in a large pot over medium heat. Saute onion, garlic and red pepper about 3 minutes, or until onions are transparent. Add stock and everything else, except for the tofu. Bring to a boil and simmer for 15 minutes. Add tofu and simmer another 5 minutes. Season to taste.
S.O.B. Casserole
Sausage, olive and bean casserole of course! Make a big batch Sunday night and reheat for Monday's dinner. It's rich in flavor, more flavorful the next day and so much better than any take out. This will make enough to feed four hungry people with enough left over to bring for lunch the next day.
3 tablespoons olive oil
2 large onions, chopped
1 carrot, chopped
1 package Fakin' Bacon, chopped (available at natural food stores, it adds a nice, smoky flavor)
1 lb. vegan sausage links, sliced one half inch thick
2 tablespoons whole wheat flour
8 oz. tomato puree
2 cups vegetable stock
1/2 cup olives, pitted and sliced (I like kalamata, but use whatever you prefer)
3 cups cannelloni beans, drained and rinsed
1 cup mushrooms, sliced
3 bay leaves
pepper to taste
Heat oven to 350 degrees. While oven heats, heat olive oil over medium heat in a large stove top safe casserole dish (or an oven proof pot). Saute onions and carrot for 2 minutes. Add Fakin' Bacon and sauté another 3 minutes. Toss in sliced sausages and sauté until browned, about 3 minutes. Sprinkle flour over the mixture and cook for 1 minute, stirring constantly. Add remaining ingredients and bring to a boil. Cover casserole and bake in oven for 20 minutes.
Michelle Hirsch lives in southern NH and teaches whole foods cooking throughout New England. She is a graduate of the world-renowned Kushi Institute where she also worked developing curriculum. Michelle is the author of Venturesome Vegetarian and can be contacted at mphirsch@yahoo.com.