Whole Foods Healthy Cooking: Spring Cooking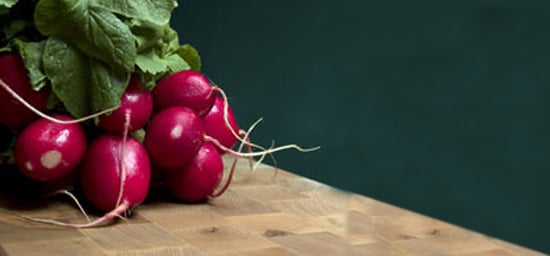 Ah, spring! While it's not the height of produce season in the Northeast and farmers markets are still a distant memory, it IS an exciting season. Seed catalogs are abundant, offering the promise of a luscious bounty a mere few months away.
As the last remnants of winter fade it's exciting to spot young, green plants emerge from the ground. And, as the brighter days of spring peek over the horizon, our appetites transition to a craving for lighter fare. Those fragrant, luscious stews and hearty grains that satisfied a yearning last fall are losing their appeal. We begin searching for foods with different cooking styles and ingredients. Be aware of the changing of the seasons. Days are becoming longer and nature nudges plants awake. Take notice of which vegetables and fruits are growing. Eating what's growing in your area during any season helps the body adjust to the season and makes for a healthier choice.
It can be challenging at this time of year to create meals in sync with the season. Winter produce is gone and not much is ready to harvest. With a little work, harvest-fresh ingredients bursting with flavor and nutrition can be found. Check out farms in your area for those offering early crops.
Some things to consider adding to your spring kitchen include:
Pea shoots — These are the tender uppermost leaves of young pea plants. The flavor is fresh and sweet and perfect for stir fries (add at the last moment, just before serving; they're that tender!), sautéing with other greens with a bit of garlic, salt and pepper or tossing into salads. Wash right before using or they'll wilt.
Radishes — Spring radishes have a milder flavor than most winter radishes and can add great flavor to any dish. Remove the green tops prior to storing in the refrigerator to maximize flavor and shelf life. Use the greens in soups or sauté with other greens. Very delicious.
Arugula — A nice, fragrant salad green and one of the first crops to pop up in spring. It will add a crisp, fresh flavor to the dish.
Rhubarb — Usually ready to harvest by late April it's a great choice for sweet and savory dishes. Most people are familiar with it as an ingredient in strawberry rhubarb pie, but it's so much more versatile than that. Only eat the stems; the leaves are poisonous.
Asparagus — Actually a member of the lily family (like onions, garlic and leeks), it's a good source of vitamin C and can be grilled, steamed, boiled and stir-fried. Maximum cooking time for these veggies is around 8 minutes. After that they begin to lose their flavor, gorgeous color and nutrition. Eat them during spring when the flavor is at its peak.
Watercress — Great in soups, salads and stir-fries it's a great source of iron and calcium and vitamins A and C. Toss a handful on a sandwich instead of lettuce for a flavor boost.
Lettuces — With such variety it's difficult to run out of options. Combine a variety of lettuce varieties and toss with a simple vinaigrette dressing. Top with a few roasted walnut pieces and you have a delicious starter to any meal. For maximum flavor, choose local freshly harvested leaves.
Couscous — Think of it as baby spaghetti. Like all other pastas it doesn't have much flavor on its own, but it make a great foundation for other ingredients. It's one of the ultimate convenience foods; just stir into boiling water and wait five minutes.
Nutmeg — Delicious in sweet and savory dishes, it's a flavor that complements any green and helps digestion.
Lighter cooking styles — Spring is a time for adding new recipes and cooking styles to meal preparation. Include more steamed and stir-fried dishes.
Mirin — A mild cooking wine made from rice that adds a light sweetness to any dish. It's used in marinades, soups, sauces and salad dressings and is the main ingredient in quality teriyaki sauce.
Arugula Salad
Tasty, easy and always a favorite spring salad at our house. To toast nuts, place in a heavy, dry skillet and cook until they release a wonderful nutty fragrance. Remove from heat and cool.
5 cups arugula leaves, washed and dried
20 cherry tomatoes, cut in half
3 tablespoons pine nuts, toasted
3 tablespoons walnut pieces, toasted
4 cremini (baby portobella) mushrooms, sliced
2 tablespoons olive oil
1 tablespoon rice vinegar
sea salt and freshly ground black pepper to taste
Toss all ingredients in a large salad bowl and gently toss to coat all the leaves lightly.
Sautéed Arugula
This is great on it's own and is fabulous tossed with some cooked whole grain pasta.
1 tablespoon olive oil
1 cup mushrooms, thickly sliced
1 onion, diced
4 cloves garlic, chopped
1/4 cup mirin
1/4 teaspoon sea salt
1/8 teaspoon chili pepper flakes, or to taste
1/2 teaspoon oregano
1/2 teaspoon rosemary
8 cups arugula, washed and dried
1/8 teaspoon nutmeg, freshly ground
Heat oil in pan over medium high heat. Toss in mushrooms, onion and garlic and sauté for about 3 minutes, stirring continuously. Add the remaining ingredients. Taste and adjust seasonings.
Hoisin Tofu
I love making this. It's a favorite for dinner and there's always the reward of leftovers for a sandwich for lunch the next day. Just pack it into a container and, at lunch, toss it into a pita pocket with some baby lettuce.
1 14-ounce package extra firm tofu
3 tablespoons organic cornstarch
avocado oil, enough to fry tofu
3 tablespoons hoisin sauce
2 scallions, chopped
Cut tofu into 1/2 inch cubes. Dredge tofu in cornstarch and coat evenly. Add enough oil to pan so that it's one-half inch deep. Heat oil over medium high heat and fry tofu for 5 minutes or until golden and crispy —be sure to turn over as it crisps to brown all sides. Drain on paper towels. Place in serving dish and drizzle with hoisin sauce. Garnish with chopped scallions.
Quick Homemade Hoisin Sauce
To make your own delicious hoisin-type sauce, just toss these ingredients together. Use it to add flavor to stir fry dishes, rice or veggies. A fabulous meal is only minutes away by tossing some seitan into your favorite stir-fry veggies and adding hoisin sauce to taste. Garnish with chopped scallions.
4 tablespoons shoyu or soy sauce
2 tablespoons almond butter (can substitute peanut if almond isn't available)
1 tablespoon brown rice syrup
2 teaspoons rice vinegar
1/8 teaspoon garlic powder
2 teaspoons toasted sesame seed oil
1/4 teaspoon Chinese-style hot sauce (or to taste)
Freshly ground black pepper to taste
Place all ingredients in a small bowl and whisk until well blended.
Fresh Asparagus Soup
A creamy, satisfying soup that's quick to make and perfect for a light spring meal. Add a chopped Yukon Gold potato along with the asparagus to make it a more substantial meal.
1 pound fresh asparagus, cut into 1-inch pieces
1 3/4 cup vegetable stock
1 tablespoon vegan butter or olive oil
3/4 cup onion, chopped
1 tablespoon sea salt
1/2 teaspoon freshly ground pepper
1 cup almond milk, unsweetened
1/2 cup plain soy yogurt
1 teaspoon lemon juice
Heat 1 cup vegetable stock in a saucepan, then add the asparagus. Bring to a boil and then simmer for about 5 minutes or until asparagus is tender. While asparagus is cooking, melt vegan butter or oil in a sauté pan and add onions. Add salt and pepper and sauté until onions are transparent. Add to the asparagus and stir while bringing to a boil. Reduce heat to simmer. Add almond milk, remaining stock, yogurt and stir. Add lemon juice. Blend thoroughly using an immersion blender or place mixture into a blender or food processor and puree until smooth and creamy.
Fresh Spring Greens Soup
This is a very versatile, refreshing soup. Search for the freshest in-season greens you can find and try different combinations. Don't overlook the fabulous flavor and nutrition packed in the green tops of some of your favorite veggies. The greens that some folks toss make some of the best soups! I love using a combination of daikon and carrot greens along with some kale. If you're lucky enough to have pea shoots available, use them as a garnish. They'll add visual interest, great taste and a nutritional boost.
1 tablespoon vegan butter or olive oil
2 potatoes, chopped (leave skin on)
1 onion, diced
1 clove garlic, chopped
4 cups vegetable stock or water
4 cups greens (radish, arugula, kale, etc.), washed and coarsely chopped
juice of half a lemon
Dash of nutmeg, freshly grated
Sea salt and freshly ground pepper to taste
Heat oil or vegan butter in a large pot over medium high heat. Add the potatoes, onion and garlic and cook for 5 minutes, stirring occasionally. Add stock and greens. Cook about 10 minutes. Potatoes should be soft and the greens wilted. Stir in lemon juice and nutmeg. Puree with an immersion blender (food processor or blender will also work). Add salt and pepper to taste.
Rhubarb Couscous
Looking for a little adventure? Try using rhubarb for something other than a dessert. It's fast, easy and tastes great as a side dish or as a topping for a bed of crisp, fresh greens. It makes a satisfying salad.
1 recipe couscous, prepared
1 tablespoon olive oil
1/2 cup onion, chopped
1 clove garlic, chopped
2 cups rhubarb, chopped
1 small apple, cored and chopped
1/4 cup apple juice, unfiltered/organic
1 teaspoon cinnamon
1/8 teaspoon cayenne pepper
1 teaspoon lemon juice
3 tablespoons brown rice syrup
1 teaspoon soy sauce
4 tablespoons sliced almonds
Fresh parsley sprigs for garnish
In a sauté pan heat oil over medium high heat. Add onion and garlic and sauté until tender. Add the rhubarb and sauté for 5 minutes. Add apple, apple juice, cinnamon, cayenne and lemon juice. Cover pan and cook for another 5 minutes. Add brown rice syrup and soy sauce and stir. Fluff couscous and toss in rhubarb mixture.
Basic couscous preparation:
1 cup couscous
1 1/2 cups water or vegetable stock
Salt and pepper to taste
Bring water/stock to a boil in a saucepan. Stir in couscous and add sea salt. Remove from heat and let stand for five minutes. Season to taste.
Rhubarb Rhapsody
Rhubarb is a vegetable that is commonly used as a fruit. It's a good source of fiber, potassium and vitamin C. Add a few tablespoons of rhubarb in the bottom of a parfait glass, add a scoop of lemon or strawberry sorbet and top with an additional tablespoon of rhubarb and a few slivered almonds. YUM!
2 pounds rhubarb, cut into 2 inch pieces
1 cup sugar (or other sweetener such as one half cup apple juice concentrate)
1 tablespoon lemon juice
splash of vanilla
Place all ingredients, except vanilla, in a saucepan and cook over medium heat, stirring occasionally, until the sugar dissolves and the rhubarb is tender, about 8 minutes. Remove from stove and stir in vanilla. Place in serving bowl, cover and chill for several hours before serving.
Michelle Hirsch lives in southern NH and teaches whole foods cooking throughout New England. She is a graduate of the world-renowned Kushi Institute where she also worked developing curriculum. Michelle is the author of Venturesome Vegetarian and can be contacted at mphirsch@yahoo.com.