Whole Foods Healthy Cooking: Summer Cooking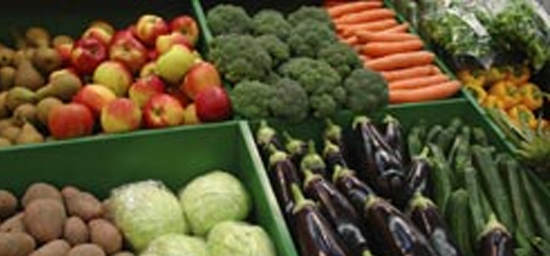 "Nature transitions from one type of energy to another and it signals our bodies to transition in harmony with it. Each season should result in a change of food choices and cooking styles that help balance the energy of the season." — Michelle Hirsch
Ah, summer! This is the season that makes me happiest. To me, it's the time to move as many activities outdoors as I can and take in as much fresh air and sunshine as possible: reading to children sprawled on a blanket under a big shade tree; playing games with family and friends on the lawn and relaxing with a refreshing cool drink afterwards; meditating in a beautiful garden. Summer rewards us with guiltless hours spent relaxing in the shade, and gardens bursting with scents, colors and promise.
We've emerged from the darkened days of winter and are ready for a new energy. In summer, yang energy (heat) increases and yin energy (cool) decreases. As temperatures increase, our environment becomes lush with cooling green plants, refreshing flowing streams and the relaxing fragrance of flowers. Nature transitions from one type of energy to another and it signals our bodies to transition in harmony with it. Each season should result in a change of food choices and cooking styles that help balance the energy of the season.
The yang energy of summer is balanced by the yin energy of things like crisp, cool lettuce, quick cooking methods and light, refreshing meals. Get up early and visit the local farmer's market. Allow yourself the luxury to be seduced by the sight and scent of freshly picked produce. Select a variety of flavors, textures and colors. Involve your children and bring them along. Talk to the farmers. We truly are what we eat and a connection between the real food heroes — the farmers — and those who consume the food is sadly missing for many.
I was teaching a class not long ago and, during a discussion of root vegetables, had to explain how they grew. There were many adults in the audience who did not understand that these vegetables grew under the ground. We should know about the foods we choose to consume. Everything we eat becomes part of us and our cellular structure. Involving children early and often in making food choices and preparation helps set them up for healthier choices for life.
Moving activities outdoors in summer includes cooking. Grills are a great way to make it fun and flavorful. Great grilling doesn't have to be about chicken, burgers or franks. Try these recipes for tasty alternatives. It's a healthy way to cook that's full of flavor and everyone can take part. So, toss a colorful tablecloth on a table outdoors and enjoy food, family and friends.
The Foundation
I like to start with a foundation for the meal. Two easy choices are couscous or flat bread. Can't decide? Make both! They both take about five minutes to make and are delicious. You can use the bread to heap on fillings and make a wrap, munch on "as is," or make into a pizza topped with grilled veggies. The couscous can become transformed by tossing in the grilled veggies and condiments. Leftovers are great the next day.
Couscous
Buy a package of whole wheat couscous and follow package directions. It's almost instant food. When I make it (for three people) I use:
1 cup couscous
1 and 1/4 cup water or vegetable stock
1/4 teaspoon sea salt
1 tablespoon olive oil
Bring water (or stock) to a boil. Add couscous, salt and oil. Stir quickly, cover and remove from heat. Let sit for five minutes and fluff with a fork. Serve.
Flat Bread
Make your favorite whole wheat bread dough recipe or buy a high quality whole grain dough already prepared. Pull off pieces of dough and roll into 8-inch circles. Brush one side of dough with olive oil and place on grill, oiled side down. Grill for about 2 minutes. While grilling, lightly brush with olive oil. Using tongs, turn and grill other side for 1-2 minutes.
The Seasoning
Adding flavor to grilled foods is easy and can be done in many different ways.
Toss some citrus peels on the coals towards the end of cooking
Toss some unpeeled garlic cloves over the coals
Teriyaki sauce brushed over veggies
Simple vinaigrette (mix all ingredients in a jar and shake)
1/4 cup olive oil
1/2 cup balsamic vinegar
2 cloves minced garlic
2 teaspoons Dijon mustard
2 tablespoons orange juice
2 teaspoons oregano
2 teaspoons thyme
1/4 cup apple juice
1/2 cup rice wine vinegar
3 tablespoons sesame oil
2 tablespoons shoyu or soy sauce
2 green onions (scallions) diced
Have marinating bowls or zip lock bags available to use to marinate items in.
The Condiments
I like to set out a variety of "add on" ingredients for people to create their own masterpieces. Usually, I'll include the following served in either small bowls or containers made out of hollowed out vegetables:
Chopped olives (kalamata or a combination of a variety of olives)
Chopped fresh parsley
Chopped roasted walnuts
Chickpeas
Chopped scallions
Lemon wedges
Crisp leaves of lettuce or baby lettuces
I'll also set out a bottle of olive oil and balsamic vinegar and salt/pepper.
The Star Attractions
These are the stars of the meal — the fruits and veggies selected at the farmers market and prepped outdoors while chatting with friends. Everyone takes part. Wash all produce items and have knives and cutting boards available for people to use as needed. Use skewers or a vegetable-grilling basket to cook.
Asparagus:
Remove the bottom third of stalk by snapping off where it naturally wants to break. Skewer by inserting stick into bottom and pushing it towards top, one skewer per asparagus, or line up four asparagus spears side by side and skewer with one stick near the bottom and one near the top so they're held together. Marinate for one hour in your favorite marinade (if skewered, allow space for skewers in marinating container or bag). Grill for 4-5 minutes or until tender; turn half way through
Eggplant:
Cut into one inch thick slices. Brush with marinade. Grill for 15 minutes. Turn and grill another 5 minutes.
Portobello mushrooms:
Remove stems. Brush with marinade or place in bag or container and marinate for 30 minutes. Place on grill gill side up and grill for 10 minutes. Turn and grill for another 5-10 minutes.
Sweet potatoes:
Cut into wedges. Brush with olive oil. Grill 5 minutes on each side.
Artichokes:
Remove from jar and drain. Place on skewer and grill for 15 minutes, turning halfway through.
Onions: Slice into one-inch slices. Brush with marinade. Grill for 15 minutes.
Tofu:
Cut into thick slabs or steaks. Soak off excess moisture with paper towels or clean kitchen towels. Marinate for an hour. Grill for 5 minutes each side
Kabobs:
Alternate one inch slices of summer squash, zucchini, whole button mushrooms, pineapple chunks, grape tomatoes, etc. on a skewer. Marinate for an hour. Grill, turning several times until tender.
Fruit:
Cantaloupe
Cut cantaloupe into bite sized pieces. Make a marinade of equal parts brown rice syrup and vegan "butter." Place cantaloupe pieces on skewers and brush with marinade. Grill for 4-5 minutes, turning once.
Peaches
Cut in half and remove pit. Coat cut side with vegan "butter," brush lightly with brown rice syrup and sprinkle with cinnamon. Grill for 2 minutes.
Bananas
Grill whole or cut in half lengthwise (place cut side down for first minute then turn). Place on grill for 2 minutes
Pineapple
Cut pineapple into one half inch slices. Grill plain or brush with vegan "butter," brown rice syrup and cinnamon.
Fruit dip
Dip into fruit flavored or plain soy yogurt. Or, line a small strainer with a coffee filter, place over a bowl and fill filter with yogurt. Cover and place in refrigerator overnight. The liquid will drain out of the yogurt and you'll have a thick, creamy dip for yogurt kabobs.
Grilling Hints
Cook fruits over low heat (when coals are burning out).
Cook vegetables over medium heat.
Coat grilling surface with oil before setting food on it.
Soak wood or bamboo skewers on water for about an hour before using to prevent burning.
Set out the platters of grilled veggies and tofu and bread, set out bowls of condiments, and let everyone build their own spectacular sandwich or couscous salad!
Michelle Hirsch lives in southern NH and teaches whole foods cooking throughout New England. She is a graduate of the world-renowned Kushi Institute where she also worked developing curriculum. Michelle is the author of Venturesome Vegetarian and can be contacted at mphirsch@yahoo.com.