Whole Foods Healthy Cooking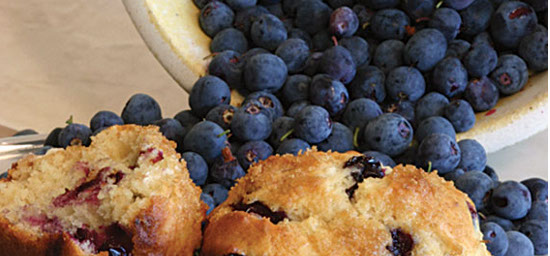 Have you ever had one of those weeks when everything and everyone in your household seemed to be operating on overdrive? Maybe you've even had a few of those weeks back to back like I've recently experienced. Last Saturday evening the only energy I had left was to drop onto the sofa and stare at the book I was attempting to read. Too tired to pick it up, I closed my eyes and started to wonder how things got to this point. It's so easy to lose one's sense of time and priorities. Conversations had become shorter, meals were faster and the front door seemed to morph into a revolving door. Clearly, it was time to hit the "pause" button. Sometimes that's easier said than done.
I thought about how long it had been since we'd gathered as a family and just enjoyed each other's company. No holiday, no special occasion — just because we genuinely like being with one another. I remembered the Sunday dinners of my childhood. Every Sunday, like clockwork, we drove to my grandmother's home and spent time catching up on what was happening with everyone, eating great food and doing things we enjoyed. Seeing one another brought us closer. There was something secure and inviting about those visits. And, the simplicity of just being together made those times memorable.
After choosing to hit the "pause" button, the dilemma was how to do it. I wanted my family to be able to look back with fond memories of those informal times we spent together as a family and ensure we continued traditions we valued. We may have taken a few detours along the way, but we found a way back to the path we started on. Our first course of action was to think about what we enjoyed most. That seemed fairly easy. We happen to be a family of readers. We'll look at a stack of books, magazines or newspapers and our eyes widen with anticipation at what we'll discover. Actually, we're readers with a passion for great tasting food. And Sunday mornings won out as our favorite time. So, a new twist on an old favorite took shape. Our new family tradition is Sunday brunch.
We gather as a family, put our schedule on pause and relax with one another for a few hours. We have Sunday newspapers to read, discussions about articles we've read and children's books to read aloud. Our thing happens to be reading, and it's our activity of choice, but we've included other favorites into our brunch. Everyone gets a turn to pick a theme, or activity for our Sunday get-together. Our youngest member recently selected Legos as an activity and we spent the time building a castle. We had a great time allowing the youngest child to be the architect of the project and helping him create the castle of his dreams. He was beaming.
Others have selected board games or movies and one is planning an al fresco brunch once the weather allows. Whatever your thing is, make it a family tradition and build memories. Committing to a few hours each week is a small investment that yields huge returns. Establishing a set time makes it easier to plan and getting everyone's input on what the family time looks like helps ensure everyone finds it rewarding.
And, of course, there's the food! The menu varies according to the season and prep takes a little more time than tossing a pastry tart into a toaster, but the return on the investment is worth it. To make things easier and more relaxed, I set out the plates, glasses, cups and utensils on the table the evening before. Our menu always changes, and we'll sometimes have food themes or a hodge-podge of our favorite dishes. Quick and easy choices can be a variety of cereals (I place them in serving bowls along with ladles for serving) with an assortment of yogurt, soy, almond and hemp milks and cut fruit and berries. Put out some parfait glasses and a simple cereal breakfast takes a whole different twist. Our recent brunch included:
Pitcher of juice
Jasmine Pearl tea/coffee
Pancakes
Basket of biscuits or muffins
Scrambled tofu
Home fries
Fresh fruit
Biscuits
Biscuits are an easy treat that we reserve for our Sunday brunch. They're delicious hot out of the oven as is or spead with blackberry jam. For variety, add a half teaspoon of cinnamon, a pinch of nutmeg and a cup of leftover (or canned) mashed sweet potato to the dough and lightly sprinkle the tops of biscuits with brown sugar before baking.
2 cups unbleached flour 1 Tbsp. baking powder 1/2 tsp. sea salt 4 Tbsp. cold soy butter 3/4 cup soy milk
Preheat the oven to 450°F. Mix dry ingredients in a medium size bowl. Using a pastry cutter or a fork, blend the soy butter into the dry ingredients until it resemble fine crumbs. Add the soy milk and mix with a fork just until the dough holds together. Turn dough onto a lightly floured surface and knead for one minute. Dough should be smooth. If it sticks, add a bit more flour. Roll or pat the dough out to a thickness of half an inch. Cut out with biscuit cutter or cut into squares with a knife. Place on a baking pan and bake for 12 minutes or until golden.
Blueberry Muffins
Light, fluffy, versatile and absolutely delicious with a cup of tea. They freeze well, so toss any leftovers in a freezer bag and grab one to take to work for an afternoon tea break.
2 cups flour (try half unbleached white and half whole wheat) 1 tablespoon baking powder 1 teaspoon cinnamon 1/2 teaspoon salt 1/2 to 2/3 cup sugar 1 and 1/2 cups soy or rice milk 1/3 cup applesauce or oil 1 cup blueberries, fresh or frozen
Preheat oven to 375 degrees. Spray or lightly oil muffin pan or use paper liners.
In medium bowl, mix dry ingredients. Add milk and applesauce or oil and blueberries and mix just until dry ingredients are just moist.
Bake about 20 minutes or until a toothpick inserted in muffin comes out clean.
Pumpkin Pancakes
We love pancakes for brunch and as leftovers later in the week. Try something different than topping them with maple syrup. We've used leftover pancakes to make sandwiches and as cake layers for a torte-like dessert. We've also spread them with a nut butter tossed on a banana, rolled it up and eaten it hot-dog style. To add variety, toss in a handful of other ingredients as they cook. After pouring the batter in the pan, and before turning over, add a few tablespoons of chocolate chips, chopped walnuts, berries, etc. These are delicious any way you serve them.
1 and 1/2 cups unbleached flour 2 tablespoons brown sugar (can substitute agave syrup, brown rice syrup or maple syrup) 2 teaspoons baking powder 1/4 teaspoon sea salt 1 teaspoon cinnamon 1/2 teaspoon pumpkin pie spice 1 teaspoon grated orange peel 1 tablespoon coconut or avocado oil (can use applesauce instead) 1 cup canned puréed pumpkin 1 cup plain or vanilla soymilk
Combine the dry ingredients.
Mix oil (or applesauce), soymilk and pumpkin. Add to dry ingredients. Beat just until smooth.
Heat frying pan or griddle over low heat and oil lightly with your favorite oil or spray. Using a quarter cup measuring cup, scoop batter from bowl and pour into pan. If adding nuts, chocolate chips, etc., add now. When bubbles appear, flip pancakes over and cook other side.
Scrambled Tofu
This always goes fast and there's rarely any left, so I usually double the recipe and save half for meals over the next few days. It's a great filling for breakfast or lunchtime burritos; just wrap in a whole grain tortilla along with some brown rice and top with a great salsa. I've also used it to top baked potatoes and added it to soup. Delicious.
1 tablespoon olive oil 1 bell pepper, chopped 1 onion, diced 2 cloves garlic, diced 4 crimini mushrooms, sliced 1 package tofu, extra firm cut into small cubes 1/4 cup nutritional yeast 2 tablespoons chopped fresh basil 1 tablespoon tumeric Sea salt and freshly ground pepper to taste
Heat the oil over medium high heat and sauté the bell pepper, onion, garlic and mushrooms until tender. Toss in the tofu and as you scramble it around, use a fork to crumble tofu a bit. Cook a few minutes until the tofu begins to brown. Add the remaining ingredients and cook for an additional minute.
Breakfast 'taters
I plan on one potato per person unless I want leftovers and then I'll just increase the amount. Our favorite way to enjoy these are fresh out of the oven, but you can also whip up another delicious version by baking some potatoes the day before while you have dinner in the oven. In the morning, just chop up the onions, sauté them in a little olive oil and when they're tender, cut up your baked potatoes and toss in. Add the seasoning and heat until lightly browned.
For variety, I'll sometimes use half Yukon Gold and half sweet potatoes. Or, chop up a few carrots and toss them in with the potatoes. These will add color, nutrition and sweetness.
5 Yukon gold potatoes, cut into 1 inch chunks 2 cloves garlic, chopped (optional) 1 medium onion, chopped 1 to 2 tablespoons olive oil Sea salt and freshly ground pepper 1 teaspoon paprika
Preheat oven to 450 degrees while you prep the ingredients. Toss potatoes, garlic and onions together in a bowl. Add olive oil and toss to coat. Add seasonings and toss. Place on a baking sheet in a single layer and bake for about 15 – 20 minutes.
Michelle Hirsch lives in southern NH and teaches whole foods cooking throughout New England. She is a graduate of the world-renowned Kushi Institute where she also worked developing curriculum. Michelle is the author of Venturesome Vegetarian and can be contacted at mphirsch@yahoo.com.