Wings of Vision: The Story of Peace of Mind Emporium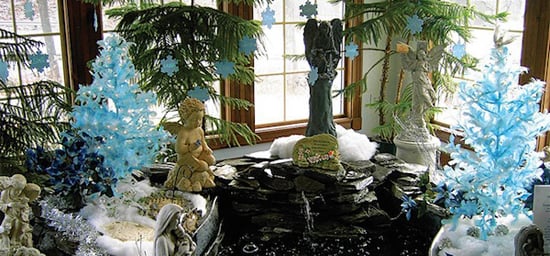 Julie White, RN came to Vermont in 1988 from Cooperstown, NY, with many years' experience in staff nursing, nursing education and management in maternal-child health, pediatrics, family nursing, cancer and hospice. She assisted in creating the Birthing Center at Rutland Regional Medical Center.
By 1992, accumulated life and job stresses had worn Julie down physically, mentally and spiritually, and she entered into a very dark time of her life. She felt as if she had lost herself. Medical care and therapy were helpful, yet there was nowhere to find resources or comfort during this healing process. She knew she had reached a crossroads and had to make a change, but she had always been a nurse. What else could she do? While her artistic abilities were not utilized in her scientific nursing practice, she believed they were separate worlds and not to be shared, as she had been told many years before as a nursing student. What was to be the next phase of her life's work?
Suddenly, without warning, the answer came to Julie. While sitting on her living room couch, contemplating the life yet ahead of her, she looked out her bay window on Feb 12, 1993. There in a blink of an eye, she saw it…
"A room with blue and white walls, soft music playing, wind chimes tinkling, a water fountain with an angel at the center, floor to ceiling windows with small glass panes looking out upon trees and nature, a large peaceful quilt at the entrance, and shelving filled with books and gifts pertaining to the milestones of life and chronic illnesses."
It was a storefront she imagined, run by nurses who would be there to offer comfort and guidance to people going through life challenges or health crisis. Julie remembers that, "at that moment a tremendous sense of peace came over me; an inner knowing, complete calm, serenity. This was what I was supposed to do. I was seeing my future. This place was a fusion of my artistic abilities and my nursing science, a place of wholeness for myself and for others."
She immediately called Barbara Fitzgerald, RN, a colleague who had experienced many spiritual visions throughout her life. Julie wanted her input and expertise in helping her to understand and interpret what she "saw." They met the next day and Julie described her vision. Barbara assured her it was real, powerful and could help a lot of people. Barb, at age 62, was ready to retire and start a new project. She offered her support, labor and commitment.
"But where is this place?" Julie wondered. "Where is there a place that fits the beauty and magical images I saw in the vision?" They both immediately thought of a fairly new building in Rutland, Vermont housing three shops.
"The scenes of the vision fit the west side shop perfectly," Julie said, "but that shop is successful. This vision must be a dream, a fantasy of sorts. It can't possibly be real."
A day later Julie drove up the road to prove herself right. However, the west side shop was vacant. There was a "For Lease" sign on the door. Julie was awestruck. From those moments on, all the details fell into place synchronistically to move Julie and Barb forward in their quest to create this vision into a real store for people who where stressed.
Julie immediately phoned her oldest brother, a former bank president, and asked, "How do I start a business?" He said, "Write a business plan with financial charts, etc. Then take it to a bank for financing. I will send you a book." Julie said, "Ugh!"
A few days later she opened the local newspaper, and turned to the business page, usually one she bypassed quickly. One sentence in the lower left hand corner caught her eye: "For women who want to start their own businesses, call Trinity College Women's Small Business Program. Orientation Night is free and open to all." Julie phoned. The orientation was in one week and the four-month course was beginning in a few months.
During the next months as she fantasized about resigning from her nurse manager role, she moved ahead in the research and planning phases of this new unique business. Turning fantasy into reality is often thwarted, however, not this time. Her next cue came quickly. She was told by her superior that her job was to be eliminated. She was being considered for a higher level administration position. This was a powerful affirmation for Julie that this vision was not to be dismissed. There was no turning back. It was time to make the leap of faith into the unknown. It was time to jump. And jump she did.
By the end of 1993, she had completed a four-month intensive business course and had an 84-page business plan in her hand complete with research, marketing, customer analysis and financial projections. Four bank interviews later, repeatedly hearing, "Very few start-up businesses make it to five years, especially retail, especially owned by women," Julie found the right banker with the right financing. Start-up funds were secured with a SBA loan.
It was a year from the time of the vision until Julie and Barbara were ready and able to commit to a lease for a storefront. Throughout that entire year, the storefront Barbara and Julie wanted miraculously remained vacant. They worked like beavers, learning how to shop for merchandise, paint, haul slate rocks for the Angel Fountain, and coax family and friends into helping their mission. Finally they were ready to open the doors. On 100% blind faith.
Connections and Relationships
Peace of Mind Emporium opened on July 4, 1994. It was one of three businesses in a three-condo building. Word-of-mouth spread. "This was the store where there were nurses…" And it was amazing to see how many different kinds of customers came through the doors: women, men, college and high school students, nuns, teachers, counselors, police, tourists, health professionals, correction officers, mayors, grief-stricken parents, divorcing partners, people living with cancer, hospice workers, and stressed, overworked professionals, moms and dads. Each customer immediately noticed the "aaah feeling" as they came through the door, and usually left feeling more relaxed and hopeful.
Within three months holistic health classes were started. Massage services began within six months. Classes in the loft space grew to 40-50 people, which were designed to hold about 20 people. Nancy Snow, LPN, was hired as an additional nurse, a wonderful colleague and Julie's former star employee from the hospital. Shortly thereafter another highly respected colleague joined the retail and resource staff, Becky Bush, RN, former nurse manager of the hospital cancer unit, nurse educator at the local college and hospice nurse. These four nurses were a powerful force, working tirelessly and joyfully, bringing their many years of health, counseling, and teaching expertise together. Each customer coming through the door was welcomed with a smile and knowing nod.
Some of the most wondrous experiences during this journey were the friendships that developed between the staff of Peace of Mind Emporium and artists, vendors and customers. For instance, simply playing a sample music CD for customers resulted in Julie contacting Los Angeles-based international Steinway recording artist Steve Hall. A phone friendship developed, and over the course of a year, plans were made for the LA-based artist to come east with his band for a fall concert in Vermont. So successful was this event that the group continued to travel to Rutland each October for the next five years. As a result of this connection, over $12,000 was raised for the Rutland County Women's Shelter.
Julie and Steve collaborated on several albums, one with a quilt that Julie made featured on the cover of one of Steve's albums, Treasures and Gifts. Steve and his guitarist, David Patt, composed "Peace of Mind" as a tribute, and recorded it on several best-selling albums. Peace of Mind Emporium customers were so moved by this artists' music that he received many touching letters retelling stories of how his music brought comfort and helped friends and family when faced with life's hardest times.
Every day new adventures presented the Peace of Mind staff with ways to help customers on their life's journeys. Retreat bus trips for customers were planned to the Maine coast, with staff massage therapists and instructors taken along to soothe and entertain all.
Famed guided imagery expert Belleruth Naparstek agreed to come to Vermont and present a workshop on the use of guided imagery with chronically ill patients in hospitals. Vermont-born Christina Tourin, long time harpist at the Trapp Family Lodge, returned to her native Green Mountains to provide instruction and performance in harp therapy for Peace of Mind customers. Christina had become the founder and director of the International Harp Therapy School and Program, based at the San Diego Hospice, which teaches students to learn harp therapy for use in hospitals and hospices all over the world.
In 1999, the vision expanded to include purchase of the entire building and property. Angels, in the form of contractors, appeared and converted the building beautifully into one business. Lovely gardens were planted. Peace of Mind Emporium now had its own permanent home and had evolved into a highly respected and professional business.
The Vision Is Tested
During the expansion phase, Becky Bush, RN, agreed to partner with Julie in helping move the vision forward. They met with Kathleen Johnson, famed astrologer and friend, to determine compatibility in business partnership and visioning. All systems were go. A few weeks later, Becky suffered a ruptured brain aneurysm, resulting in a massive stroke during her surgery. As she lay in a deep coma in intensive care, not one hospital colleague expected her to survive. Her complications were massive. Her family and friends were desolate. Peace of Mind staff rallied and got in touch with every holistic instructor and mentor they had in their file: Reiki students and teachers, psychic healers, massage therapists, angel professors, and more. Christina Tourin, harp therapist, drove immediately to the hospital and used her harp therapy to awaken Becky from her coma, connecting with her resonance tone. Guided Imagery for Stroke, by Belleruth Naparstek, played repeatedly in Becky's room, and Steve Hall's music wafted through the intensive care unit.
Six weeks later Becky left the hospital for rehabilitation. Her mind was intact, yet her body severely paralyzed on her right side, and she was unable to speak. Her sheer will, huge spirit and fierce independence helped her regain her ability to walk and function with much independence. Within three months she returned to work part-time and within a year she moved to Maine to be near family. Her recovery was undoubtedly enhanced by all the connections and relationships made through Peace of Mind Emporium, and the staff still stays in close contact. Her book, "Who Said You Could Die," written just months before her surgery, is on display and sold at the front counter at Peace of Mind Emporium.
A year after her stroke, a copy of the original astrology recording for Julie and Becky was found and played. Indeed there was a sentence on it that indicated within a ten-day period, around April 1st, that Becky could possibly go off a different direction and not partner, yet work in communication and stay involved in the vision in some other way. Her accident was on April 6th, 1999. To this day she remains a courageous, shining spirit and role model for all associated with holistic healing and spirituality. She has learned to communicate in a new way. Her healing is not finished. She is indeed a true partner to Peace of Mind Emporium.
July 4, 2008 marked the fourteenth birthday of Peace of Mind Emporium. Though the other three original nurse staff members have moved into retirement or into the background due to necessary life reasons, the business has continued to grow and keeps presenting new surprises each year. Julie still remains in awe of this whole experience, and is amazed that the business takes care of itself each and every day.
"Throughout the years, I have known in my heart that we have been divinely led. I take my responsibility very seriously as visionkeeper. I stay true to the mission of this very special place, always going to a quiet place to open my heart for God's divine guidance as to what we next need to do. I believe many lives have been enhanced because we are here. Our customers support and encourage us to keep creating wondrous things. I know that the angels are smiling down on us and this wee spot of goodness that we have planted on this Earth. May this place of hope, peace and inspiration, and healing continue to grow and bloom!"
Highlights Through the Years
One fan letter written to pianist Steve Hall in Los Angeles has resulted in five concerts in Rutland raising over $12,000 for the Rutland County Women's Shelter.
Over $8500 in coins have been collected for local charities from the Angel Fountain.
Richard Paul Evans, author of The Christmas Box and originator of the Angel of Hope statues, visits Peace of Mind when Rutland dedicates the 22nd Angel of Hope statue in the United States (August, 2001), dedicated to all parents who have lost children. "Angels Among Us" CD by Steve Hall is dedicated to the Vermont Angel of Hope Statue for families who have lost children.
A Peace Pole and garden are dedicated on the grounds, July 4, 2004, on the 10th anniversary.
Ann Rothan, sacred watercolor artist, Mary Engel, angel professor, and Christina Tourin, founder of the International Harp Therapy School collaborate yearly for Annual Angel Nite held the first Thursday in December.
Hay House Publishing awards Peace of Mind Emporium "Best Promotional Display" in December, 2007 among its 5000 stores in their national contest during Hay House 20th Anniversary Celebration and Julie meets Louise Hay aboard the "I Can Do It" Sea Cruise as part of her prize.
By 2008 over 14,000 massages and health services have been performed by the staff of holistic professionals at Peace of Mind Emporium.
Peace of Mind Emporium is located at 5 US Route 4 East, Rutland, VT, 05701 and is open daily 10-5. Call 802-773-6233, email peaceofm@aol.com or visit www.peaceofmindemporium.com.