Winter 2009 Music Reviews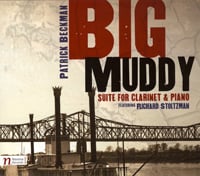 Patrick Beckman
Big Muddy: Suite for Clarinet & Piano
Navona Records NV5815
Written for the remarkably versatile, Grammy-award winning American clarinetist, Richard Stoltzman, the Big Muddy Suite is an irresistibly swinging piece of music. An amalgamation of various musics of the Mississippi Basin, it blends jazz, r&b, classical, and more than a hint of boogie-woogie into a marvelously melodic mix.
The duo of Stoltzman and pianist/composer Beckman improvise like crazy, producing a recording of great spontaneity and verve. A simple look at the movement titles – "Memphis Nightrain," "Bayou Lament," "St. Louie Thunder," "Natchez Hymn/Gigue," and "Catfish Rondeau" — hints at the musical range of this 40-minute, uninterrupted celebration. "St. Louie Thunder" will have you toe tapping, while "Natchez Hymn" will induce a more ruminative mood until it breaks into its jolly gigue. The final "Catfish Rondeau" begins upbeat, and segues into a heart-touchingly nostalgic, bluesy section before swinging its way to conclusion. The enhanced CD includes PDF study scores of the music, two low-resolution QuickTime videos whose sound refused to come through on my iMac, and a small picture gallery. But the music is what Big Muddy Suite is about,and it's a joy. — Jason Serinus
Ray Davies
The Kinks Choral Collection
Decca B0013434-02
Forty-five years after Ray Davies' chart-topping song, "You Really Got Me," put The Kinks on the map, the band's founder, lead singer and composer is back. His delightful new CD, The Kinks Choral Collection, showcases his novel reworkings of Kinks classics. The recording pairs Davies and six other rock musicians with The Crouch End Festival Chorus, a community chorus based in the north London neighborhood where he grew up. This may sound like a recipe for camp, but it's anything but. While retaining their quintessentially English gentility, the chorus' contributions to such classics as "Days," "Waterloo Sunset," "You Really Got Me," and "All Day And All Of The Night" are delicious. There's also a suite of songs from The Kinks Are The Village Green Preservation Society, Davies' late-60s homage to an idyllic England that some consider his masterpiece. One of the most fascinating aspects of Davies' music is its ability to comfortably swing between the nostalgic, hometown feel of "Village Green" and the big city rock of "You Really Got Me." Add in the choir, whose sound has been carefully crafted to complement both genres, and you've got a déjà-vous classic with a freshness too seldom encountered in today's pop universe. — Jason Serinus
Yasmin Levy
Mano Suave
4Q FOT-CD-1817
Singer-songwriter Yasmin Levy, 34, has built an estimable reputation as a champion of Ladino music, the ancient music of the Sephardic Jews of Spain. Singing Ladino, Bedouin and original Ladino-like songs, sometimes spiced with Turkish or Flamenco influences, she is on a mission to preserve and promote a language and culture facing extinction.
Since making her international debut at the WOMEX International World Music Expo in 2002, Levy has released three albums. The first, Romance and Yasmin, was nominated for a BBC World Music Award. Now with Mano Suave, her first album distributed in the U.S., she is set to open ears and hearts to the music of an oft-forgotten culture.
Levy's low-voiced, remarkably flexible throaty instrument sounds like a channel to olden times. Singing of love and longing, even performing an original setting of Psalm 118: 21-22, her highly evocative, wailing delivery cuts across cultural boundaries. One moment you think you're listening to the daughter of a Hasidic cantor, the next you wonder if she may be Iranian or Turkish. Her haunting voice, filled with the heart and passion of a people who have survived centuries of persecution and misunderstanding, is certain to attract a huge following. — Jason Serinus
Paul Avgerinos
Love
Round Sky Music RSM 1012
About Love, there is little to say, and everything to say. Created by an artist whose Grammy nominated music has received several Best Album Awards, it is an all-enveloping wash of sonic bliss. For once the New Age birds and water seem right at home with Love's mix of acoustic, electronic, and synthesized sounds. Avgerinos' chordal progressions are anything but complex, the repetitive patterns reminiscent of music Aeoliah composed years ago, and ethnic musicians have reveled in for centuries. But the beauty that comes with grace is what Love is about, and the beauty is abundant. Kevin Braheny Fortune, who joins Avgerinos on the CD, improvised the melodies for "Love Is," "Oceans of Bliss," "Surrender," and "Healing Touch." Then Paul added his beautiful orchestrations. The nine tracks, which last over 63 minutes, are perfect for massage, Reiki, meditation, or a romantic eve by the proverbial fireplace. Created in Paul's Studio Unicorn, on the edge of a 10,000 acre wildlife sanctuary and reservoir, the music flows like a refreshing stream. Avgerinos' ambient mix goes right to the heart. — Jason Serinus
The Waitiki 7
Adventures in Paradise
Pass Out Records POR 7001
From the sublime to the ridiculous and back again. Of all the great music on the planet, why choose this contemporary re-imagining of the classic exotica sound that pianist Martin Denny introduced to Hawaii in 1959? Because it's so much fun! Sounding like big band jazz one minute, and inebriated night club musings the next, this hybrid mix of classic Tiki Bar and New Age surfer paradise spiced with one too many cocktails is a trip. Instead of New Age birds we have some overly enthusiastic feathered friends on a roll, cawing and whooping as the Waitiki 7's instruments weave their spell.
Co-founded by bassist Randy Wong and drummer Abe Lagrimas, the septet includes vibist Lopaka Colon, whose preposterous birdcalls channel the chatter that his father, Augie Colon, provided for Denny's group 50 years ago. While some tracks are arrangements of music that Denny and other Exotica pioneers once performed, others are originals. One in particular, "Craving," is an arrangement of Duke Ellington's "Mood Indigo" by two of the septet's ASCAP Young Jazz Composer Award winners. Do I hear echoes of Canteloube and Ravel on Wong's "L'ours Chinois"? This delightful album has far more going for it than it initially lets on. — Jason Serinus
Jason Victor Serinus (www.jasonserinus.com) is a holistic author, bodyworker, whistling virtuoso and music critic who resides in Oakland, CA. Please send music review copies to Jason at 2749 E. 17th St., Oakland, CA 94601 or email jserinus@planeteria.net.