Winter 2010 Music Reviews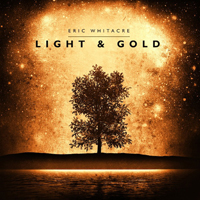 Eric Whitacre
Light & Gold
Decca 2743209
Only under special circumstances would I review two recordings of choral music by the same composer in consecutive issues. But when the music is as beautiful and uplifting as Eric Whitacre's, and this new disc the first to feature the composer conducting his music sung by his own handpicked choir, the recording is a revelation. YouTube surfers are undoubtedly aware of Whitacre's virtual choir video of "Lux Aurumque," which became an international viral sensation overnight. This elevated composition, which in these throats sounds as if it was channeled by the angels, has earned its place on dozens of CDs, including the Elora Festival Singers' Naxos release reviewed last issue. But no other rendition offers the host of accents, volume gradations, and subtle shadings that Whitacre and his choir lavish on this music. Their performances seize the heart. The texture is so personal, the quiet passages so intimate, and the silence so profound, it's as if we have been invited into Whitacre's inner sanctum. The Five Hebrew Love Songs(1996), settings of poems by the extremely gifted soprano Hila Plitmann who was to become Whitacre's wife, come across as the true love offerings they are. If you want to taste God's nectar, sample this disc.
Charles Lloyd Quartet
Mirror
ECM 2176
For fifty years, Charles Lloyd's excursions on tenor sax, flute and alto sax have defined the inner and outer limits of jazz. Inner, in that Lloyd journeys to an inner sanctum reserved for the few, from which the simplest of ballads can become flights into unchartered territory and melodies mere launching pads. Outer, in that his artistry went through a post-bop, rock period that saw him move from performing in a very progressive jazz quartet with pianist Keith Jarrett to touring with, of all things great and small, the Beach Boys, and creating the Band Celebration with fellow followers of Transcendental Meditation.
Now 73, Lloyd continues his idiosyncratic journey. Since 1989, he has recorded for ECM, releasing a string of fascinating albums that follow his own higher guidance. His latest, Mirror, mixes the eponymous composition and two other Lloyd originals with repertoire as diverse as Sammy Cahn and Julie Styne's "I Fall in Love Too Easily," Brian Wilson and Tony Asher's "Caroline, No," two tracks by Thelonious Monk, and arrangements of traditional tunes "Go Down Moses," "The Water is Wide," and "La Llorona." With Johnson & Johnson's "Lift Every Voice and Sing" preceding Lloyd's "Being and Becoming, Road to Dakshineswar with Sangeeta," Mirroris a spiritual journey like no other. Catch the Charles Lloyd New Quartet at Regatta in Cambridge January 21 & 22, and at the U Mass Amherst Fine Arts Center on January 25.
Miguel del Aguila
Salón Buenos Aires
Bridge 9302
By the time you read this, we'll know if Clocks, a 19-minute composition on this CD devoted to the chamber music of Miguel del Aguila, has won the Latin Grammy Award for Best Classical Contemporary Composition. One of two CDs I've reviewed with music nominated for a 2010 Latin Grammy – the other is Antonio Lysy at the Broad(Yarlung Records) – del Aguila's music is filled with color, verve, and unusual juxtapositions.
The Ventura Chamber Music Festival commissioned Del Aguila to compose Clocks, and then engaged the composer and Cuarteto Latinoamericano for the 1998 premiere. Here performed by Camerata San Antonio, and recorded with bright, upfront sonics, Clocks takes the listener on a fanciful tour through an imaginary clock museum. Each movement represents a single timepiece (as in the fourth movement, which receives its inspiration from a Sundial of 2000 B.C.), a group of them, or a story told by clocks.
Clocksis one wild ride. Somehow, four chamber musicians manage to hammer, chant, bang and saw their way through a bizarre assortment of mechanical sounds, zany effects, charmingly antiquated melodies, thoroughly modern mish-mashes and ecstatic excess. And Clocksis just one of five pieces on a disc that melds quintessentially Latin elements with modern compositional techniques. Traditionalists may not approve, but those with a spirit for adventure will kick up their heels and applaud.
Roberta Mameli, La Venexiana, Claudio Cavina
'Round M: Monteverdi Meets Jazz
Glossa GCD P30917
Meetings between classical and jazz ensembles are a chancy proposition. Too often the results are either uncomfortably pretentious and self-conscious or downright insipid. But when the music is by Claudio Monteverdi, the coast is clear for improvisation. After all, it was he who wrote at the start of his great Lamento dell ninfa(1638), "…the lament has to be sung according to the sentiments of the spirit, and not of the beating of the hand."
The effort succeeds due to the gifts of Roberta Mameli, an operatic soprano with a most fetching voice and natural feel for jazz; the ensemble La Venexiana, which has made a specialty of the madrigals of Monteverdi; a hand-picked jazz ensemble that makes its sax, accordion, double bass, and drums seem of one mind with Monteverdi's music; and a modern-day Claudio of a director with the last name of Cavina. Together, they make music as moving as it is fascinating. As the jazz players perform discreetly in the background, Mameli and La Venexiana perform every note that Monteverdi intended for voice and bass, while bending and emoting the line in ways that honor tradition and modernity in the same breath
In addition to performing four works by Monteverdi, the CD includes jazz renditions of music by three of his contemporaries, and a modern take-off by Antonio Eros NegrientitledTransfigurazione della ninfa, Listen to the sax wail in the background as Mameli teases and emotes her way through Tarquinio Merula's Canzonetta spirituale sopra la nanna. Delectable.
Jason Robinson and Anthony Davis
Cerulean Landscape
Clean Feed CF198CD
Bi-coastal jazz saxophonist Jason Robinson, 35, an Assistant Professor of Music at Amherst College and former musician with the San Francisco Mime Troupe, seems to be blowing non-stop these days. No less that three albums that showcase the seemingly limitless range of his versatile musicianship hit the literal and virtual shelves in the fall of 2010.
Cerulean Landscapewas recorded in Amherst, mixed in southern California, and sports liner notes written in San Francisco. It features the fruits of Robinson's 12-year partnership with pianist and composer Anthony Davis, 59. Given that Davis' oeuvreincludes the opera X, The Life and Times of Malcolm X, which caused quite a stir at its 1986 premiere at New York City Opera, and the incidental music for the Broadway version of Tony Kushner's Angels in America, expectations are middle-of-the-road mush.
Surprise is the order of the day. The CD launches in an extremely relaxed, lyrical mood, then catches you off guard with its frequent and unheralded shifts into high gear. On "Andrew," the music is initially discordant, and then begins to bop along as it goes through a string of unexpected gear shifts. "Cerulean Seas and Veridian Skies," the last of the album's seven tracks, is equally unpredictable. Now in brighter mode – Robinson switches between soprano, alto, and tenor sax to achieve the coloring he seeks, and also throws in alto flute – the music opens itself wide to the blue beauty of nature's realm. Together, these men create a multi-hued, high-flying lyricism for the 21st century.
Jason Victor Serinus is a holistic author, bodyworker, whistling virtuoso and music critic (http://www.jasonserinus.com) who resides in Oakland, CA. Please send music review copies to Jason at 2749 E. 17th Street, Oakland, CA 94601 or email jserinus@planeteria.net.